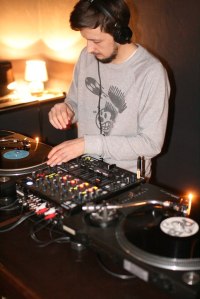 My Favorite Top 10 Vinyls
NOWAVE
07-July-2015
Nowave is already more than 10 years on DJ scene. Chicago, detroit, acid, techno, funk and disco. This is what you can find in his collection. He prefers particular sound as he would say "touchable". When the music becomes the sequel of everything that surrounds us.
For already 9 years he is working as a successful party promoter. A lot of talented Russian producers were guests at his parties alongside with foreign DJs.

Nowave also develops as a musician collecting synthesizers and working in studio.
Artist
Title
Label
Date

Price

1
DCNT

Powermonger

(12")

Platte Germany

26 May 15
$8.50
Cat:

PLATTE 009


Genre: Deep House
2
LOOSE CONTROL BAND, The aka JOHN SHARP & DJ SPUN

Acido Ahora

(limited 12" + stick of rave scented inscence)

Acido Ahora US

24 Feb 15
$13.72
Cat:

AA 001


Genre: Deep House
3
KEL

Kel

(12")

7777 US

24 Mar 14
$10.15
Cat:

7777 006


Genre: Techno
4
BLACK ICE feat NATURE LOVE

Dance Traxx EP

(12")

Swing Street

23 Apr 15
$8.77
Cat:

SS 8002


Genre: Deep House
5
ADALBERTO

Toolbox

(hand-numbered double 12" in screen printed sleeve limited to 222 copies + insert)

Acidicted Germany

02 Apr 15
$20.58
Cat:

ACIDICTED 2.0B


Genre: Techno
6
FATJACK

Holy Shit

(limited hand-numbered clear red marbled vinyl 12")

Acidicted Germany

25 Jun 14
$11.25
Cat:

ACIDICTED 05


Genre: Techno
7
JACK THE MACK

Jack The Mack

(limited 12")

unknown label US

09 Feb 15
$7.67
Cat:

---


Genre: Techno
8
BONES, Tommy

Black Concept

(limited 12")

Strictly Rhythm

13 Mar 15
$8.77
Cat:

SRNYC 001


Genre: Deep House
9
ASH, Andy

Hurricane Fantasy EP

(limited heavyweight vinyl 12")

People Must Jam Australia

08 Apr 15
$9.33
Cat:

PMJ 005


Genre: Deep House
10
JACK J

Looking Forward To You

(12") (1 per customer)

Mood Hut

09 Nov 16
$8.77
Cat:

MH 007


Genre: Deep House