Items 1 to 3 of 3 on page 1 of 1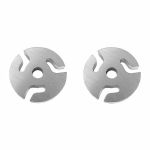 Cat: 693164 Rel: 15 Jun 18
Pair of stainless brushed steel 45 RPM turntable adapters for 7" + sticker
Notes: Bespoke carbon steel patterned turntable 45 rpm adapter for spinning dinked 7 inch records - fits all standard 7mm diameter turntable spindles. As used by Jeremy My Love Is Underground & Nicola Conte amongst others...
…

Read more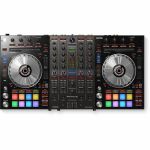 Cat: 691672 Rel: 15 Jun 18
4-channel DJ controller for Serato DJ Pro
Notes: Boost your creativity with the DDJ-SX3 4-channel DJ controller for Serato DJ Pro. Expanding on the features of our popular DDJ-SX2 controller, the DDJ-SX3 is strong yet portable with a familiar layout and lower latency jog wheels. Loaded with advanced features, this controller is ideal for professional mobile DJs performing at club nights, parties, weddings and corporate events.

Collaborate with MCs, rappers or singers by plugging in 3 different microphones at once via the 3 Mic inputs, then control EQs and apply FX to each. Connect 2 computers at the same time for easy DJ changeovers via the dual USB ports. Coming with free Pitch 'n Time DJ and Serato Flip Expansion Packs, you can stretch, mix and cut with precision.

Enhanced vocals:
Whether you're performing with MCs, singers or guest speakers, 3 people can entertain the crowd at the same time via the 3 Mic inputs. Ensure crystal-clear speech with 3-band EQ, low-cut filter, compressor and reverb control on each. Enhance vocals with Sound Colour FX and Serato DJ Pro FX.

Dual USB ports:
Connect 2 computers at the same time for seamless DJ transitions, back-to-back performances or as a backup computer in case your laptop crashes.

Professional interface:
With a layout inherited from our flagship Serato controllers, the DDJ-SX3 feels familiar to use. Featuring 4 inputs, connect to CDJs, analogue turntables and use as a stand-alone DJ mixer. Plug in various speakers via the XLR and RCA Master Out and TRS jack Booth Out terminal.

Performance Pads:
Use the large multicoloured Performance Pads to instantly trigger 11 Serato DJ Pro features. Watch their colours and illumination change to show the selected pad mode and playing status.

Low-Latency Jog Wheels:
We've reduced the latency of the jog wheels for even smoother scratching than its predecessor. Optimised for a perfect scratch response, the illuminated cue point markers with cue countdown give you effortless control without needing to look at your laptop.

Expansion Packs enabled:
Pitch 'n Time DJ and Serato Flip Expansion Packs are included. Use advanced features like Key Shift, Key Sync, Flip, Pitch Play and more to mix tracks smoothly.
…

Read more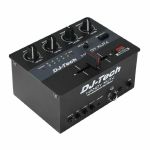 Cat: 688484 Rel: 12 Jun 18
Ultra-portable high performance DJ mixer in mini format
Notes: DJ TECH Handy Kutz, a brand new 2-channel DJ Scratch Mixer with integrated mini innoFADER Pro.

Premium quality contactless mini innoFADER Pro integrated:

The Handy Kutz features the mini innoFADER Pro from Audio Innovate as the crossfader. Inherited from the original innoFADER, it provides smooth and robust feeling to the Scratch DJs. The contactless design gives a long life of over 4,000,000 cycles! The cut-in position can be adjusted by users with simple calibration steps to fit your taste. The Reverse switch and Curve Adjust knob for crossfader allows you to do different style of scratch skill.

Portable to Scratch everywhere:

The Handy Kutz makes DJ's life portable everywhere by the rechargeable battery bringing you up to 6-hour use, and the power adaptor with universal voltage input AC 100-240V. Suitable for home practice, small parties and street performance.

High-Quality and compact mixer, yet affordable price:

The Handy Kutz serves as a portable compact 2-channel mixer: trim control, 3.5mm AUX input, 1/4" & 3.5mm headphones outputs with volume control, and even a 1/4" stereo + RCA Master output with Tone control and volume control, yet, the price is affordable!
…

Read more
Items 1 to 3 of 3 on page 1 of 1