Items 1 to 2 of 2 on page 1 of 1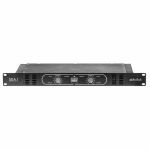 Cat: 588631 Rel: 28 Sep 15
Studio digital audio amplifier with extremely low noise and distortion design - all steel and aluminium chassis construction
Notes: Studio Digital Amplifier

The extremely efficient Class-D topography used in the ART SDA1 Studio Digital Amplifier delivers 200 watts per channel (at 4 ohms) in a compact, single rack space chassis. Taking advantage of the full potential of digital amplifier design, the SDA1 doesn't require noisy, dust collecting cooling fans in operation, making it the ideal solution for studio control rooms and installations.

The flat 20Hz to 20kHz frequency response makes the SDA1 the perfect choice for critical listening in studio environments. Balanced inputs and versatile multi-way binding post outputs ensure quick connectivity to any source and speaker combinations, including 70v commercial installation systems.

A solid steel and aluminum chassis design ensures maximum reliability. Recessed 'pop-up' detented attenuator knobs deter uninvited users adjusting volume settings in install applications.
…

Read more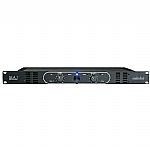 Cat: 516421 Rel: 23 Dec 13
100 watt power amplifier with 10Hz to 40KHz frequency response
Notes: The SLA-1 Studio Linear Amplifier is a robust yet compact power amplifier designed for studio or even select live applications. It has been designed and engineered to provide clean, quiet power and excellent sound with ultra-low noise and distortion.

Rated at 100 watts rms/channel @ 8 ohms (130 watts rms/channel @ 4ohms), with a frequency response from 10 Hz to 40 kHz the SLA-1 is perfect for professional, project and home studios. Capable of delivering 260 Watts when bridged mono into an 8 ohm load, the SLA-1 can easily move out of the studio and into any live rig or installation as an ideal monitor amplifier or zone amp solution.

The SLA-1 has been designed to deliver in the most demanding audio applications. Housed in an aluminum and steel single space 19-inch rackmount chassis, the SLA-1 uses a proven toroidal transformer design for unmatched long-term reliability.

The SLA-1 features SmartFan, an advanced, thermal dependent fan assisted convection cooled system. The SmartFan system is dependent upon the internal ambient temperature of the unit, and runs at high or low levels depending on the amplifier's cooling needs.

XLR and 1/4-inch TRS balanced inputs as well as multi-way output binding posts are ensure the SLA-1 can be quickly and easily tied in to any system without modification. A simple to install tamper proof cover is included.
…

Read more
Items 1 to 2 of 2 on page 1 of 1