Items 1 to 3 of 3 on page 1 of 1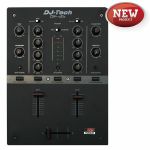 Cat: 605990 Rel: 23 May 16
Professional 2-channel DJ scratch mixer with mini innoFADER fitted
Notes: - High Performance 2-channel DJ scratch mixer

- Audio Innovate "mini innoFADER" as crossfader

- Crossfader compatible with the original full-size innoFADER

- Curve adjust and reverse for both crossfader and channel faders

- DVS mode: Rapin switch between traditional vinyl setup and DVS setup without reconnecting the cables

- Stereo 1/4" Master output and RCA booth output with dedicated volume control

- 1/4"+3.5mm headphones output with monitoring mode CUE/MIX/MASTER

- Universal voltage AC 100~240V 50/60Hz
…

Read more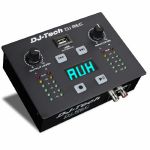 Cat: 688483 Rel: 09 May 18
Compact DJ recording interface
Notes: New and improved MK2 version of DJ-Tech REC, the portable DJ recording solution with real-time audio to MP3 direct encoder and decoder.

The DJ-Tech REC MK2 includes adjustable recording level control and MP3 playback control, with an LED track number display and signal indicator.

On the front of the unit is a Stereo RCA input for your input audio source and a Stereo RCA output for speaker connectivity.

The DJ-Tech REC MK2 is the perfect solution for anyone needing a device that records high-quality mixes and will integrate perfectly with any DJ setup.
…

Read more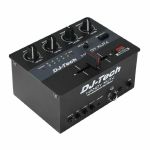 Cat: 688484 Rel: 12 Jun 18
Ultra-portable high performance DJ mixer in mini format
Notes: DJ TECH Handy Kutz, a brand new 2-channel DJ Scratch Mixer with integrated mini innoFADER Pro.

Premium quality contactless mini innoFADER Pro integrated:

The Handy Kutz features the mini innoFADER Pro from Audio Innovate as the crossfader. Inherited from the original innoFADER, it provides smooth and robust feeling to the Scratch DJs. The contactless design gives a long life of over 4,000,000 cycles! The cut-in position can be adjusted by users with simple calibration steps to fit your taste. The Reverse switch and Curve Adjust knob for crossfader allows you to do different style of scratch skill.

Portable to Scratch everywhere:

The Handy Kutz makes DJ's life portable everywhere by the rechargeable battery bringing you up to 6-hour use, and the power adaptor with universal voltage input AC 100-240V. Suitable for home practice, small parties and street performance.

High-Quality and compact mixer, yet affordable price:

The Handy Kutz serves as a portable compact 2-channel mixer: trim control, 3.5mm AUX input, 1/4" & 3.5mm headphones outputs with volume control, and even a 1/4" stereo + RCA Master output with Tone control and volume control, yet, the price is affordable!
…

Read more
Items 1 to 3 of 3 on page 1 of 1