Labels
Items 1 to 3 of 3 on page 1 of 1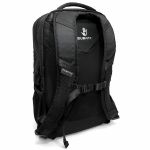 Cat: 638373 Rel: 03 Apr 17
Durable, double-stitched travel bag for the Sub Pac S2
Notes: Turn your SUBPAC S2 into a portable, wearable tactile audio system, while giving you ample carrying capacity for your gear. Stay immersed in your media on the go - from the studio to the street.

Constructed of durable double-stitched, water-resistant Cordura nylon with heavy-duty coil zippers, the BackPac has multiple internal compartments and an external zipper pocket to organize a variety of peripherals, a strap to hang your headphones, and sufficient space to carry a 15-in laptop with room to spare. Adjustable shoulder straps allow for a customized fit.

Simply insert your SUBPAC S2 into the BackPac's form-fitting sleeve and enjoy club-level bass on the go. With a purpose-built mounting area for your S2's control box, built-in cable management, and ample carrying capacity for your laptop and other gear, you'll be enjoying your S2 in ways you never thought possible. A backpack with bass-heavy benefits.
…

Read more
Cat: 581606 Rel: 14 Dec 15
Wearable tactile bass system constructed from new materials and designed for enhanced vibratory field and impact
Notes: Used in studios around the world and championed by industry leaders, Subpac's patent-pending technology combines their new proprietary tactile transducers and vibrotactile membranes with a fully redesigned form factor to bring you the next generation of SubPac, the M2.

Powerful and accurate bass and sub bass monitoring in a wearable form factor that is quiet to the outside world.
…

Read more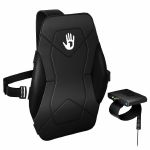 Cat: 558043 Rel: 02 Mar 15
Seatback tactile bass system with new optimised tactile transducers for improved accuracy and power efficiency
Notes: Accurate, immersive, and portable - the SubPac S2 is the latest addition to our line of revolutionary tactile audio systems that have quickly become essential tools for music production and enjoyment from the top studios in LA and London, to basement apartments and bedrooms worldwide. Not just for musicians and producers, the SubPac adds real depth, connection and enjoyment to whatever you play through it - your music and media comes to life with the added dimension of physical bass. Imagine standing in front of a beautifully tuned club system and feeling the bass - this is the experience the SubPac delivers, all without any external noise.

Building on the success of the original SubPac S1, our engineering team has taken a radical approach in redesigning the S2. Featuring an all-new ergonomic design with a flexible strapping solution for your chair, improved materials inside and out, newly optimized tactile transducers, improved battery life and the addition of Bluetooth 4.0 A2DP streaming for casual listening, the SubPac S2 is the most powerful and accurate seated tactile bass solution on the planet. Feeling is believing!
…

Read more
Items 1 to 3 of 3 on page 1 of 1