This Week: Bass
Items 1 to 2 of 2 on page 1 of 1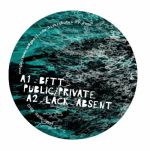 BFTT - "Public/Private"

Lack - "Absent"

Chekov - "Celeste"

Howes - "Untitled"
Review: Cong Burn made a mighty splash with its first release, clearly flaunting the kind of wares you'd expect to hear from Livity Sound alumni or other such esteemed techno renegades. The second installment is no slouch either, featuring a new cast of crooked creators offering up their wares for the modern mutant dancefloor. BFTT has a weighty low end thrum powering "Public/Private", while Lack takes things in a scuffed and nimble direction. Chekov pushes out into more experimental pastures with the broken beats and displaced sound design of "Celeste" and Howes creates a wonderful strain of mystical deep house for darkened souls. Each one of these tracks is loaded with flair and personality, yards ahead of your average generic knock offs and presenting something with real merit to the convoluted world of dance music.
…

Read more
Cranio
(12" + MP3 download code)
Cat: WAP 401. Rel: 19 Mar 18
Sinistro (4:30)

Poder Do Vento (4:04)

Maria Costa (3:26)

KRK (3:28)

Waaba-Jah (4:29)

Karma (3:16)
Review: Last spotted on Warp on the inaugural volume of their Cargaa series in 2015, Nigga Fox returns to the UK institution with his debut label EP "Cranio". As always with the Lisbon underground kingpin, fusion and ardent experimentalism characterise the project as we're shifted and beguiled in equal measure at the rising paranoid acid tendrils on "Sinistro", the thumping obese kicks on "Poder Do Vento", the jarring techno necksnap of "Maria Costa", the lucid dreaminess of "KRK", the obscenely tripped-out voodoo instrumentation on "Waaba-Jah" and accordion squeezing technoid sketch "Karma". Singular.
…

Read more
Items 1 to 2 of 2 on page 1 of 1