Today: International
Items 1 to 9 of 9 on page 1 of 1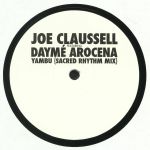 Cat: BWOOD 170LP. Rel: 22 Jan 18
Yambu (feat Dayme Arocena - Sacred Rhythm mix) (9:00)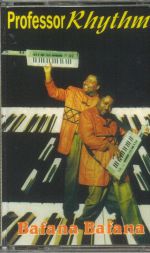 Cat: ATFA 027CS. Rel: 22 Jan 18
Bafana Bafana (4:45)

Isidakwa (4:27)

Via Botswana (4:15)

Leave Me Alone (4:13)

Kancane Kancane (4:47)

Release Me (4:10)

Zama Zama (4:23)

Don't Say You Love Me (4:27)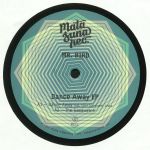 Cat: MSR 003. Rel: 22 Jan 18
Dance Away (feat Chief Commander Yaaba) (4:25)

The Sasquatch (4:34)

Floating Funk (4:34)

Carnival Beat (3:17)
Review: Having previously excelled at crafting party-starting bootleg funk remixes and composing revivalist soul slammers, Mr Bird has now decided to turn his attention to Afro-disco, Afro-funk and Afro-soul. Typically, the results are impressive, particularly "Dance Away", a hybrid Afro-disco/Afro-soul workout featuring the fine vocals of Chief Commander Yaaba. Elsewhere, he lays down a subtly housed-up take on Clavinet-happy Afro-funk (the superb, jazz-funk tinged "Floating Funk"), brilliantly breaks up the beats on the woozy, groovy and bustling "Carnival Beat", and lays blissful vocal harmonies over a sumptuous deep house beat on "The Sasquatch".
…

Read more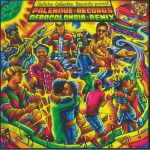 VARIOUS
Cat: GCLP 123. Rel: 22 Jan 18
Son Palenque - "La Negra" (Bosq remix) (6:07)

DJ Rata Piano & Champetaman - "El Elefante Del Congo" (Bleepolar edit) (3:30)

Colombiafrica & Louis Towers - "No Habla Na" (feat Bopol Mansiamina - DJ Panko edit) (4:30)

Colombiafrica & Louis Towers - "Mama Africa" (feat Zongo Abongo & Nyboma - The Busy Twist remix) (3:49)

Colombiafrica & Viviano Torres - "Zarandia Champeta" (feat Bopol Mansiamina & Dally Kimoko - Frikstailers remix) (4:14)

Colombiafrica & Louis Towers - "Mama Africa" (feat Nyboma - Umoja remix) (3:58)

DJ Rata Piano - "La Bala De Cianuro" (Bleepolar edit) (2:09)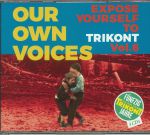 VARIOUS
Cat: US 0490. Rel: 22 Jan 18
Express Brass Band - "Talali Talala"

Karl Hector & The Malcouns - "Kingdom Of D'mt"

Lydia Daher - "Ich Komme Hier Nicht Weg"

Ruki'V Bryuko - "Ya Vyhadav Svit"

Kofelgschroa - "Baaz"

Banda Internationale - "Bint El Chalabiya"

Erika Stucky - "Yodelmove"

Eric Pfeil - "Wecken"

Textor & Renz - "Will You Have Me"

Zitronen Puppies - "Nach Minga Ins Jenna"

Mrs Zwirbl - "Romantikers Uberforderung"

Gampe - "Zwoa Leben"

Fraunhoser Saitenmusik - "Polka La Sisina"

Klezmer Conservatory Band - "Foolish Freylekhhs"

Brita Koivunen - "Rautalankatango"

Bob Hall - "La Paloma"

Huss - "Gebt Mir Ein Zuhause"

Staple Singers - "Brand New Day"

Rocko Schamoni - "Queen Of Hamburg"

Inez Andrews - "Talk To Me"

James Russell - "I Had Five Long Years"

Jimmy Brosch & His Happy Country Boys - "Apartment No 9"

Attwenger - "1+2,3"

Brown Dash - "M'Gezeni"

Hank Williams - "Hey Good Lookin'"

Linkradikales Blasorchester - "Poema Para El Despertar De Un Nino"

Der Scheitel - "Potschertes Leben"

Elomar - "Funcao"

Julia Lee & Her Boyfriends - "Spinach Song"

Ringsgwandl - "Auf Der Strasse"

Mizzi Starecek & Rudi Hermann - "A Landing Severinger Wein"

MA Numminen - "Wovon Man Nicht Sprechen Kann"

Thu Hien - "Rang Tram Bau"

Coco Schumann - "Samba De Orfeo"

Rita Abatsi - "Kellnerin"

Lupita Palomera - "Vereda Tropical"

Universal Gonzalez - "Der Tatowierte Millionar"

Michael Hurley - "Got Over It"

Hans Sollner - "Boarischa Krautmo"

Bessie Smith - "Nobody Knows You When You're Down & Out"

Willie Dunn - "The Dreamer"

Bally Prell - "Isarmadchen"

Bernadette La Hengst - "Am Anfang Des Ozeans"

Balfa Toujours - "Tu Peux Cogner"

Girls Of The Golden West - "Will There Be Any Yodelers In Heaven?"

Funny Van Dannen - "Unbekanntes Pferd"

Bulawayo Church Choir - "Funeral Song"

Dario Domingues - "Wind Of The Andes"

Blandine Ebinger & Oskar Karlweis - "Wenn Ich Einmal Tot Bin"

Floyd Westerman - "Wounded Knee"

No Goods - "Sendling"

Francis Bebey - "Bissao"
Wednesday 17 January 2018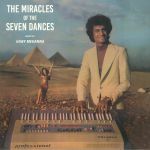 Cat: RMLP 004. Rel: 22 Jan 18
Dala' (3:41)

Farha (2:35)

Badaouiah (4:28)

Mouled El-Khaleej (3:29)

Raqsah Arabiyah (3:31)

Tahiya Wal Assaiyah (2:49)

Mouna (3:05)
Review: '70s Arabic psychedelic funk, courtesy of Hany Mehanna on this reissue by Belgian retoverts Radio Martiko. An Egyptian musician and composer, Mehanna played as a young, talented organist next to stars like Oum Kalthoum and Abdel Halim Hafez and was a member of Ahmed Fouad Hassan's Diamond Orchestra - one of the country's finest. Up to this day he still writes for various Arabic artists and composes scores for Egyptian movies and series. This is (according to the label) a 'belly dance holy grail from the organ king of Cairo.. as good as it gets!' Originally released in 1973, 'The Miracles of the Seven Dances' is a work of pure genius that combines traditional rhythms with spaced out modern sounds. Hear a blissfully exotic mix of hypnotic organ grooves, psychedelic guitars, mystic strings and haunting percussion.
…

Read more
Bondeko
(white vinyl LP + MP3 download code)
Cat: NF 391. Rel: 22 Jan 18
Ma Mama (3:37)

Naleki (3:42)

Youwile (5:08)

Je Kango (4:00)

Love Train (3:00)

Ngum Nya Ko (3:55)

Thitae (3:21)

Tann Tanbou A (3:51)

M'aa Kiana (3:40)

Bukavu (2:14)

Awo (4:07)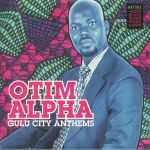 Cat: NNT 003. Rel: 22 Jan 18
Gang Ber Ki Dako (6:31)

Anyomo Laber (Paliyec) (6:08)

Bilaber Cwerocwinya (6:00)

Lok Lobo Cwero Cwinya (6:02)

Too Wiye Ming-Alphazo (6:30)

Toni G (6:38)

Wilobo Lanyi (6:05)

Coo Oromo (5:04)

Cam Ki Lawoti II (5:54)

Agiki Ne Tye (4:58)

Kodi Pa Barikiya (Kwan) (6:32)
Review: Otim Alphia is no newcomer, having begun releasing pioneering "electro acholi" records - updates of Ugandan Acholi "Larakaraka" wedding songs created using computer software and electronic instruments - alongside producer Leo Palayeng way back in 2001. This fine double vinyl collection marks the first time any of his material has been released internationally. It draws on 11 years of dancefloor hits and is every bit as vibrant, fast-paced and colourful as you'd expect. Muscially, the drum machine style rhythms are upbeat and bouncy, the synth sounds are bold and ear catching, the use of traditional instruments subtle, and Alpha's vocals never less than passionate and full-throttle. It reminded us of a Ugandan take on the thrilling "Shangaan Shake" sound, which is no bad thing.
…

Read more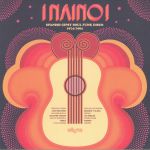 VARIOUS
Cat: ADC 003LP. Rel: 22 Jan 18
Marian Conde - "Tomame Que Tomame" (2:57)

Juan Bautista - "Naino Naino" (2:29)

Los Maravilla - "Ven, Ven, Vente" (3:10)

Dolores Vargas "La Terremoto" - "Dejalo" (2:28)

Paca Y Manuela - "Dimelo" (2:45)

Chele - "Libre Como El Viento" (3:38)

Lola Flores - "Como Me Las Maravillaria Yo" (2:53)

Perlita De Huelva - "Mi Almohada" (2:44)

Morena Y Clara - "Para Vivir Asi" (4:02)

Trigal - "Vente Conmigo" (3:05)

Las Deblas - "Zorongo" (3:01)

Rumba Tres - "Buscaremos Un Rincon" (2:55)

Tobago - "Toquiliquiton" (2:48)

Chipen - "Volao" (4:08)
Review: The Adarce imprint has, so far, made quite the impression on us. Their 2017 was marked by three stupendous reissue compilations, with all of them offering insights into the most niche corners of Spain's musical heritage; the third of which has dropped a little bit later, kicking off 2018 with a Gypsy bang! Naino uncovers a rare and overlooked corner of the country, the Gypsy rumba sounds spanning the years 1974 to 1984. Every track on this beast is a keeper, making the so-called Gypsy 'Kings' sound a little frail by comparison. So, we dont know the majority of these artists, but it's safe to say that they influenced one of Spain's greatest bands, and have probably had an effect on the rest of the country's cultural heritage. This is a sublime collection of rhythmic dance and non-dance songs that'll leave you humming endlessly. Even the techno heads around here have copped a copy!
…

Read more
Items 1 to 9 of 9 on page 1 of 1