Equipment
Items 1 to 3 of 3 on page 1 of 1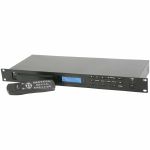 Cat: 647258 Rel: 17 Apr 17
1U rack mountable CD player with USB/SD card inputs & built in FM tuner
Notes: 1U rack mountable CD player with USB and SD card inputs and a built in FM tuner. Supplied with a handheld IR control and a 3.5mm jack IR extender lead for remote operation. CD, USB or SD tracks can be accessed directly by track number or by track/folder navigation buttons. Output is via 2 RCA connectors or digitally via the optical output. FM radio reception can be set up by connecting an FM aerial to the rear panel antenna socket. 4 different sources in a single 19" rack housing makes this a flexible machine for background music installations.

…

Read more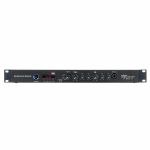 Cat: 606600 Rel: 04 Apr 16
MP3 & bluetooth media player designed for permanent installations, features a bright LCD display & SD/SDHC card reader
Notes: The American Audio, Media Operator BT is a fast, simple and reliable all-in-one MP3/Bluetooth media player designed for permanent installations where easy control of music is a must (ie. restaurants, fitness studios, retail locations, etc.) and great for mobile entertainers as well. The Media Operator BT offers digital playback from SD cards or USB sticks/drives.

The Media Operator BT includes full MP3 playback control as well as a microphone input (XLR / 1/4" combo), master volume control and 3x line output options. Plug the unit directly into powered speakers, an amplifier or secondary mixer through the balanced XLR, 1/4" or stereo RCA outputs.
…

Read more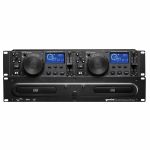 Cat: 657237 Rel: 28 Aug 17
CD, CD-R & MP3-CD compatible media player with dual USB inputs
Notes: Occupying just two units of rackspace, the CDX-2250i offers playback capabilities for audio CDs, CD-Rs, and MP3-CDs across two decks as well as USB input for USB storage devices. Complete with a range of professional DJ features, this unit is designed to provide excellent control in a wide range of applications.

Ideal for mobile and wedding DJs, as well as bars, club and restaurant installations, the CDX -2250i features two independent jog wheels that allow you to search through a track, adjust a cue point and even pitch bend like a pro. Plus, a Pitch Control slider offers maximum control when beat matching, while a Loop Section with Reloop enables you to take song-shaping creativity to the next level.

Handy playback features like Single and Continuous play modes, along with Instant-start, enhance the CDX-2250i's flexibility. The unit also has a Program feature that supports playlist creation, so restaurant and bar owners can provide music for their customers without having to worry about controlling the unit. And for seamless performance night after night, the CDX-2250i features anti-shock using RAM buffer memory, ensuring external bumps and vibrations won't disrupt your performance.

The ability to create cue points quickly and easily, and preview those cues, enhances the unit's convenience, allowing you to craft an expert mix with ease and confidence. And for simple, swift navigation of songs, the CDX-2250i features a large, blue-backlit screen that displays a variety of track information, including time, pitch value and track number.

Perfect as a professional, user-friendly solution for your DJ rack, the CDX-2250i offers impressive functionality and supremely reliable performance in a compact 2U design.
…

Read more
Items 1 to 3 of 3 on page 1 of 1