Equipment
Items 1 to 3 of 3 on page 1 of 1
Cat: 624251 Rel: 05 Sep 16
Ultra-high precision digital 24-Bit/96 kHz loudspeaker management system
Notes: The ULTRADRIVE PRO DCX2496 is the answer to making your venue sound like it was tuned by the pros. Over the past years the DCX2496 has become an industry standard and several hundred thousand units have been employed in high-end touring as well as install applications. The DCX2496 is the perfect way to manage a multi-speaker sound system in any sized venue - from cinema to sanctuary to concert hall. Featuring 2 inputs, 6 outputs and 24-bit/96 kHz high-end AD/DA converters, this state-of-the-art processor will take your system to the next level and beyond.

Superb Connectivity and Impeccable Sound Quality:

Start with the DCX2496's analog inputs (one suitable as a digital stereo AES/EBU input) and 6 analog outputs - you get maximum flexibility in just one rack space. Superb high-end Cirrus Logic* 24-bit/96 kHz A/D - D/A converters give you ultimate signal integrity - and an extremely-broad dynamic range of 120 dB!

Huge Processing Power:

Speaker protection and processing are the cornerstones for any speaker management system. The DCX2496 features precise dynamic EQs for level-dependent equalization, plus extremely musical parametric EQs that can be applied to all I/O for high-precision signal sculpting. 6 outputs with individual crossover filters, including your choice of Butterworth, Bessel and Linkwitz-Riley designs, each with selectable roll-off characteristics from 6 to 48 dB/octave - perfect for optimizing any 2, 3, or 4-way system. Finally, our "Zero"-attack limiters provide the ultimate in loudspeaker protection on all output channels.

Limitless Control:

In addition to the plethora of EQ filter and crossover options, the DCX2496 offers adjustable delays for all I/O, allowing you to either manually, or automatically correct for room temperature, phase and arrival time differences in order to perfectly configure your delay-line speakers. A PCMCIA slot is provided for storing up to 60 user-defined presets internally, or optionally via your PC for instant recall when moving between multiple venues. The DCX2496 gives you the rock-solid solution for great sound - show after show!

Incredible Sound and Protection Every Time:

The ULTRADRIVE PRO's sleek design, with its high-power 32-bit Analog Device Sharc DSP, ultra-high resolution AKMr 24-bit/96kHz AD & DA converters and maximum processing power provide outstanding audio performance, helping you get the most out of your sound system - no matter where the gig takes you!
…

Read more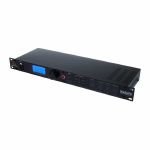 Cat: 624153 Rel: 05 Sep 16
Complete digital loudspeaker management system, with streamlined AutoEQ and advanced feedback suppression
Notes: All you need to get the most from your PA. Now with complete control from your mobile device.

The DriveRack PA2 provides all the processing you need between your mixer and amplifiers to optimize and protect your loudspeakers. With the latest advancements in dbx's proprietary AutoEQ and AFS algorithms, a new input delay module for delaying the FOH system to the backline, Ethernet control via an Androidr, iOSr, Macr, or Windowsr device, and updated Wizards, the DriveRack PA2 continues the DriveRack legacy of great-sounding, powerful, and affordable loudspeaker management processors, for a whole new generation.

AutoEQ:

New, improved AutoEQ algorithm ensures an extremely accurate, fast, and non-intrusive automatic EQ experience.

With the RTA Mic "listening" to your room, the new, updated DriveRack PA2 AutoEQ algorithm sets speaker levels and room EQ automatically in a matter of seconds. This means room adjustments can now be made very quickly, without subjecting the audience to annoying, lengthy broadcasts of pink noise.

Enhanced AFS Feedback Elimination:

Enhanced AFS algorithm for faster, more precise feedback elimination, without adversely affecting your system's tone.

Nothing turns audiences away like annoying and potentially painful audio feedback. Fortunately, dbx engineers have revisited their already-stellar Advanced Feedback Suppression algorithm and made it work even better. The DriveRack PA2 listens for and anticipates feedback and adjusts speaker output automatically before it even has a chance, while never altering your sound.

Updated Wizard Setup Functions:

Updated Wizards make initial set up easy, while ensuring speaker tunings and other settings are up-to-date.

Wizard functions on the DriveRack PA2 guide you through easy, step-by-step processes to help you get the most from your loudspeaker system. Helps you easily configure level balancing, AutoEQ, Advanced Feedback Suppression, and provides access to built-in and constantly updating speaker tunings from most major speaker manufacturers.

Available Input Processing:
- DBX Compression
- AFS (Advanced Feedback Suppression)
- Graphic EQ
- 8-Band Parametric EQ (adjusted when using the AutoEQ)
- Subharmonic Synthesis

Available Output Processing:
- Crossover (supports full range, 2-way, and 3-way systems)
- 8-Band Parametric EQs (used for speaker tunings)
- DBX Limiting
- Driver Alignment Delays
…

Read more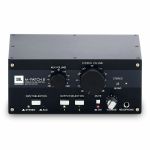 Cat: 599651 Rel: 21 Mar 16
High quality passive volume attenuator for desktop or rack-mountable installation
Notes: Passive Stereo Controller and Switch Box:
The M-Patch 2 is a compact desktop/rack-mountable sized passive volume attenuator and patch control device. Building on the success of the original M-Patch, the new M-Patch 2 is a feature packed passive problem solver for nearly all production environments. A great way to passively attenuate stereo signals from soundcards, CD players, pre-amps, and mixers, the M-Patch 2 front panel rotary controls allow precise level adjustments for two input sources. Featuring balanced combo XLR/TRS input jacks and XLR outputs, RCA & 3.5mm jack inputs, mono/stereo summing switch, Mute switch, A/B output pairs, and a built in stereo headphone amplifier, the M-Patch 2 has all bases covered.

No more bit loss! One of the benefits of passive volume attenuation is that you no longer have to control volumes with your software master volume fader. Reducing audio levels from software only reduces your bit depth. It is much more appropriate to keep your software masters at unity and passively attenuate the audio to your active monitors.

No active circuitry, buffers, transistors, batteries, or power supply of any kind can interfere with the main passive output of the M-Patch 2. It simply delivers attenuated signal. That's it.. pure, simple transparent.

The M-Patch 2 is a true problem solver. It will work seamlessly within your system, is very transparent and silent. You will now be able to keep your bit levels up in your system, eliminate using your mixer, and keep all volumes at an acceptable level. This is a very handy tool for a wide variety of applications.
…

Read more
Items 1 to 3 of 3 on page 1 of 1