Equipment
Items 1 to 2 of 2 on page 1 of 1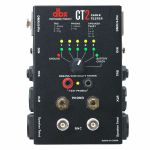 Cat: 599646 Rel: 11 Apr 16
Cable tester with 6 position rotary selector & internal battery life check
Notes: We all know how frustrating and time consuming it can be when your audio cables fail. With the dbx CT2 cable testing unit you can now evaluate a large variety of your cables with ease.

The CT2 offers many common connectors such as Speaker Twist, XLR, Phono, BNC, DIN, TRS, TS, DMX, & Banana. The CT2 allows for testing cables even with different connectors at each end.

For example, it is simple to test a TRS to XLR cable. With well illuminated LED indicators and a simple rotary dial, users can quickly establish whether a cable is wired and functioning correctly, or if it is dead and in need of repair.
…

Read more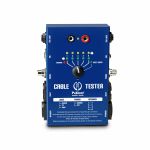 Cat: 647615 Rel: 01 May 17
Compact cable tester with optical display & buzzer
Notes: A stage is only as good as its cables - and the AHMCT 8 sets the record straight.

The AHMCT 8 tests the most critical cables on the stage itself and flags up whether they are functioning or not, both visibly via LEDs and audibly via a buzzer. This makes it the perfect tool for engineers - both in the workshop and on stage.

The Pro AHMCT is operated simply, intuitively and safely via a single rotary switch on the device. The sturdy metal housing withstands even tough on-stage demands.

The standard kit comes with two test probes for carrying out fast and simple continuity tests on various cables or installations.
…

Read more
Items 1 to 2 of 2 on page 1 of 1