Equipment
Items 1 to 3 of 3 on page 1 of 1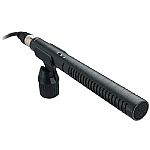 Cat: 455766 Rel: 04 Jun 12
Multi-powered condenser shotgun microphone
Notes: The Rode NTG2 is a lightweight condenser shotgun microphone, designed for professional applications within the film, video, television and production industries.

Its full frequency response, low noise and audio transparency make it an ideal film, video, and voice over microphone, while its low weight (161gm/5.7oz without battery) makes it an ideal boom microphone.

In addition to the NTG2 native 20-20000Hz response a selectable high-pass filter at 80Hz is available, which will prevent low end noise such as air conditioners and traffic from being recorded.

The NTG2 operates either from a AA (1.5V) battery or P48 phantom power which can be supplied by professional cameras, audio recorders and power supplies.

The WSVM windshield is supplied to minimise light wind noise and plosives during recording. The optional DeadCat furry is recommended for outdoor applications.

The Rode NTG2 shotgun microphone is covered by Rode Microphones' industry leading 10 year warranty.

This microphone can either be powered by an AA battery, or phantom power.

www.youtube.com/watch?v=pUVvzytDpTQ
…

Read more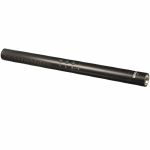 Cat: 561651 Rel: 02 Mar 15
Shotgun condenser microphone with internal rechargeable battery and broadcast quality sound
Notes: Building on the popularity and acceptance of the RODE NTG2, the NTG4+ features an all-new condenser capsule with low noise, high sensitivity and the convenience of on-board equalisation/level control via digital switching.

The NTG4+ is the very first microphone to feature an in-built battery that provides 150+ hours of operation with the convenience of USB charging.
…

Read more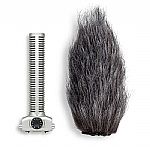 Cat: 527606 Rel: 07 Apr 14
Shotgun microphone capsule with windshield accessory specifically designed for Zoom H6 digital recorder
Notes: The SGH-6 from Zoom offers a shotgun microphone solution for use with your H6 handheld recorder.

This capsule employs three internal microphones to achieve a frequency-independent, super-cardioid polar pattern. The SGH-6 is an appropriate choice for electronic news gathering and other applications that call for tight, highly directional shotgun miking.
…

Read more
Items 1 to 3 of 3 on page 1 of 1