Equipment
Items 1 to 3 of 3 on page 1 of 1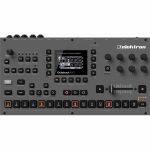 Cat: 655893 Rel: 16 Oct 17
8-track performance sampler featuring several upgrades from the MKI version
Notes: More than a sampler:

Discovering the perfect sample is the start of the process. Then twist it, mess around with it and rebuild it into something uniquely yours. The Octatrack MKII sets new standards for sampling as an art form.

What does the MKII version bring:

Octatrack MKII is improved, enhanced and modified. A better version of itself, built to mangle samples in demanding environments. Ensured by: high quality buttons and hi-res encoders, a crisp OLED screen with fantastic viewing angles, a professional contactless crossfader and an increased count of dedicated buttons.

Octatrack MKII features several upgrades compared to the MKI version:

- Crisp OLED screen providing optimal feedback in dimly lit environments
- Ultra durable back-lit buttons. Rated for 50 million presses
- Contactless silky smooth performance crossfader
- Precise, hi-res encoders
- Increased amount of dedicated buttons enabling quicker workflow
- Balanced audio inputs with plenty of headroom

Game-changing hardware:

The Octatrack MKII brings enormous sample processing ability into a machine designed for live performance. It redefines how you transform your sounds, as well as how you interact and play with them. It lets you do things that were previously impossible with a single instrument.

Natural born performer:

Record samples in real time. Add live time-stretching and pitch-shifting. Use the sequencer to control both internal sounds and external MIDI gear. The Octatrack MKII can also be treated as a small mixing desk for your whole setup. The immediate control makes all the difference.

Audio mutation:

The crossfader adds immense depth to your sound. First, choose how you want it to affect your samples. Then nudge the crossfader gently for the most subtle and natural-sounding changes - or knock it back and forth like you're scratching for rapid and extreme enhancements.

The legend continues:

During its seven year life span, the original Octatrack quickly became one of the most widely used live performance samplers. An industry standard if there ever was one. It undoubtedly changed the way gear setups look like and gave artists the power to perform live in the truest sense of the word. Now the Octatrack MKII is here. Sharper, better, more robust. It proudly carries the legacy of its predecessor, confirming the position as the creative artist's instrument of choice.
…

Read more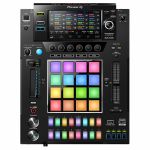 Cat: 667707 Rel: 06 Nov 17
Versatile stand-alone DJ sampler
Notes: Add the DJS-1000 to your DJ set-up to intuitively create unique sounds and phrases in advance of your set, or on the fly. Use the DJ-friendly interface to sequence and loop your samples as you wish.

With a 7-inch full-colour touch screen, 16 multicoloured step input keys, multicoloured Performance Pads, a host of inputs and outputs, Live Sampling and various other performance features, having the DJS-1000 in the booth will propel your sets to the next level.

Step sequencer:
Easily create a new groove by tapping the 16 large, multicoloured step input keys. Thanks to the keys' changing colours, you can keep an eye on sequence information on each track, at all times.

Tactile performance pads:
Load up to 16 samples to the large rubber pads, then finger drum freely to layer sounds on-the-fly. The multicolour LEDs show what samples are in play, while Velocity Mode lets you control the sample volume with the amount of pressure you apply.

Touch strip:
Simply touch the strip to change the pitch while using the Pitch Bend feature, or play a drum roll by hitting the Note Repeat option. Customise parameters for even more creative possibilities.

7-inch touch screen:
Tap the LCD display to instantly access one of three screens. The Home screen for an overview of assigned samples, the Sequence screen to view the currently playing sequence pattern and the Mixer screen to adjust each track's volume.

Accurate syncing:
Sync up your DJS-1000 to a CDJ or XDJ set-up using Pro DJ Link. Thanks to the Beat Sync function, a tempo slider and a Nudge button, you'll adjust tempo and beat position manually, just like you would on a turntable.

Live sampling:
Sample input sounds and instantly use them as individual tracks. Your sampled sounds are automatically synchronised with the current sequence. Play them in a loop and drop them straight into a live remix.
…

Read more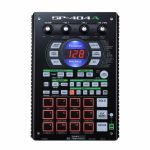 Cat: 659966 Rel: 23 Oct 17
Innovative performance sampler based on the Roland SP-404SX
Notes: A Legendary Sampler Meets an Iconic Sequencer:

Designed for live use, the SP-404A Linear Wave Sampler expands the sounds of the Roland AIRA TR-8 Rhythm Performer for a powerful combination of sample and percussive synthesis. The fast, hands-on approach of the acclaimed SP-series performance samplers is a perfect fit for the impressive rhythmic effects and iconic step-sequencer of the Roland AIRA TR-8.

All of the functions and features of the popular SP-404SX are contained in the SP-404A, including its distinctive 16-bit linear sampling, 29 onboard DSP effects, smooth FX switching, and 12 professional performance pads. Plus, a new library of sounds curated by sample-industry leader Loopmasters are provided via the included SD card.

Whether used standalone or controlled by the TR-8, the SP-404A makes for an intuitive and inspiring addition to the AIRA range of performance instruments for DJs, musicians, and producers.

TR Sequencer Meets SP-Style Sampling:

The SP-404A can be triggered from the TR-8 Rhythm Performer for powerful, integrated beat and sample production. Simply connecting a MIDI cable between the two gives you the ability to incorporate samples from the SP-404A and use them in conjunction with your drum patterns. Each of the TR-8's 11 tracks can trigger a sample on the SP-404A, play a TR-8 sound, or both, enabling you to create interesting layers and accents. The TR-8 can trigger any sample from any of the multiple banks in the SP-404A, making it easy to access new sounds with a turn of the dial.

Sample Scatter and Side Chain:

By connecting the stereo output of the SP-404A to the TR-8's external audio input, you can use the TR-8 as a sub-mixer and processor for the sampler. In this configuration, all samples played on the SP-404A can be effected using the powerful TR-8 Scatter feature to reverse, glitch, gate, truncate, stutter, and perform all manner of rhythmic variations from subtle to extreme, and all in perfect sync. The use of the external input also allows samples to be effected by the TR-8's per-step Side Chain function-simply program a pattern with Side Chain in TR-REC Mode and access eight rhythmic ducking and gating effects.

Sounds by Loopmasters:

The SP-404A comes with nine banks of premium samples to get you started with sample looping. The sound library on the included SD card was created by Loopmasters, one of the world's leading sample developers. The samples in the library have been designed specifically to complement the TR-8, but will work great in standalone applications.

Instant Sampling:

Sampling is not limited to the studio with the SP-404A. The built-in microphone allows for simple recording anytime and anywhere inspiration may strike, powered by AC or six AA batteries. Line inputs enable direct sampling from a mixer or external device, and a mic input is also available for sampling with an external microphone. And your sampled material always sounds great, thanks to the SP-404A's high-quality, uncompressed WAV audio-capture format.

Hands-On Performance:

With its interactive loop and pattern sequencer controls, the SP-404A is made to be played. Take command with three non-slip control knobs and 12 rubber trigger pads, plus a Sub Pad for rapid-repeat triggering in real time. On dark stages or DJ booths, the SP-404A is an ideal live machine, as the clearly illuminated pads and bright LED screen ensure clear visibility as soon as you power on.

Extreme Effects:

Your signature sounds can be sculpted at any time via the SP-404A's 29 onboard DSP effects. Essentials include spacious reverbs and choruses plus lush filters and delays, and all provide seamless switching for smooth transitions while performing. There are also striking, performance-based effects on hand, including a voice transformer and a looper. The filter and isolator provide the ability to radically alter your sounds and transform them into all-new elements for reuse.

Combined with a DJ mixer, the SP-404A can be used as a standalone effects processor. A unique "limiter" mode is used in 17 effects types to prevent overloading, ensuring stable sound with no unwanted sonic artefacts. This mode is especially effective for live DJ performances, safeguarding your sounds at critical moments.

Track Builder:

The number of loops that the SP-404A can handle is practically endless, but this feature is only part of its immense power. Songs, jams, and tracks can be built in seconds thanks to the onboard Pattern Sequencer, which is specifically designed for real-time track creation. Optimized for live engagement, it features a powerful Quantize mode which includes shuffle feels for groove, swing, and movement. You can create patterns on the fly via the 99 available measures, and with continuous looping, the ability to layer, structure, and shape a track is available at your fingertips.
…

Read more
Items 1 to 3 of 3 on page 1 of 1