Today: Minimal/Tech House
Items 1 to 2 of 2 on page 1 of 1
COB 09
(180 gram vinyl double 12")
Cat: COB 9. Rel: 29 Jan 18
Paolo Rocco & Lessi S - "What A Night"

Paolo Rocco & Lessi S - "What A Day"

Paolo Rocco & Lessi S - "What A Dub"

Paolo Rocco & Lessi S - "What An Experience"

Paolo Rocco & Pijynman - "Do You"

Paolo Rocco & Pijynman - "Numbers"

Paolo Rocco & Pijynman - "LHR"
Review: Courtesy of Balance presents to you RAWMoments, the canadian collective made of the deadly sonic skills of Paolo Rocco, Lessi S & Pijynman.
This mini LP is pure heat and what a better way to introduxe themselves out to the world...
The double pack is divided between colloborations between Paolo Rocco & his two sidekicks... Snap these quickly as they will fly...
…

Read more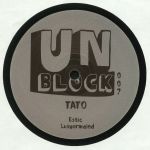 Tato - "Estic"

Tato - "Lusyourmaind"

Tijn - "Stranger Things"

Tijn - "Piano Tool"
Review: Unblock presents it's 7th release with another solid vinyl offering with this 4 track EP by two well established and respected producers. Tato (who also has his own success with his label Isgud Records) on the A side, and TIJN (Label boss of other vinyl only outlets such as In Haus Wax & self titled TIJN) on the B side.
A1.Estic has a deep underground percussive tribal balearic feel to it with rolling cool dark melodic synths and infectious moody pads that carry the energy solidly throughout the track
A2. Lusyormaind has a slightly lighter feel while still maintaining a deep groove over an intelligent key riff, a dirty baseline with a padded wholesome kick and a dark and sexy hypnotic arrangement with hat patterns providing that bit of light.
B1 . Tijn: Stranger Things has a lovely smooth authentic original house vibe with subliminal whispers. The hats and snares carry the swing seamlessly throughout this track.
B2. Piano Loop has a summer sunshine vibe to it with a pleasant repetitive warm piano loop layered with bright but smooth percussion over a subtle but effective baseline.





…

Read more
Items 1 to 2 of 2 on page 1 of 1
Today: Minimal/Tech House