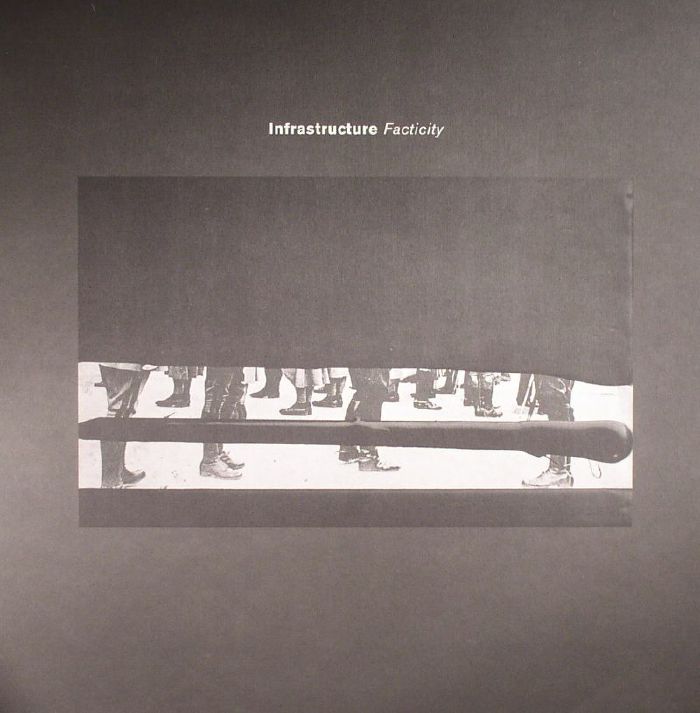 Receive new release alerts for...
Infrastructure US

Tracklist
Side 1
1.
Campbell Irvine - "Dislocation Is Only The Beginning" (7:46)
2.
Vatican Shadow - "Swords Over Paradise" (4:46)
Side 2
1.
Rrose - "Cephalon" (5:22)
2.
Cassegrain & Tin Man - "Polyacid Blue" (6:47)
Side 3
1.
Inland - "Acidalia" (6:07)
2.
Post Scriptum - "ISDAT" (5:19)
Side 4
1.
Steve Bicknell - "Passage Through Darkness" (6:24)
2.
Cleric - "Concrete" (6:32)
Side 5
1.
Blue Hour - "Averting" (5:21)
2.
Function - "Low Lights & Trick Mirrors" (5:41)
Side 6
1.
Efdemin - "Kassiber" (4:39)
2.
Post Scriptum - "Donbelief" (6:29)
Side 7
1.
Cassegrain & Tin Man - "Open Sea" (8:07)
Side 8
1.
Function/Inland - "Colwyn Bay" (11:08)
2.
Silent Servant - "End/Optimism" (1:53)
Review
According to Infrastructure NYC head Function, this compilation was compiled like an album and involves not only the core group of artists but also connects the dots between the label's past, his Berghain 07 mix CD for Ostgut Ton, the legendary Sandwell District days and the respective history of the artists. Infrastructure Facticity spans "a narrative ranging from lush, ambient electronics and post-club diversions, to contemporary club techno and back again." British artist Robert McNally provides the artwork and musically the highlights are not so much the dancefloor ready bangers, which are mainly quite good, rather the moments of restraint such as Vatican Shadow's brooding and almost Boards Of Canada sounding "Swords Over Paradise", the slow burning reduced acid of Cassegrain & Tin Man's "Open Sea" and Rrose's finest moment yet, "Cephalon", which can barely be described in words!
Delivery
Returns & refunds
If you decide an product is not suitable within 14 days of delivery, you can return it to us for a replacement or refund. Returns must be unused and in their original, undamaged packaging.
Some items are excluded from our money back guarantee:
- Computer software that has been unsealed or registered
- Any item that comes directly into contact with the nose, ears or mouth
To arrange a return, just contact our customer service department on 020 7424 2800 or via our customer support form.

100% Secure Shopping
BEST MUSIC STORE:
5 TIME WINNERS