Items 1 to 2 of 2 on page 1 of 1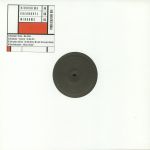 Cat: 458695 001. Rel: 25 Apr 18
Techno
Penelope's Fiance - "Run & Gun" (4:34)

Rawmance + Security - "Un Bon Flic" (3:45)

Alessandro Adriani - "Do Not Deliver Me Into The Enemy's Hands" (6:01)

Raw Ambassador - "Attack, Attack!" (5:49)
Review: New Italian label Hiroshima 45 Chernobyl 86 Windows 95 present Pubblicazione 001. Starting off on the A side is Penelope's Fiance from Thessaloniki, who serves up a lo-fi and coldwave perspective of the Boards Of Canada on "Run & Gun", while Italians Rawmance and Security team up on the slo-mo EBM mutation of "Un Bon Flic" - bringing you the sound of latter's Knick Knack Yoda burger club in Rome. On the flip, Mannequin boss Alessandro Adriani gives us the gnarly 303 acid epic "Do Not Deliver Me Into The Enemy's Hands" and Raw Ambassador aka Antonio Barbetta gives us the early industrial sounds of "Attack, Attack!" with its rusty aesthetic calling to mind the classics of Portion Control or Skinny Puppy.
…

Read more
Violet Poison - "The Drome"

Diana Berti - "Spider Pit"

Opfer Der Hingabe - "The Victim (1990)"
Items 1 to 2 of 2 on page 1 of 1
Filter
Hiroshima 45 Chernobyl 86 Windows 95 Italy