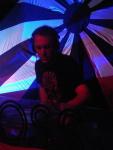 August '09 Hardtech chart!
6head_slug
29-August-2009
6head_slug is a Melbourne based hard techno DJ/Producer, who has been bringing his own unique blend of hard and funky beats to Melbourne's dance floors over the past 4 years.

The beat of the drum and his love for music has driven him from a young age, although It wasn't until 2004 when he brought a set of turntables and his first few records, did he realise it was what he wanted to do with his life.

Since then he has been refining his sound, and pushing forward in the hope of inspiring others, preaching that 'you don't need to change who you are to fit in in this world...'

In June of 2008 he started "No sleep till bedtime..." A series of parties catering for the harder styles of dance music, which has since played host to some of of Melbourne's best local talent, and special guest interstate DJ's.

2009 see's 6head_slug more focused than ever, as he looks forward to the coming year ahead and all that it brings!
Artist
Title
Label
Date

Price

1
BUCHECHA/CHOR/ALEX TB

Psycho Circus EP

(12")

Combat Skill Germany

26 Aug 09
$8.78
Cat:

CSK 017


Genre: Hard Techno
2
SEPROMATIQ

DP

(12'')

Cannibal Society Holland

17 Jun 09
$8.78
Cat:

CANNIBAL 025


Genre: Hard Techno
3
KRANER, Albert/DARIUS GEE/MOTORMORFOSES/NOIZBAR

Syntax Analyzer EP

(12")

DataBlender

19 Aug 09
$8.78
Cat:

DTB 004


Genre: Hard Techno
4
NOTILL, Greg/LUKAS/MONSTER MUSH/DJ EMME

In The Box EP

(12")

Cannibal Society Holland

15 Apr 09
$8.78
Cat:

CANNIBAL 023


Genre: Hard Techno
5
SVETEC/SEPROMATIQ

Calm Storm EP

(12")

Domestic Violence Holland

24 Jun 09
$8.78
Cat:

DV 009


Genre: Hard Techno
6
OBI/BUCHECHA/ALEX TB/MARCIO M

Lost In Amsterdam

(12")

TechnoPride Brazil

03 Jun 09
$8.78
Cat:

TECHNOPRIDE 004


Genre: Hard Techno
7
SVETEC

The Real Hell Is Upstairs

(12")

Crowbar Germany

26 May 09
$8.78
Cat:

CROWBAR 022


Genre: Hard Techno
8
KRANER, Albert/SVETEC

We Are Your Teen Age EP

(12")

Mental Torments Holland

04 Mar 09
$8.78
Cat:

MTR 005


Genre: Techno
9
KRANER, Albert

Critical Nights EP

(12")

Kne Deep

11 Mar 09
$8.78
Cat:

KD 046


Genre: Techno
10
SVETEC/DJ LUKAS/MONSTER MUSH/SPARK TABERNER/MARCIO M

Reconstruction EP

(12")

Reconstruction Holland

28 Jan 09
$8.78
Cat:

REC 001


Genre: Hard Techno