Artists
Items 1 to 3 of 3 on page 1 of 1
Cat: WIGLP 332X. Rel: 11 Apr 16
Indie
Carl Sagan (3:53)

Denise, Don't Wanna See You Cry (3:49)

Leave Your Light On (4:23)

Border On Border (3:34)

Kind Luck (3:23)

Hiding In The Melody (7:18)

Staurolite Stroll (4:45)

Alabama (3:37)

Only To Live In Your Memories (4:24)

Denise, Don't Wanna See You Cry (3:51)

Drum Test (6:09)

Lately, Lately (3:15)

Wondering How... (6:33)
Cat: DOM 05M. Rel: 21 Nov 16
Coldwave/Synth
Transdance (GC1 version) (5:21)

Life Up (demo) (6:03)
Review: The mythical Transdance from UK duo Night Moves is given a much needed official repress by Domestica Records and the Barcelona label have spared no expense. A limited pressing of 400 10"s come housed in hand screen printed sleeves accompanied by a leaflet with complete biography of the band. Despite the paucity of Night Moves discography, it's clear the duo of Michael Guihen and John Davis have had an everlasting effect on the canon of synth music with their much admired debut. Transdance was originally released as a limited 12" white label in 1981, finding favour on the dance floors of Europe and New York City yet never really gained the wider exposure it richly deserved. Original copies of the GC1 pressing of Transdance still command slightly ridiculous prices on Discogs so kudos to Domestica for this rather special presentation which features a previously unreleased demo cut "Life Up" on the flip.
…

Read more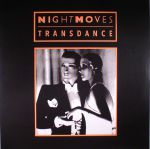 Cat: DE 150. Rel: 06 Mar 17
Coldwave/Synth
Transdance (New York disco mix) (7:17)

Transdance (GC1 version) (5:14)

Transdance (Robot Rock) (UK club mix) (5:57)

Transdance (UK disco mix) (5:35)
Review: A seminal 81/83 record that epitomised so many sounds and melting pots: synth wave, Italo, New Romantic, electro, proto house... The list of worlds this groundbreaking song traversed is remarkable. Here Dark Entries compile the four versions that were cut during its two key release phases on GC Recordings in 1981 and 1983 in all their remastered glory. Smouldering, moody and still relevant to so much going on musically, this is true piece of history.
…

Read more
Items 1 to 3 of 3 on page 1 of 1