Artists
Items 1 to 3 of 3 on page 1 of 1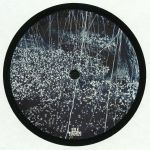 Cat: IDLE 051. Rel: 23 Apr 18
Minimal/Tech House
Katalox (6:08)

Del's Kicks (6:10)
Review: Although he's only on his third release to date, Christian Jay is an Idle Hands boy, through and through. This return to the imprint places him in a convenient position, now able to show the world what 'bass' means to him, and exactly how he likes to construct his hybrid cuts. The lead tune "Katalox" is a suave, minimalistic garage stepper with a two-step stance, wrapped in all sorts of airy ambient waves; "Del's Kicks" is a similar sort of groove, this time breaking out yet more percussive glory. Cold, calculated, and utterly excellent.
…

Read more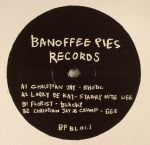 Cat: BPBL 01 1. Rel: 20 Jun 16
Minimal/Tech House
Christian Jay - "Rhotic" (7:12)

Larry De Kat - "Starry Nite Life" (6:06)

Florist - "Blacky" (5:59)

Christian Jay & Crump - "GG3" (7:14)
Review: Bristol's Banoffee Pies are back with their 11th edition. But as far it goes musically: this certainty ain't Bristol! Starting out with the smoothly reduced tendencies of local lad Christian Jay's "Rhotic" which sounds inspired by the sounds of Trelik, there's more of the same (albeit much dubbier and smoked out) on "Starry Nite Life" courtesy of Utrecht's Larry de Kat; very paranoid afterhour vibes on this one! On the flip we've got some more dubbed out fare courtesy of Christian Jay, again, who enlists a bit of help from Crump on the rusty and dust coated "GG3". All Caps artist Florist adds a touch of Vancouver to proceedings with the squelchy DJ tool "Blacky."
…

Read more
Cat: PATTERN 4. Rel: 29 Jan 18
Minimal/Tech House
Christian Jay - "Wick"

VICARI - "IC"

Lee Hume - "RE6"

Malvito - "Out Of The Blue"
Items 1 to 3 of 3 on page 1 of 1