Labels
Items 1 to 2 of 2 on page 1 of 1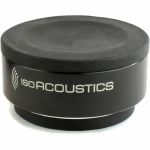 Cat: 638942 Rel: 15 May 17
Isolation device for studio monitors & amps
Notes: We're familiar with IsoAcoustics' highly effective line of monitor isolation stands that seem to bring out the best from any speaker. NAMM 2017 will see IsoAcoustics release the new Iso-Puck - the same concept as the bigger stands, yet in a low-profile, flexible, scalable version. The little puck-like discs are placed under your speaker to isolate them from the surface they're sitting on.

An Iso-Puck is pretty small - just 3cm tall and 6cm in diameter. Its round shape makes positioning a bit easier than with stands, especially on varied surfaces like the narrow space on top of a console meter bridge. The multipart isolation construction of the Iso-Puck lets it move to isolate and manage the energy in line with the same isolation concepts employed in other IsoAcoustics products. The Pucks feature a flange suction cup on the top to hold tight the speaker surface, as well as a bottom suction cup flange for the supporting surface. Energy is transferred to the core of the multipart isolator in between which resists lateral movement and offers better isolation.
…

Read more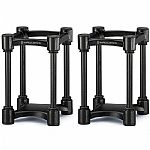 Cat: 459179 Rel: 25 Jun 12
Stands for speakers and studio monitors
Notes: The IsoAcoustics ISO-L8R155 sound isolating speaker stands are fully adjustable speaker stands designed to reduce sympathetic vibrations thus increasing monitoring accuracy.

The ISO-L8R155 speaker stands provide superior acoustic isolation and enhance the sound clarity of any speakers including studio monitors, home theatre systems and sound reinforcement.

An important aspect of the speaker stand design is the ability to adjust the height and tilt angle of the supported speaker enclosure to optimize its position relative to the listener.

2 lengths of tubing along with 2 sets of end-plug pairs provide 14 steps of height adjustment as the combinations are used to tilt the speaker up and down. The stand can be assembled and reconfigured repeatedly to establish the ideal position off the supporting surface and focused towards the listener.

The tube lengths and end-caps combinations provide a simple means to establish optimal adjustment of large and small monitors over the typical 36" to 48" listening distance for mixing and evaluation.

The ISO-L8R155s speaker stands prevent the transfer of speaker cabinet energy to surrounding surfaces, effectively isolating the speaker from the desktop, bookshelf or other surface. By allowing the speaker to perform in free space, it's able to sound the way it was intended. The end result is a more accurate, satisfying sound, which makes mixing and listening a better experience.

The stands can be configured to 3" or 8" in height with the inserts that provide a variety of tilt-up and tilt-down adjustments.

…

Read more
MRP:$118.56
SAVE 21%
2 in stock
$93.25
Items 1 to 2 of 2 on page 1 of 1