Labels
Items 1 to 2 of 2 on page 1 of 1
Cat: HONEY 002. Rel: 05 Feb 18
Deep House
Peanut Butter Lover

Bummi

Made In Montana
Review: "We've reached Honey Butters 2nd instalment. After the sought after Club Flamingo, the spotlight is now aimed towards Germany where our good friend M.ono is residing.

The eminent producer delivers 3 club ready tracks for all hours of the evening.

Starting the journey with the title track Peanut Butter Lover, where M.ono takes you to the moon and back on the rainbow express train.

Flipping the plastic and you will hear the some exquisite and uplifting rhode action and the occasional saxophone stabs in Bummi, this one will leave you smiling and thinking about drinks with small umbrellas in them.

Wrapping up the EP we have the piano-groover Made in Montana which not only works great when you have most comfortable socks on but will also leave you wanting more."





…

Read more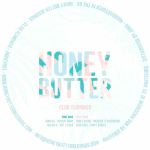 Cat: HONEY 001. Rel: 13 Nov 17
Deep House
Swales - "Pushin' Away"

Ari Bald - "Hot 2 Cold"

Sable Blanc - "Musique D'Ascenseur"

Eben Rees - "Dirty Dishes"
Review: Honey Butter launches in a flurry of feel good deep house from lesser known producers with a keen ear for straight up groovers. Swales kicks the record off with the melancholic tones of "Pushin' Away", while Ari Bald sidles in with the wistful sample chops of "Hot 2 Cold". Sabie Blanc takes things to even dreamier heights on the B-side with the harp-embellished romanticism of "Musique D'Ascenseur", and then Eben Rees finishes the party off with some seriously funky licks on "Dirty Dishes". All in all, it's a formidable salvo of likeminded deep house jams that should work its way into the bags of all manner of soulfully-minded spinners.
…

Read more
Played by:
Replika (Deso, Swedish Brandy)
,
Superbreak
,
Kisk
,
Osmose
,
80's Child
,
The Silver Rider
,
Ari Bald
,
Masterworks Music
,
HOTMOOD
,
Sune
Items 1 to 2 of 2 on page 1 of 1