Labels
Items 1 to 2 of 2 on page 1 of 1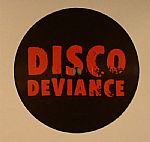 Cat: DD 31. Rel: 18 Nov 13
Disco/Nu-Disco
Club Cruise (SHMLSS edit)

Bang The Gong (SHMLSS edit)
Review: SHMLSS are two Dutch dudes with a clear aversion for vowels, a fondness for dusty old disco and Zubrovka vodka and a production approach they refer to as Future-House. With the genre detectives still investigating the validity of this latter claim, the Amsterdam-based pairing of Bart van Manen & Michiel Lancee are free to make their debut on the trusty Disco Deviance with a right pair of gems. Lead track "Club Cruise" is a laser guided disco bomb driven by low bass, scratchy guitar licks and intergalactic clav breaks and the pleasant midtempo bump of this is complemented well by the swifter B Side. SHMLSS tackle a Debbie Jacobs classic on "Bang the Gong" focussing entirely on the instrumental arrangement and demonstrate fully their talent for the edit.
…

Read more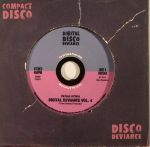 VARIOUS
Cat: DDCD 04. Rel: 15 Dec 14
Disco/Nu-Disco
Need Some Love (Beaten Space Probe & Dicky Trisco edit)

Make Me Whole (Rahaan edit)

Viva Las Vegas (Ray Mang edit)

Get To You (Pete Herbert & Dicky Trisco edit)

Zulu Nation (Eddie C edit)

Glow (Late Nite Tuff Guy edit)

In The Disco Last Night (Pete Herbert & Dicky Trisco edit)

Don't Stop Me (The Popular Peoples Front edit)

Sfunky (A Dimitri From Tokyo edit)

Ball Games (Otherlover edit)
Review: Over the last seven years, Dicky Trisco's Disco Deviance label has become one of the most reliable sources to top-notch disco and boogie re-edits, delivering a string of must-have, vinyl-only releases. Given that their last CD roundup of 12" releases dropped back in 2012, Digital Deviance Volume 4 is well overdue. Predictably, it's packed with dancefloor dynamite, from the lolloping disco bump of Rahaan's "Make Me Whole", and Pete Herbert and Dicky Trisco's "Get To You" (a near perfect instrumental rearrangement of France Joli's "Gonna Get Over You") , to the organ laden madness of Dimitri From Tokyo's "SFunky". Best of all, though, is "Don't Stop Me" by The Popular People's Front, a heavily percussive romp through bumpin' disco-funk pastures.
…

Read more
Items 1 to 2 of 2 on page 1 of 1