Items 1 to 3 of 3 on page 1 of 1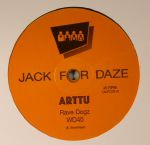 Cat: CJFD 28. Rel: 29 Feb 16
Deep House
Rave Dogz (5:43)

WD40 (5:38)

Dust (5:06)

Bonus Peach (4:04)
Review: Arttu Snellman has enjoyed a long-standing relationship with Clone thanks to his releases on Royal Oak. However, that arrangement changes as the Berlin-based producer's latest venture for the Rotterdam operation sees him change over to the Jack for Daze outlet. Certainly, his approach is tougher than before; the title track is redolent of '90s techno, with metal-plated percussion providing the backing for insistent bleeps and rubbery sub-bass. On "WD40" and "Bonus Peach", eerie organ riffs prevail, underpinned by sturdy kicks and powerful bass, while on "Dust", Arttu reverts to a harder sound, as insistent stabs are married with an aggressive rhythm track and growling bass.
…

Read more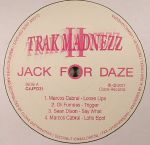 Cat: CJFD 31. Rel: 18 Sep 17
Techno
Marcos Cabral - "Loose Lips" (7:57)

Oli Furness - "Trigger" (4:52)

Sean Dixon - "Say What" (6:13)

Marcos Cabral - "Lotto Spot" (5:16)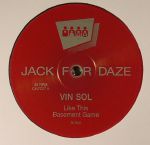 Cat: CJFD 27. Rel: 08 Feb 16
Techno
Like This (5:20)

Basement Game (5:43)

Back 2 Something (4:30)

Make Em Say (5:07)
Review: When he's not moonlighting as a John Candy lookalike, Vin Sol can be found proffering a fine contemporary take on US house tropes for the likes of UTTU, Delft, Icee Hot and his own Soo Wavey label. Having debuted on Clone's dependable Jack For Daze series last year with the Off The Chain 12", the Californian is back with another fresh four-tracker for the clubs, Like This. The title comes off like a tipsy update on Green Velvet classic "Percolator", whilst "Basement Game" is Poindexter style sleaze at a slightly pitched down tempo. On the flip "Back 2 Something" sees the Sol-master work pitch bent tones over a brutal, perma snapping drum machine groove whilst closer "Make Em Say" is a prime slab of Dance Mania inspired naughtiness.
…

Read more
Items 1 to 3 of 3 on page 1 of 1