Labels
Items 1 to 2 of 2 on page 1 of 1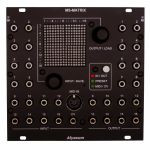 Cat: 592335 Rel: 20 Mar 17
Eurorack module consisting of a dynamic matrix, with 16 inputs & 16 outputs - 26HP wide
Notes: The Alyseum MS-MATRIX is a Eurorack module consisting of a dynamic matrix, both analog and digital in nature, which sports 16 inputs and 16 outputs.

A special 256 LED display makes a fast, a friendly and intuitive graphical interface, each LED representing one of the 256 points of connections available.

The module accepts a variety of signals such as Gates, Clocks, CV and Oscillator simultaneously, while the different user configurations can be saved as user presets in 32 locations.

These 32 presets can be recalled by hand, by a dedicated CV Input on the front panel, by MIDI (either incoming Note On or CC).

The Input and Output expander mixer modules (coming soon) can be controlled by the MIDI from the main unit via infra-red (IR).

No need for additional cables which might cause ground loops or interferences!
…

Read more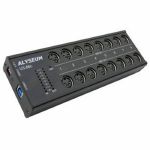 Cat: 627738 Rel: 20 Mar 17
USB 3.0 MIDI interface with 8 MIDI inputs/outputs
Notes: The Alyseum U3-88c is an USB MIDI interface with 8 MIDI in and outputs. It has very low latency and jitter because it can be connected via USB 3.0. The U3-88c is also backwards compatible to USB 2.0 through the auto detect function. With this Alyseum MIDI interface you can operate with up to 8 MIDI input-devices. For more flexibility you also have access to 8 MIDI outputs.
…

Read more
Items 1 to 2 of 2 on page 1 of 1