Full details of Ontario Hospital record for Opal Tapes emerge

We contacted the Canadian pairing of Rich Oddie and David Foster about the upcoming Future Ready EP due for release next month.
News Opal Tapes was planning to release music from Ontario Hospital first seeped through our channels back in September when we got wind of a video for "Perfect Skin" from F Squared Media's Dominic F. Marceau. Having first debuted their brand of power electronics on the vinyl format with a contribution to the Sulla Giostra Nell'Ombra split 12″ from Violet Poison in February, Rich Oddie and David Foster will debut their fledging collaboration in full on Opal Tapes with the the four-track Future Ready EP due for release in January,
Rich Oddie is of course one half of Orphx with Christina Sealy, while Foster has been involved with many projects over the years, with his most supported work coming through the Teste collaboration, an early '90s techno project known for the seminal techno production The Wipe. Foster was also Junior Boys' live drummer between 2005 and 2009, and under his currently active Huren alias, Foster released a rapid fire run of heavy hitting industrial techno releases for Kareem's Zhark Recordings between 1999 and 2000. Check out Foster's latest effort as Huren released through Bandcamp.
"His records on Zhark from the late 90s / early 00s predate the whole industrial techno trend by about 15 years, and have had a big influence," Oddie told Juno Plus over email. Furthermore, we sent the Canadians a round of questions regarding their Ontario Hospital collaboration, involvement with Opal Tapes and the Toronto raves they once snuck into with people like Jeremy Greenspan, Matthew Didemus and Alixander III of Azari & III.
Dave, Juno Plus spoke to you earlier this year for your involvement in Teste and the track "The Wipe". You mentioned how you used to sneak into Toronto raves with Rich and Christina Sealey. Do either of you remember who you saw, and how hard was it to get into these raves?
Rich: The rave scene in Toronto and Hamilton during the early '90s was pretty accessible and one of the things I really liked about it was the wide range of different people that would attend those parties. You'd see teenagers dancing next to old hippies. I don't recall specific artists though there would often be artists from the Plus 8 stable like Plastikman and Vapourspace. I do remember hearing Underground Resistance and early Basic Channel material at those parties. Those records made a big impression on me, along with Teste, Circuit Breaker and some of the other releases on Probe.
Dave: From my personal perspective, I must derail it from the Toronto focus of the question, as I spent more time going to parties in Detroit. Those trips made a lifelong impression, including meeting Mad Mike at the UR building and their welcoming hospitality, the Hawtin events (Jak, Hard, The Lodge) and the 1217 Griswold Loft parties, organized by what later became Paxahau, the present promoters of the Movement Festival. Generally those weekends ended up with me strung out in the Windsor Greyhound Shelter, roaming around at all hours trying to keep warm before the graveyard shift bus back to Hamilton and sometimes after lugging my Amiga 4000 and other gear down there for gigs. It should be mentioned that in those days there was a culture in the Midwest similar to Deadheads and the Merry Pranksters that travelled all over the country to raves.
The last time I felt involved with the rave or early techno culture was 1996, which I spent in New York frequenting Robots, Temple Records, Strange?, Liquid Sky, Limelight, Static, Soundlab and the Storm Raves. That was where I first met Function when he was working at Rogue Music and Alec Empire as he was becoming established with Grand Royal, etc .That's also the beginnings of the Zhark Berlin imprint out of Kareem's Irving Plaza apartment…
Definitely a whirlwind and one-time only experience as it was all pre-internet and everything was so unstructured and chaotic. You felt that a new musical or artistic movement would unfold after going to a special party. I could only frame some of the special nights as "meetings of the minds". It was also interesting to feel the lines in the sand creatively and see where everyone was really coming from. Then of course real life set in and all was forgotten eventually. The dreams vanished and all we have are glimpses of unrealized utopian visions.
From there on I went to Europe for the first time and grew disillusioned with the techno scene soon afterwards. It just wasn't a place I felt completely at home and still don't. Actually I'll extend that to pretty much any scene as they're all ultimately futile. Once you seek external approval and acceptance it's over for creative freedom.
You two have been friends for a long time then? Is this the first time you've hooked up in the studio?
Dave: Yes for some reason it just ended up that way. Life circumstances and distractions kept us locked into our prior activities but as the years passed it made more sense to do this collaboration. Rich has a vast background in the industrial and noise movements, particularly the releases on Hands Productions, Hymen, Body and Blood, etc. In the '90s and '00s our respective releases (mine on the Zhark Berlin imprint) were classified as 'rhythmic noise', which some would consider as a precursor to today's industrial techno scene.
Rich: We've been swimming in the same waters for over 20 years. As I mentioned, Teste was a big inspiration for Orphx and led us towards incorporating more techno elements into our music. Over the same period, Dave's work has gradually shifted from techno towards noise. During the last few years, my work with Orphx has moved even closer to techno while Dave's work as Huren has moved far away from techno and into a more purist form of power electronics. So we have have been moving in opposite directions but those lines crossed at the right time. A couple of years ago, the time seemed right to work together and the vision was basically to combine those two approaches into something new.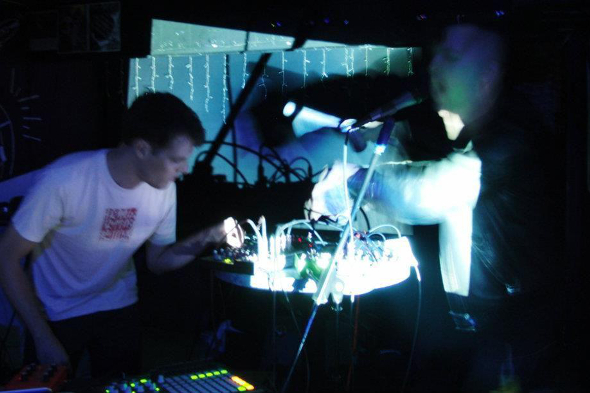 The name, Ontario Hospital, is their a story behind it? And are there any specific influences or aesthetics you try and tap into when working as Ontario Hospital?
Rich: The core name for the project is O/H and this stands for a few different things including Oddie/Huren and Ontario Hospital. The Ontario Hospital refers to a local asylum in Hamilton, the city where we both grew up. It was built in the later 19th century and there are all sorts of myths and stories about the place. When I was growing up, it was a common expression for someone to say "they're going to send you to the OH" if you were acting strange or crazy. This seemed like the perfect reference point to us, and exploring the idea of madness quickly became the focus for the project.
Dave: For me, O/H is an exercise in the impractical and a staunch rejection of the garish dreck we're force-fed in our daily interactions. I've been pretty much fanatical about the early Swans releases for the better part of my existence and the abject transgressions they exude. While I'm a middle-aged adult and Gira was an adolescent/early adult at the time, I think I can muster elements of that misanthropy through projects like this one.
When I work on material for this project I always think back to the initial shudder I got when I first read the Transcript of Gira's "I'm an Infant I Worship Him" in Charles Neal's "Tape Delay" book as a teenager and try to channel that perverse sense of freedom and catharsis.
Rich: I would also mention early SPK and The Klinik as important reference points. Life changing music and ideas.
How would you describe the music of Ontario Hospital and have you two established some kind of working-dynamic in the studio?
Rich: The whole project is based around improvisation. For the most part, Dave focuses on vocals and effects and I focus on percussion and synths, but this varies from one track to another. We also keep changing the gear that we are using to keep things interesting, although the MS20 and 808 are almost always part of the mix.
The approach to live performance and studio recordings is very similar. With the studio recordings, I edit whatever we record and shape a finished track from that. Since Dave relocated to Toronto, we've been doing more work remotely but the main focus is still on real-time improvisation.
Dave: Ontario Hospital is SONICS FOR MANIACS.
You had a track on a split release for Violet Poison. To appear on that label was it simply a case of sending Shapednoise and Obtane your music?
Rich: Violet Poison heard about the project and invited us to contribute.
Opal Tapes is due to release your collaboration's first solo record, Future Ready. How did it come to land in the hands of Stephan Bishop?
Rich: We approached Opal Tapes. Stephen had heard and liked the track on Violet Poison and he offered to put out the first 12″.
How much more can we expect from Ontario Hospital in the future?
Dave: We are finishing up a second 12″ and some other new material is on its way. We're also working on two remixes at the moment: one for AnD on Electric Deluxe and another for a reissue of the legendary Toronto-based EBM act Digital Poodle, on Suction Records.
Opal Tapes will release Future Ready by Ontario Hospital on January 19.
Tracklisting:
A1. Future Ready
A2. Consumer Report
B1. Perfect Skin
B2. Bleed Down