Raudive joins Running Back with Traffic EP
Evergreen producer Oliver Ho aka Raudive will join Gerd Janson's Running Back stable with a 12″ set for release in January 2013. 
Over a period of 15 years, Ho has developed a reputation as a chameleonic producer with little interest in focusing on one sound or genre. In recent times his primary musical focus has been on The Eyes In The Heat, a three piece band whose debut album ProgramMe, released via Ivan Smagghe's Kill The DJ imprint, was characterised by an atmospheric blend of early Factory-ish sassiness and post-punk charm. Ho's generally techno-centric Raudive alias stretches back to the mid 2000s, with releases on Klang, Poker Flat and a slept-on gem for History Clock in 2011 among others, whilst his production history under his own name dates back to the late 90s with transmissions for Blueprint, Drumcode and his own Meta imprint.
His forthcoming appearance on Running Back is perhaps not a surprise – both Janson and Ho share a similar musical ethos, with Ho stating in a recent feature on Juno Plus that "techno, house, disco or rock music are not mutually exclusive things, and they don't cancel each other out". It's a mantra that has Janson has long followed; in 2012 alone the German put out everything from Redshape's nuanced techno to Disco Nihilist's crisp analogue beatdown and the self-styled "Vatican house" of BDI. On first listen Traffic seems to consist of muscular EBM and house workouts, with the detuned pianos and manipulated vocals of the title track likely to garner considerable attention over the winter.
Running Back will release Raudive's Traffic EP in January 2013.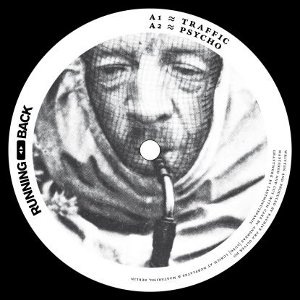 Tracklisting:
A1. Traffic
A2. Psycho
B1. Relentless
B2. Beams
Digital bonus tracks:
1. Beams (Alternative Version)
2. Traffic Beats