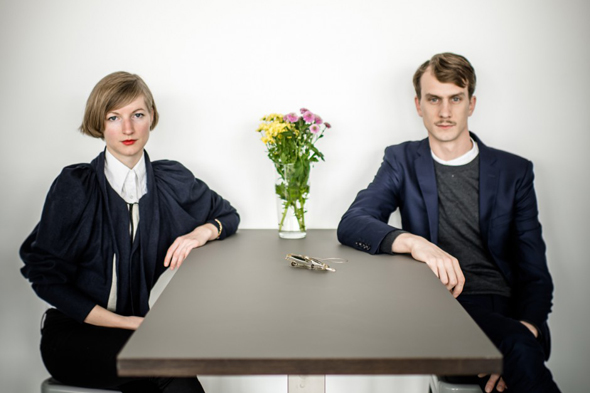 Pharoahs, Orson and Diva also tackle tracks from the Düsseldorf kosmische duo's debut album.
Italic Records has long served the electronic music of Cologne and the surrounding area. Reaching back to 1999 the label has supported stylistically ambiguous outfits such as Kreidler, Stabil Elite and the many different projects of Stefan Schwander. While 2015 was a relatively quiet year for the label (only releasing Schwander's Santos album as Harmonious Thelonious), the wheels are already in motion for new material to release in 2016. BAR was a new concern for Italic last year, featuring Lucas Croon of Stabil Elite alongside Christina Irrgang turning out a sharply informed blend of new wave, synth pop and the finest in German kosmische traditions.
Now Italic have commissioned a strong cast of characters to rework tracks from the Welcome to BAR LP, calling on artists specifically split between Düsseldorf and Los Angeles. Pharoahs (featuring Suzanne Kraft amongst others) take "Anjali Reverse" and turn it into a gently lilting Balearic vignette, while noted German dubstepper Orson nudges "Dexy's Alrobe" into a spacious half-step chiller. Diva Dompé, daughter of Bauhaus drummer Kevin Haskins no less, creates a bewitching version of "Adios" that sounds beamed straight out of Sunday morning, but for pure flair and unmistakable groove Wolf Müller's take on "BAR Theme" has us especially excited. Ahead of the release of the record at the end of January the label have given us a stream of the latter remix to share in full below.
Italic Records will release L.A. Düsseldorf by BAR on January 22 – pre-order here.
Tracklisting:
A1. BAR Theme (Wolf Müller Remix)
A2. Anjalie Reverse (Pharoahs Remix)
B1. Dexy's Alrobe (Orson Remix)
B2. Adios (Diva Remix)
Italic on Juno