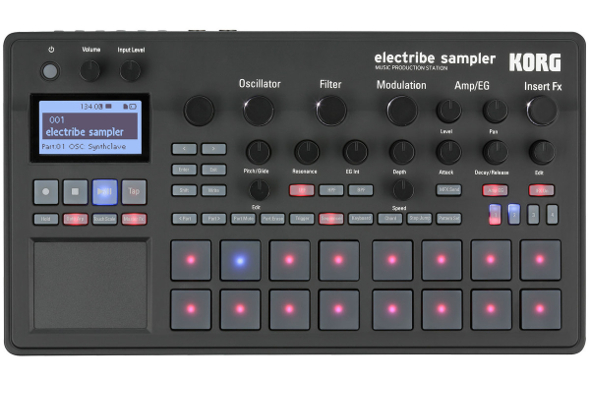 Robin Lee mashes his samples with Korg's rebuffed Electribe unit.
Japanese company Korg have always strived to build quality, mobile instruments and their most recent example is the Volca series of sync-able miniature synths and drum machines. Korg recently added the Volca Sample to this line of product which combines simple sampling technology and a step sequencer, and now they up the ante with a new version of their Electribe Sampler, the ESX2.
Anyone familiar with the Electribe series will know it's a well-loved Korg product, and many users have the company's previous model at the heart of their live set up. As an Electribe novice, I was expecting a steep learning curve with the ESX2, so it came as a pleasant surprise that diving head-first into a live jam session didn't require much perusing of the manual.
The unit itself is set out in a logical manner with 16 performance pads and an XY strip that is reminiscent of the Kaossilator. The function buttons above the pads are self-explanatory, so switching from live trigger mode to sequencer view, to part mute mode, is easily done. In fact there is space for a total of 999 preset and user samples, allowing for 270 seconds of mono sampling time. But before getting into the sampling side of the ESX2 it was good to explore the large selection of preset sounds, inclusive of loops and hits donated by well-known sound librarians Sample Magic, Loopmasters and Prime loops.
There are plenty of source sounds too – kicks, snares, claps, bass tones, pianos and stabs – and they can all be edited on the front panel with the array of knobs controlling parameters like attack and decay, amplitude, as well as low, hi and band pass filters in addition to resonance and cut off control. Modulation is easy to implement too, with a choice of three templates to morph your sounds and sample speed, to depth control knobs to fine tune your ideas.
Key to the versatility of this unit are the set of inputs and outputs on the rear of the unit. This time the main outputs are full sized quarter-inch TRS ports, which will come as a huge relief to those of us that aren't quite ready for the disappointing minijacks that came with the Volca series. Sampling capability is, of course, the new feature to the Electribe family and the ESX2 makes use of a minijack audio input found on the back panel to facilitate sampling, and with a little bit of menu diving you can decide if you want to sample in mono or stereo from an external source or directly from one of the performance pads on the unit.
With the filter, amp, modulation and pitch controls, you can mash your samples, and with the addition insert FXs that include distortions, delays, reverbs and ring modulators, amongst a slew of others, there is a surprisingly wide scope for experimentation and sound design. If you add that to the possibility of recording all real-time tweeks live into a sequence then the ESX2 opens up into a tool for creating innovative sequences between 16 and 64 steps long.
More info/buy
Robin Lee