Pioneer roll out the XDJ-700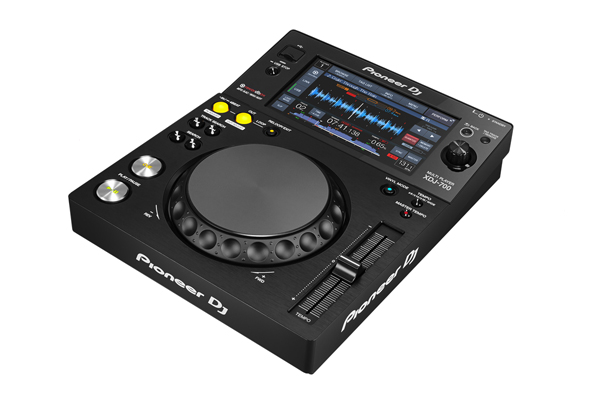 The digital DJ device features touch-screen technology in a smaller case than the XDJ-1000.
The days of the CD as a DJ-friendly format are surely numbered, as technological trends continue to move either back to the long-standing vinyl tradition or into increasingly convenient digital file interfaces. At this stage it's hard to keep up with the number of in-the-box MIDI controllers and interfaces available for wielding Traktor, Serato et al, but equally there is still a buoyant market for those who prefer to interact with a dedicated device fit for the purpose of blending tracks. Pioneer have maintained an industry-standard position with their range of CDJ decks, with later models accommodating the prevalence of music collections stored on USB sticks and flash cards rather than in CD wallets. Late last year the manufacturer unveiled the XDJ-1000, which featured the familiar layout of their CDJ models but without the capacity to actually play CDs.
Instead the focus has been placed on working with digital media storage and integrating more effectively with software set ups, while still providing the tactile appeal of a dedicated DJ unit. Considering the lack of a CD player facility, it makes sense that Pioneer have now created an equivalent solution in a smaller, 'more affordable' package. Feature-wise, the XDJ-700 stands up to its bigger cousin comfortably, most notably when it comes to the touch screen interface with its hugely beneficial search functions for sifting through ones digital arsenal. Equally such on-board effects and processes such as Hot Cues, quantize and Slip Mode are all present, while the unit is of course ready to pair with Pioneer's rekordbox software as well as the Pro DJ Link (which can share one storage device across a maximum of four players simultaneously). A brief video below offers a visual introduction to all the XDJ-700's features.
Pioneer will release the XDJ-700 soon.