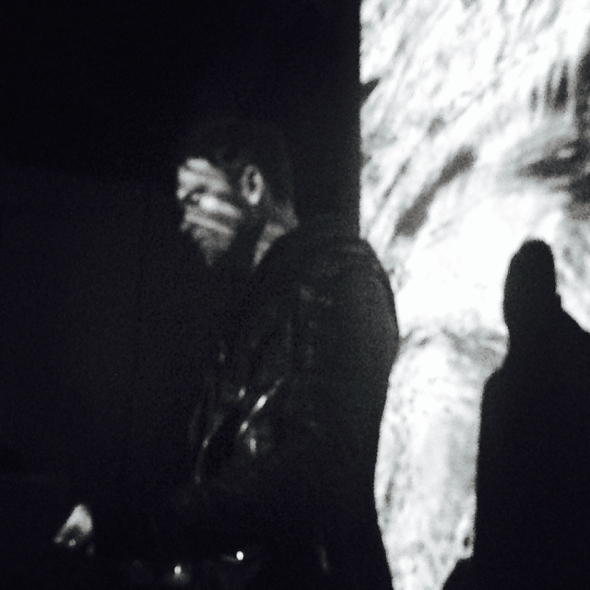 The label has compiled productions, remix work and unreleased demos from the Downwards boss on the forthcoming Manbait.
Downwards founder Karl O'Connor is undoubtedly both an influence and a kindred spirit to Blackest Ever Black and has been a noticeable presence since their earliest endeavours. Raime's If Anywhere Was Here He Would Know Where We Are 12″, the second release from Blackest Ever Black, featured a Regis remix and O'Connor has appeared on the label in one shape or form intermittently in the ensuing years. Given that some of these Blackest Ever Black releases featuring Regis are now out of print and highly prized (check this review of the Turin Versions 12″ from Discogs hero Maroko) it makes sense for the label to collate them on one compilation.
First revealed in a note from the administration post on the Blackest Ever Black site earlier this year outlining some of their projects for 2015, full details of this Regis label primer have now surfaced. Due for release in September, Manbait is described simply as a "survey of Regis's 2010-15 productions and remixes for Blackest Ever Black," and features a tracklisting that will tickle the fancy of any self-respecting Karl O'Connor completist. Among the three Regis originals (in several different versions) and remixes of Ike Yard, Dalhous and Vatican Shadow, Blackest Ever Black have coaxed some unreleased material out of the man. The label have also sneaked in "C U 1", a track O'Connor produced as Cub around the same time he started working with Blackest Ever Black.
Blackest Ever Black will release Manbait by Regis in September
Tracklisting:
CD:
1. Ike Yard – Loss (Regis Version)
2. Dalhous – He Was Human And Belonged With Humans (Regis Version)
3. Regis – Blood Witness (Original 12″ Mix)
4. Vatican Shadow – Church Of All Images (Regis Version)
5. Family Sex – Manbait (Regis Version)
6. Regis – Blinding Horses (Original 12" Mix)
7. CUB – C U 1
8. Regis – Blood Witness (Downwards Extended Version)
9. Tropic of Cancer – Plant Lilies At My Head (Alternate Version)
10. Regis – Blinding Horses (Turin Version)
11. Raime – This Foundry (Regis Version)
12. Regis – Blinding Horses (Stableboy Version)
Vinyl:
A1. Ike Yard – Loss (Regis Version)
A2. Dalhous – He Was Human And Belonged With Humans (Regis Version)
B1. Vatican Shadow – Church Of All Images (Regis Version)
B2. Family Sex – Manbait (Regis Version)
C1. Regis – Blinding Horses (Original 12" Mix)
C2. CUB – C U 1
D1. Raime – This Foundry (Regis Version)
D2. Tropic of Cancer – Plant Lilies At My Head (Alternate Version)