The manufacturers of the famed TB-303 finally update the instrument for a new era. Rob Lee finds out if Roland's new machine delivers all that it promises.
Back in the 1980s, when analogue synths had been around for a while and the birth of MIDI was imminent, among a brave new world of drum machines, synths and sequencers came a curious invention from the innovative minds at Roland called the TB-303 Bassline. Largely ignored at first, it was designed to aid traditional musicians by providing bass accompaniment for small ensemble groups. However, it was famously appropriated by the dance music fraternity, who singularly took it to its absolute limits. Coupled with the TR-808 drum machine, they invented what would become known as acid house, firmly imprinting dance music into the experience of youth culture forever.
Fast forward 25 years and music has come full circle (as is generally the case), with a resurgence in all things acid. The recent demand for vintage TB-303 has generally exceeded supply, with the few units making their way onto eBay changing hands for large sums of money. With boutique electronic music companies building clones of the fabled TB-303, Roland must have felt some pressure to respond to this renewed interest, something which has manifested itself in the form of the TB-3 Touch Bassline, itself part of Roland's new Aira series.
With plenty of companies already making clones of the original TB-303, and doing a fairly good job of it, Roland have decided to go the extra mile and update their design with a more modern set of features. The classic saw and square wave sounds are still present, as is the step sequencer and the resonant filter that makes the acid sound what it is. But there are some key new features, including a real time recording mode that allows you to play your basslines directly into the unit, a touch pad interface with backlighting to give you clear visual feedback, some brand new effects, and four banks of sounds to choose from.
Although the sound doesn't come from a traditional analogue signal path, in terms of sound, the new TB-3 is very much like its predecessor and TB-303 owners and enthusiasts will not be disappointed. To achieve this Roland have made use of what they call ACB modelling technology, designed to replicate the behaviour of analogue components. The huge stereo sound includes generous low end, plenty of clarity, and classic screaming top end resonance, if the fancy takes you. The control interface makes use of volume, filter cut-off, resonance, accent amount and effects knobs to help you get to grips with your patterns and sounds.
There are four banks of sounds in all, including classic TB-303 sounds, synth bass presets, lead sounds and sound effects. All of these have different effects assigned to them, each of which can be controlled using the dedicated effects knob. Another simple way to vary the sound of your bass line is by using one of the eight scatter effects, that include rolls and glitches designed to allow you to build variety and drama into your performances.
"Although the TB-3 has a tough legacy to follow, every producer, whether they're a beginner or more experienced, will find a world of creativity to be opened up with the TB-3."
The touch pad interface has various different modes of use that include a one octave touch keyboard, ideally suited to inputting notes, rests and glides either in step record mode or the new and extremely useful real time record mode. The next mode turns the touch pad into an XY-style ribbon control strip with level control. There is also a mode for controlling the implementation of the scatter effects, a mode for organising and triggering up to eight different patterns in one performance and a mode for modulating the envelope filter like you might do on a Korg Kaoss Pad, for example. All in all, the touch interface works well and it is definitely a lot easier to record in step mode on this machine compared to its predecessor.
Keyboard players wishing to jam their own patterns in real time record mode may find the touch pad a bit limiting however, and might feel like adding a MIDI control keyboard. However, although you can play the TB-3 with an external controller, the touch sensitivity won't work and unfortunately you won't be able to record patterns on the fly, directly into its sequencer. Recording patterns on the fly is only achievable by using the touch pad keyboard on the unit itself, which might not work for those who are more used to working with keyboards. On the whole however, the touch surface offers a lot of control possibilities that will come in very handy in a live environment – especially as it is very well lit and features pressure sensitivity.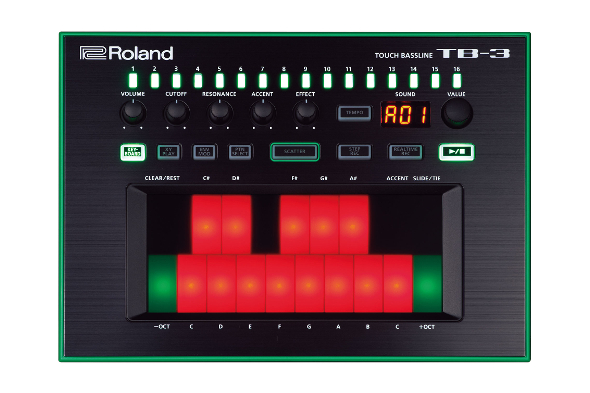 The TB-3 has MIDI I/O and USB connections which will allow you to clock sync directly with either your DAW of choice or a drum machine, such as the TR-8. We are told that in the case of both USB and MIDI being connected, the unit will favour a clock source over USB, which is worth noting. Roland have also taken into account that a lot of users of the Aira instruments would probably enjoy syncing them up to their old equipment via CV or DIN sync, and to facilitate this deceptively tricky operation, they have revealed a Roland Aira Sync Box that we are told will handle this manoeuvre with little stress. Other connections on the rear of this unit include left/right ¼"TRS outputs, a headphone port and a DC in with a switch to toggle between the power supply and power over the USB bus.
If there is a drawback to the TB-3, it lies in the fact that all the sounds are presets and there is only the possibility to shape the sounds using the filters found on the front panel. The flip side to having such a simple interface is that the TB-3 is very easy to navigate, and most people will be able to use the majority of the features found on this machine without delving into the rather slender manual card that the unit ships with. The possibility of syncing Aira instruments with digital DJ equipment means that the TB-3 will be as tempting for DJs wanting to add a bit of flavour to their sets as producers. Although the TB-3 has a tough legacy to follow, every producer, whether they're a beginner or more experienced, will find a world of creativity to be opened up with the TB-3.
Rob Lee
More info/Buy
Specifications:
| | |
| --- | --- |
| Power | DC |
| Sound source | 134 preset patches |
| Sequencer | Up to 32 steps, 64 user patterns, step/real time record, swing, accent, glides |
| Effects | 8 x Scatter effects, preset effects |
| Controls | Touchpad, knobs, buttons |
| Display | 3 character (7 segment) LED |
| Connections | MIDI I/O, USB, 1 x headphones 6.35mm, L+R 1/4″ TRS outputs |
| Dimensions (cms) | 24x18x6 |
| Weight (kgs) | 0.82 |