RVNG Intl presents the Cantos de Lisboa collaboration from the two guitarists as the next in the FRKWYS series.
Despite the fact that RVNG Intl's FRKWYS releases have become much less frequent over the past few years, the series remains the jewel in the label's crown, seeing respected elder musicians collaborate with younger artists of an equivalent nature. As befits the expanding nature of the label, the past two FRKWYS titles have proved some of the most interesting to date, with a collaboration between The Congos and Sun Araw & M. Geddes Gengras, and David Van Tieghem as reworked by a host of contemporary artists both pushing the RVNG Intl press release writing team's skills to the limit.
The next FRKWYS volume provides yet another curveball, throwing together veteran British guitarist Mike Cooper together with New York-based Steve Gunn. While the former has a background in blues guitar going back over 50 years, and is responsible for the Rayon Hula album in 2004, which translated the patterned flora of aloha shirts as looped samples of Hawaiian vibraphone player Arthur Lyman, Gunn is a former member of Kurt Vile's backing band whose successful solo career has its roots in an immersion in free jazz and psychedelia.
The respective talents of each make them the prime candidates for a FRKWYS collaboration, with Cantos de Lisboa recorded in Lisbon, supposedly taking its cues from Fado, the regional music of Portugal, described as being "in close plaintive spirit to the blues". The label describe the results as being "an abstract, almost field recorded take on lap-steel and American Primitive guitar styles", a preview of which can be heard on the video for opening track "Saudade Do Santos-o-Vehlo" below.
RVNG Intl will release FRKWYS Vol 11: Cantos de Lisboa on LP, CD and digital formats on June 24.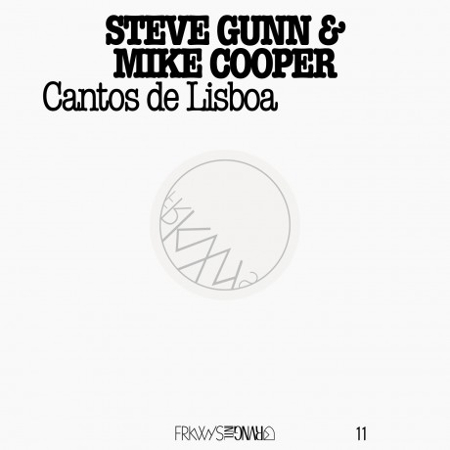 Tracklisting:
1. Saudade Do Santos-o-Vehlo
2. Pena Panorama
3. Song For Charlie
4. Pony Blues
5. The Enchanted Moura
6. Lampedusa 2013
7. Saramago