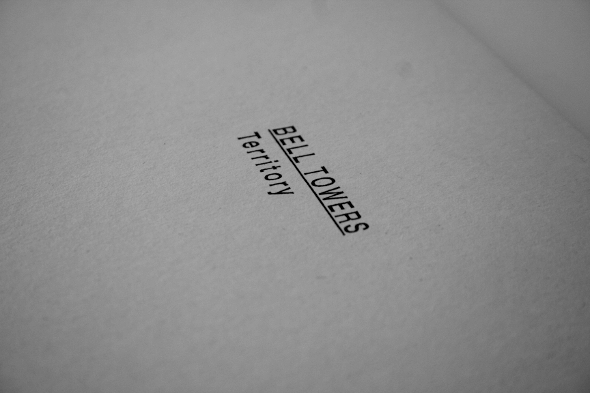 Where to start with this record? The London-based Australian producer Bell Towers has already demonstrated a propensity to disregard the constrictions of thoughts and boxes on Lightrail, his label debut for Public Possession last year, which contained a sole swelling mass of emotive music you can loosely call house, spilling over eleven glorious minutes. Territory contains five tracks (or three versions of two main tracks if you will) that offer further compelling evidence Rohan Bell-Towers dances to his own beat and is becoming increasingly confident with it. This confidence means he can dig into his personal archives to include a track apparently conceived as far back as 2007.
The 1210 that bullishly takes up a good third of my desk space has probably facilitated around thirty eight spins of this record as the internal thought process searches in vain to conjure up words to describe the music. In terms of style, there are trace elements of acid house, post punk and electro present throughout Territory, and much of the tracks here fit in perfectly well in the mix alongside other 4/4 based material. Indeed, the text on the tongue in cheek cover states "If you are into it, this record will work under any circumstances". Yet listen to the smudged out melancholy of "Territory" in either original form or the subsequent expansion, and it's not a track propelled in the manner of so much other house music is these days. Indeed, the drums on both versions feel like they are traversing the thick bassline in a manner similar to wellington-clad feet wading through mud at a UK festival.
The three versions of "Jungle Of My Mind" prove to be just as averse to easy genre assignment, despite the more pronounced wave and acid influences that characterise the main and instrumental cuts. A song of sorts – lyrics are provided on the back sleeve for ease of singing along – the original version of "Jungle Of My Mind" sounds vaguely like something that might have come out on Gomma or DFA back towards the mid to late point of the last decade, with the Chicken Lips remix of Headman's "It Rough" called to mind. Perhaps this is the track from the Bell Towers archives?
Still, despite these personal reference points, "Jungle Of My Mind" and Territory as a whole is less about adhering to any particular trend or style and more an insight into the inner workings of Rohan Bell-Towers. It's nice to see a producer showing such little regard for trying to fit in, and in Public Possession Bell Towers has aligned with a label that seem to positively encourage this in their artists.
Tony Poland
Tracklisting:
A1. Territory
A2. Territory (Expansion)
B1. Jungle Of My Mind
B2. Jungle Of My Mind (Instrumental)
B3. J.O.M.M.