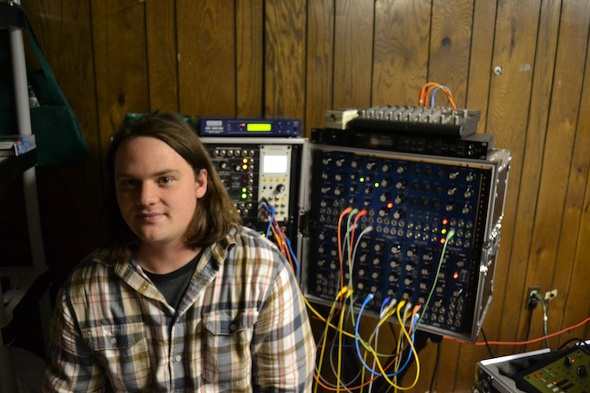 Material from John Elliott's Imaginary Softwoods project to receive CD reissue on Yves De Mey and Peter Van Hoesen's label.
Although perhaps most widely known for his work in famed trio Emeralds, and in his role as the head of the Spectrum Spools label, John Elliott is also an artist with a multitude of aliases and collaborations to his name, one of the most notable of which is the Imaginary Softwoods project. Responsible for three albums and three cassettes, the Imaginary Softwoods sound had much in common with Emeralds' more contemplative moments, finding a home on labels like Digitalis, Wagon, and Amethyst Sunset across its lifespan.
With much of this material released on cassette, or in highly limited quantities, the music of Imaginary Softwoods seems ripe for reappraisal, and the Archives Intérieures label run by Yves De Mey and Peter Van Hoesen has announced plans to reissue 2011's The Path of Spectrolite from the project. Although the reissue is CD only, the original version was only released on vinyl with no digital version currently available, and also fits in with the label's policy thus far of only releasing music on CD.
Although Archives Intérieures so far has been an outlet for De Mey and Van Hoesen's more experimental output, the duo explain their reasoning for reissuing the album in a press release: "Archives Intérieures decided to re-release The Path of Spectrolite because we feel it is an absolutely essential album. As a work of art it is almost confrontational in its honesty. Elliott's approach to attain an absolutely clear and focused sense of natural beauty and spiritualism is breathtaking. As no other he knows how music and sound connect us to a wider perspective. Therefore we feel it is essential to give this album another push after its initial vinyl release on Amethyst Sunset in 2011."
Archives Intérieures will release The Path of Spectrolite on CD format on June 16.
Tracklisting:
1. Entrance Through Selenite Pillars
2. Eye Color
3. Rainbow Obsidian Key
4. Globe II
5. Black Water and Ice
6. Crystal Pond