Those who have followed German imprint Workshop Records will already be well aware of the label's strong visual and musical aesthetic. Built around a core of artists – chiefly label bosses Even Tuell and Lowtec alongside Move D and Kassem Mosse among others – the Workshop sound touches on melodic, dusty and raw house and techno. The label was launched in 2006 shortly after Lowtec (aka Jens Kuhn) folded his Out To Lunch imprint. Every release since then has been imbued with the deepest of grooves, from the woozy narcosis of Lowtec's Workshop 6 to Move D's disco-sampling jam on Workshop 4 and the epic B-Side of Mosse's recent Workshop 12 release.
A distribution hook-up with Germany's home of discerning dancefloor music, Hardwax, gave Workshop the platform it deserved, and it has flourished. Given the attention to detail that accompanies every Workshop release – it's the little things that stand out, like shrink wrapping, hand stamped vinyl and embossed text – it should be of no surprise to learn that one half of the label runs a boutique fashion label, with Even Tuell (real name Paul-David) having launched Airbag Craftworks back in 1995. Juno Plus editor Aaron Coultate caught up with Kassem and Even prior to the recent Workshop Records showcase hosted by London club types Electric Minds.
Even, how did you meet Kassem? His music seems to be such a nice fit for the Workshop Records sound.
ET: We met through our agent, Nadine. I was compiling an Airbag Craftworks compilation, together with Jens (Lowtec), who used to run the Out To Lunch label and with whom I started the Workshop label in 2006. Kassem was promoted by Nadine as a very talented musician from Leipzig that not many people had heard of – a bit of a local underground hero. And then this mysterious CD arrived with 'K Mosse' written on it; at first I thought it was Kate Moss so I was a bit baffled! But from the first time I listened to it I fell in love with it. This was a long time before Workshop was born, and for a while I was just collecting his demo CDs – I still have them in a cardboard box – and his tracks were supposed to be on the second or third Airbag Craftworks compilation, which never was released. But soon after, Jens stopped doing Out For Lunch because of some distribution issues, and we came up with Workshop. The first release was from Jens, as Lowtec, then there was one from Move D, and then we were thinking about what should come next. It was at the point we said, right, we've got some great demos here, let's do a Kassem Mosse release. That release pushed Workshop in a really open-minded direction and, for me, it was a pretty fresh take on house music, as it incorporated a lot of IDM and slow mo vibes, with a rough feel to it. It was perfect, because at that time I was really bored with a lot of new deep house and disco and all the retro music that was going on, and I think Gunnar's music added something unique at that point.
Kassem, you've done three records on Workshop now – do you feel part of the Workshop family?
KM: Yes, definitely. It's a real honour to be releasing with these guys, being in such good company.
ET: We have a concentrated inner circle of artists with whom we want to release solo EPs, and we're looking to do more albums in the future and open slots for newcomers. But Gunnar is really one of the central members. We want to keep a special sound and quality to everything we do, and he brings that to his music.
The visual and sonic signature of Workshop is interesting. Is it important for you to build a signature style for the label?
ET: Yes, we tried to come up with a concept that we could stand by. There's an organic feel to the records, something handmade. On one side it's lo-fi, then there's little details like embossing. We also decided to give it a shrink wrap, which is not so common for white label releases. We also invest a lot into the mastering and manufacturing process. And to stamp it and then shrink wrap it makes it pretty slick at the end, especially to all the collectors. It doesn't have a white label feel to it. Of course Hardwax do a lot of those, you only have the paper sheet around the record, which is great. But when I like one of these records I'll always try to get another sleeve for them! (laughs)
Your own output has been pretty slow – only a handful of releases in the past decade – but I presume this is because of your day job with Airbag Craftworks? How does it tie in with what you and Lowtec do at Workshop?
ET: Airbag Craftworks is a fashion and design label that started in 1995. I've been working on developing it quite strongly over the last years. We started off making quite unique record bags, and it has a strong musical background. It's all connected – it was great to have the Airbag Craftworks compilation on Out To Lunch, which allowed my friendship with Jens to grow. Workshop grew from our love of underground music, and what we listen to, what we feel… our roots. And through Workshop, we have created and found a perfect platform to express our musical and aesthetic view.
So do you get much time in the studio?
ET: I find a lot of time to lock myself in the studio, to experiment, especially in winter, to record. I like to experiment with old machines and weird, forgotten mixers, and using my father's old organ delay and reverb. I like the idea of bringing my family's music history into my little electronic studio, but in a very abstracted and distracted way. I take my time for music, but if I don't have the time, I don't want to be forced into the studio. This is something I had to learn the hard way – if you accept a remix request, something that comes with an official release date, and you don't have the time to finish it, you can't say no. It's hard to deliver something that's unfinished or something you don't 100 per cent stand behind. Now I try to just follow my own release schedule – I want to be the one who says now it's ready, now it can come out.
Kassem, your releases have been picked up with a great deal of interest in the UK. A lot of the British dubstep producers who have moved into house and techno have professed a great admiration of you. Did that come as a surprise at first? You've released on NonPlus and Doldrums now – how did they come about?
KM: Yeah I was surprised at first, because I hadn't been following it too much. I don't really buy that many records, just a couple here and there, and I've got my own niches I like to explore, and dubstep wasn't really on my radar. I was approached by Doldrums and Non Plus, and also offered to do the Commix remix, which was very interesting to me. I've got nothing against house, but I don't want to be pigeon holed with any particular sound, so the Commix project was ideal. I want to do something that I see as a challenge, something that is exciting to me. I appreciated the open-mindedness on their part.
You said in an interview last year that you plan to make more effort regarding the dubstep sound. Have you managed to do this, and, if so, which labels and producers stand out to you?
KM: A little bit, but I don't know where to start and I don't have the access. As I mentioned I don't buy that many records, and when I come here I realise it's a very specific thing, very much a UK thing. I don't live here and I'm not really embedded in that culture, I'm looking at it from the outside.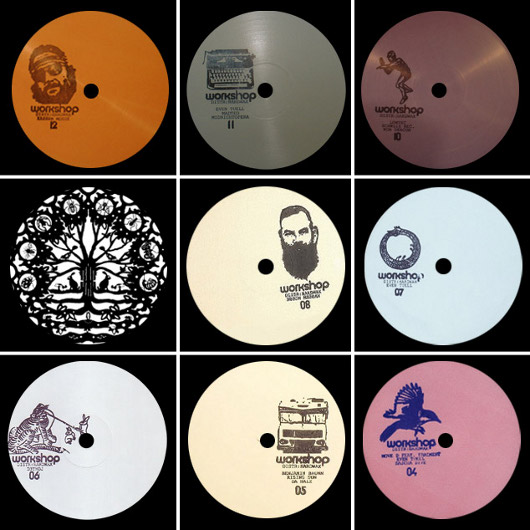 What's Leipzig like as a music city?
KM: I've been living there for close to 14 years. Musically, there are lots of things going on; there's a popular house scene, there's some good techno things going on. I was involved with some local crews who did techno parties, it was all non-commercial type stuff. And in terms of localities –Jens lives right in between myself and Even. I knew him because he used to play at some parties in Lepizig, so there are some connections there. So there's a link between all of us.
Even, you're based in Frankfurt, a city with a very impressive history when it comes to electronic music…how has that impacted on you?
ET: That's true, but it's funny because in the very early 90s, I was escaping to Leipzig from Frankfurt (laughs). I was having much nicer musical experiences there. There was lots of great deep house and a healthy US house scene in Leipzig, shortly after the opening of the border. I was living in Paris for half a year and went to a lot of nice club nights there; Laurent Garnier was putting on a regular night at that stage. And then coming back to Frankfurt, I became friends with people in that deep house scene; ND_Baumecker, Ata, Heiko (founder of Playhouse). I was connected to them closely, and of course that was the base for the Robert Johnson. The Frankfurt underground had some good exports, the town next to Frankfurt, Damstade was the home of Jan Jelinek, Peter Kremier (LoSoul) and Roman Flugel, so there was an interesting cluster of IDM-ish house.
And I guess that in turn impacted on the Workshop sound…
ET: Very much so. We had beautiful parties when Ricardo Villalobos started his DJ career as a Chicago house and Detroit techno DJ. He was inviting people to his huge raves, it was all pretty impressive.
Kassem, your release on FXHE last year is one of my favourite releases on Omar S's label. What was it like working with Alex?
KM: It was great. He was a big influence on me, because there was a stage where I was bored with most dance music, and he came with this rough, edgy stuff. It was so good to hear it – it was very inspiring to me.
There's a certain style and attitude that he brings to his music…how did that translate into the studio?
KM: He is unique. I took the original track … he wanted to re-release it just like that, and he was suggesting we do some new mixes, but I wasn't sure what he wanted to do (laughs). We met in a makeshift studio in Berlin and we just did new mixes for it. I was just sitting there watching him do whatever he did. He's very focused, just sitting there turning knobs, and as soon as he's finished he's chatty and talking again.
Kassem, tell me about your live show? What does it involve and why did you decide to put one together instead of DJing?
KM: I'm not sure if I prefer it; it's very different. I like both. I tend to change my live set-up a lot, I have different bits and pieces because I want to keep it interesting for myself. I like things to be good but I also like an element of uncertainty to keep it interesting and challenging. Things might go in a different way then I expected. I prepare some rough ideas, but I like to see what the flow is like and try to go with that. It can get boring for myself and the crowd rolling about with the same show.
ET: I've never seen him with the same set-up. I remember that time you came to a gig in Frankfurt with a backpack full of gear….
KM: What makes it difficult is that initially I was very much doing things just with analogue gear, and that was easy because I could play venues in Leipzig. It wouldn't be a problem to get things around via car, but if you're taking a plane, you're worried about certain things, you've got to find ways to adapt. I do use a laptop for certain things. I'm not a …
…militant purist?
KM: Yeah I'm not a militant purist (laughs)…But who knows, I might change my mind. I might turn into one.
What have you got coming up release-wise?
KM: I'm working with my friend Lorenz, who also records as Mix Mup, on a new project. It's not ambient, but it's not dance either, it's kind of weird. I don't like to talk about things too much before they're finished, as you never know what can happen. I do have another release on NonPlus coming. And a 7″ on Mikrodisko which is out very soon.
Even, what about you personally and for Workshop in general?
ET: I'm working on an album, which will be released in the near future as well as various remixes. We are working on major improvements at our mini-micro disco (hello Gunnar!) at our headquarters in Kleestadt. The strobe already works quite well! We've got Move D doing the next Workshop release. Then we've got a very old friend, who has some releases on Out To Lunch in the past, who is joining Workshop. I won't give it away just yet but it's going to be a very nice record and it'll be out mid summer.
Interview: Aaron Coultate
Picture credits:
1. Gioia de Bruijn
2. Gioia de Bruijn
3. Leo Tong
4. Gunnar Wendel
You can check out the Workshop Records back catalogue on vinyl/CD here and digital here.