July 2022 Eurorack module round-up
This month's best new modules include another instant hit from Xaoc Devices, a unique wave source from new brand Auza Audio, and three very different sequencer modules.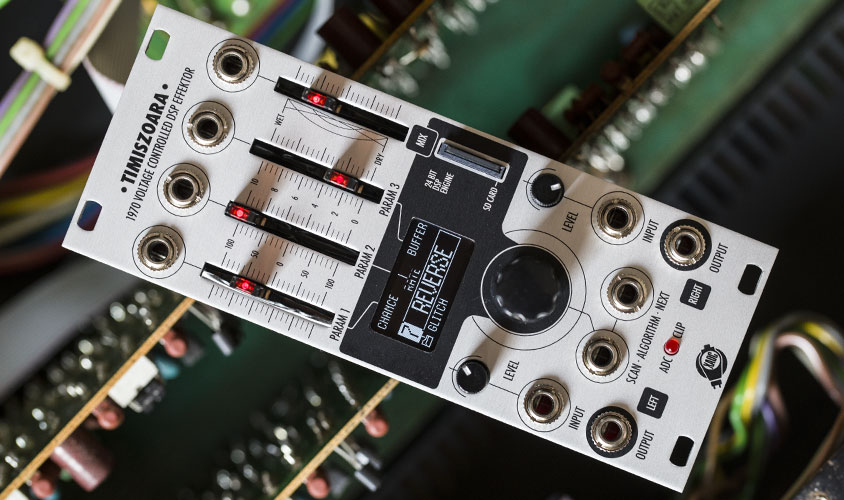 Xaoc Devices are on a roll at the moment, with something new and interesting from the Polish brand arriving in our test studio every month. This month's offering is the Timiszoara, a stereo multi-effect module which packs a lot of power into 10hp. Based on the Spin Semiconductor FV-1 DSP chip, it's a full stereo module which can be modified, customised and expanded by loading programs using the SD card slot. Like all multi-effects modules, it can do a bit of everything, but what gives the Timiszoara its own distinctive feel is the simple but effective implementation of CV control for three effect parameters plus wet/dry mix. It's dead simple, but the ability to tweak parameters using the sliders or take control with CV makes the module quick, easy and fun to use as well as top quality in terms of sound.
As a debut release from a new brand, Auza Audio's Wave Packets is a fairly bold choice. Described as 'wave source', it's a unique way of generating audio-rate or LFO signals, complex envelopes, modulation sources or even melodic notes or percussive sounds. It takes a bit of work to get your head round the concept: when triggering a 'wave packet', the signal is generated over five connected stages. Four of them are time stages like an envelope generator, with adjustable depth and a sustain stage in the middle. Oscillator frequency can be adjusted independently over the course of T1, the combined T2, S and T3 phases, plus T4. There are a wealth of oscillator options to choose from, but the real power comes from the five simultaneous outputs which give very different outputs from the same settings: the pure contour, the unipolar wave, the resonating contour, the capsulated oscillator and the pure oscillator. It's not a casual knob tweaker's module but one for those who enjoy studying the manual. Nevertheless, there's huge depth and versatility here. One to explore.
Ring modulation and wave folding are both common, with hundreds of different manufacturers offering modules which deliver various takes on the two classic sounds. It's impressive, then, that Sweden's Noise Lab have managed to find a new twist on the concepts, combining the two in order to create their unique 'ring folder', Clang. With three inputs for audio and/or control voltage, three modes and an integrated triangle oscillator normalled to the modulator input, Clang is capable of some really interesting effects, from harmonically rich wavefolding to buzzy, phasey, metallic tones. Great value for a compact and versatile module.
Finally back in stock from Endorphin.es, the Ground Control sequencer proved so popular when it arrived in April that it sold out immediately. It's a proper all-rounder, combining some of the best approaches to sequencing. It's a four-track module which can handle both melodies and drums, with patterns entered using Roland SH-101-style step input, live recording, or TB-303-style editing. Drums are programmed using Roland x0x-style step sequencing, and there's MIDI support as well as CV/gate/trigger. An extensive range of performance features include an arpeggiator, roller, pattern queue, live note removal, slides, ties/rests and quick transpose. The £500 price tag is justified by the sheer range and depth of the sequencer; truly one which can do a bit of everything.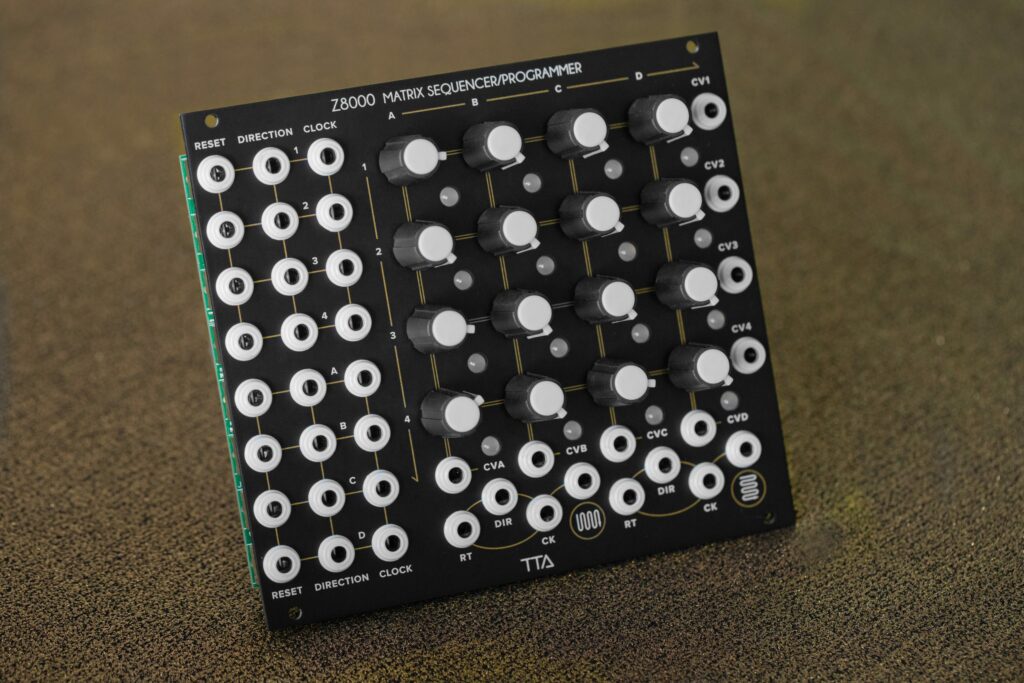 TipTop Audio's updated Z8000 is an altogether less predictable type of sequencer, combining 16 conventional CV knobs with a very unconventional approach to sequencing. The new version is essentially just a different colour faceplate, but it's a good reminder of this popular module. The Z8000 is simultaneously ten different sequencers, horizontal and vertical, two with 16 steps and eight with four steps. With 30 gate and clock inputs and 10 CV outputs to play with, the potential for polyrhythmic complexity is vast. You can use it as a conventional V/oct pitch sequencer if you want, but just as much fun is to be had using it as a modulation source. With a bit of experimenting, the Z8000 can do some fascinating things, not least when you clock the sequencer at audio rate levels, effectively turning it into a wavetable oscillator. Excellent value at a little over £300, and a long-term favourite for good reason.
Finally, Acid Rain Technology's Constellation is a rhythm sequencer which eschews the Ground Control's x0x-style step sequencing in favour of a pattern-based approach. If you enjoy the world of Euclidean patterns, the Constellation might be the ultimate expression of this vastly powerful way of sequencing rhythms. There are eight channels of trigger/gate generation, with eight patterns per channel, each with a huge range of options including clock division, burst, ratchet and probability. Logic can be used to combine multiple patterns, parameters can be modulated over CV, and there's plenty of storage with 999 banks of 20 save slots. Hugely powerful, hugely inspiring.
Greg Scarth
You may also be interested in…