Small, affordable and packed full of analogue synth power, Cre8audio's East Beast sets a new benchmark for value. Greg Scarth finds out how it sounds.
Cre8audio's East Beast is the first of a new pair of small, affordable analogue synths. The forthcoming West Pest is inspired by the experimental 'West coast synthesis' approach of classic synth brands like Buchla, while the East Beast follows the East coast approach of brands like Moog. Developed in conjunction with premium synth builders Pittsburgh Modular, both instruments have the same basic setup: a fully analogue desktop module format with built-in sequencer and patchable semi-modular design. Coming in at a little over £200, the two synths are extremely well priced by the standards of boutique instruments, aiming to compete with more mainstream options like the Korg Volca series.
In terms of the basics, the East Beast is a compact, monophonic synth with a single oscillator and a multi-mode filter. The overall approach is easy to get to grips with for beginners, but will also be familiar to anyone who's used most analogue synths or virtual analogue software plugins. With just one oscillator, one envelope generator and an LFO, the setup is relatively limited, but there are plenty of options to keep things interesting: frequency modulation and adjustable pulse width for the oscillator and multiple modes for the resonant filter. As a result, the sound is surprisingly expansive even when only playing with the basic front panel options. Being released within a few weeks of each other, it's hard not to compare the East Beast with the slightly more expensive Moog Mavis, another compact, semi-modular desktop synth. The Moog's classic ladder filter gives it that distinctive fat sound for bass sounds and funky leads, but the East Beast has a bit more versatility from its multi-mode filter and added wave shapes in the oscillator.
The East Beast is a semi-modular synth, meaning that you don't need to use patch cables in order to create a sound, but you have the option to do so via the bank of 20 sockets on the front panel. This is interesting for two reasons, the first being that you can expand the synthesis options by routing signals in different ways, exploring different modulation options by routing the envelope output to, say, pulse width. The second option is to hook the East Beast up to other modular or semi-modular gear, perhaps to introduce a second oscillator or to add another modulation source like an LFO. As a nice bonus, the front panel itself can be removed from its case, immediately becoming a Eurorack-compatible synth voice module. It's a similar approach to the one Moog have taken with the excellent Mavis, and one which gives the East Beast real long-term appeal; once you've explored its potential, you can use it as the starting point for a bigger modular setup.
The East Beast has some impressive depth for an analogue synth at this price and size. The presence of MIDI-to-CV conversion, a 32-step sequencer and arpeggiator makes it a proper all-rounder. The downside is that not all of the functions are quite as intuitive or as accessible as you'd hope. There are two shift keys – green and blue – used to access the secondary and tertiary functions hidden behind the keyboard and octave buttons. That's a total of 30 additional parameters, some of which (e.g. filter mode and oscillator waveform) are used frequently enough to justify easier access. Likewise, there are some minor downsides which reflect the synth's low price point. Everything feels a bit plasticky, from the push-button 'keyboard' to the lightweight case, but we'd expect compromises on that front at this price range.
So what about those Moog Mavis comparisons? It's not quite as clear cut as you might imagine. The East Beast is quite a lot cheaper and the Mavis definitely feels more solid and more special to use, but the East Beast benefits from a sequencer and arpeggiator. The East Beast has more oscillator and filter options, but the semi-modular capabilities of the Mavis (including the wavefolder and larger range of patch points) give it the edge once you get patching. Both are great synths and probably appeal to slightly different people: the Mavis is the way to go for classic Moog sounds with deep semi-modular options, while the East Beast is a good beginner's synth which can do a bit more without needing to pull out the patch cables.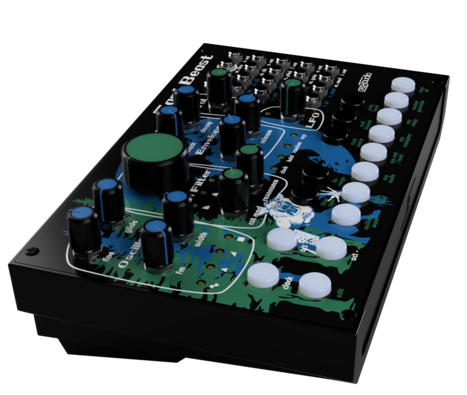 In conclusion, where does the East Beast fit into the highly competitive analogue synth market? It's a great value addition to what's already a strong category. The cheapest options for entry-level analogue synths include Korg Volcas and the IK Multimedia Uno, but the East Beast offers more in terms of its patchable synth architecture and Eurorack compatibility. Overall, we'd expect the East Beast to appeal most to newcomers to analogue synths who want something easy to use but with potential to expand into a bigger semi-modular setup as their skills develop. It's ideal for beginners straight out of the box, but mount it in a Eurorack case and you've got the perfect starting point for a modular system. Whichever way you approach it, the value for money is exceptionally high.
Greg Scarth
More info/buy
You may also be interested in…