The best new albums this week
Foodman — Yasuragi Land  (Hyperdub)
Takahide Higuchi, hailing from Nagoya, has always been a weirdos' favourite. We first became aware of his music through his monthly NTS show, active since 2016. There, we we were told he is a "footwork scholar", but frankly, to us, the music Foodman makes is so wildly extrapolated from footwork that we believe it could only accommodate for about 15% of his artistic statement. Yes, the minimality and sample-repetitiousness is present, but only relatively so.
It'll take a lot more unpacking to describe all facets of Foodman's music. To put the analogy bluntly: if footwork was a rigid set meal, then Foodman's music would be a boundless tapas selection, or an izakaya bar of infinite variety. The title of his latest album, 'Yasuragi Land', roughly translates to 'tranquility land' or 'peace land', and refers to Foodman's love of food. His specific invocation of 'tranquility' is that distinct kind of peace we all feel when locked in to some quality munch. All of this is bound in a layer of unpretentiousness – rather than his gastrosonic inspirations being exclusively fancy or fine-dined, Foodman draws his 'peace' from the Michinoeki (motorway service stations) dotted around his home city, as well as the local Sento (public baths) he frequents.
'Yasuragi Land' also reflects Nagoya's locale and sense of community, which Foodman glans strongly from the city, despite the uncertainty he feels about the future. Of the look-in we have into his character (from prior interviews to photographs on Instagram), we detect notes of a friendly, cosmopolitan man of small pleasures. Foodman is a foodie in both the literal and figurative sense, enjoying every divertissement and 'sampling' everything – from DJ sets in new cities; to new scenic routes; to new personal connections, fleeting or long-term.
Fitting for this gastrosonic tourism, the first track is called 'Omiyage'. In Japanese, this word refers to a small gift item, usually a snack, which one gives to friends as a travel souvenir. Curious delight is the corresponding mood. Marble patterings, disembodied cuckoo clocks, DJ scratches, physical modelling, and cul-de-sac chords make up this first three minutes.
The overall style we're graced with is breezy and complex – it's wary of necessarily settling into distinct beat structures, and is completely devoid of bass. Channelling, for example, the calming yet arousing experience of eating some deep-fried horse mackerel (a dish to which Higuchi dedicated an entire 2-hour radio show of classical music last year) Foodman's music spans the unusual combination of hectic and relaxing. As much should be obvious on 'Michi No Eki', a crossrhythmic dancehall bit drawing on everything from Steve Reich's mid-noughties existential bout to Zammuto's vocoder-laden free-for-alls. Taigen Kawabe – the lead singer of Bo Ningen and Foodman's longtime co-collaborator in the psych-rock and trap duo Kiseki – appears on vocals here. As with many of the tracks on the album, Foodman ensures Kawabe's voice pops out, skimping on neither the stereo field nor any opportunity to engage in high-freq trickery.
The music otherwise borders on jarring and driving ('Shiboritate'), like anxious bossfight music abetting a superhero-themed cartridge game. Meanwhile, 'Shikaku No Sekai' sounds like something Roska would make if he'd just eaten a speed-spiked pop tart. In vogue with a popular trend towards sample-based projects (Vladislav Delay's recent album springs to mind, or Akufen's earlier work), everything from UK funky, to minimal house, to mallsoft is towed along in Foodman's shopping cart. 'Ari Ari' all but screams out for a four-to-the-floor kick to follow it, being the perfect segway into any oddball lovers' deep house set. But don't get it twisted; the lack of kicks works best. Bass implies depth and indulgence, but this album isn't about that. It's about sampling, breadth, little bits, small plates.
JIJ
There's a lot to be excited by in the Russian underground music scene right now, and labels like Gost Zvuk and Udacha have a big part to play in that. The kinds of artists they're fostering come from a different angle – they're approach to leftfield electronic music exists just outside the boundaries of techno, but there's a fearless, punky slant to the experimentation on offer which gives the scene a distinct identity and appeal. It helps that the quality of the music on offer rarely dips, such is the pool of talent. Standing proud amongst these artists is Flaty, something of a renaissance man in the Russian music community helping A&R Gost Zvuk, operating at least six different aliases, taking part in the same number of collaborative projects, working as a mastering engineer and running his own label, ANWO.
Musically, Flaty has a certain lightness of touch in his productions. His is a playful kind of minimalism, but it's also got a gnarly edge which sets it apart from more conventional micro dance music. It's also not especially built to dance to, even if it just about stays on grid. On RAILZ though, Flaty displays a sterner demeanour. The rhythms fall at acute angles, the palette is stark and bright.
On 'LISC', Flaty opens up the filters and delivers an incisive blast of twisted up electro-techno with a high-spec sound design ethic, but largely the record inhabits more subtle, unsettled spaces. 'say it' twitches and shivers with the syncopated patterns of footwork, but it's footwork colliding with ice cold futurism. 'OCA' cavorts through an eerie, suspenseful atmosphere populated with writhing lines of what sounds like frequency modulation and errant analogue tones.
There's a crisp, almost clinical sound quality to what Flaty presents on this record, but it's more than offset by the wild ideas the swirl about in every track. It's an album that feels cohesive, as though Flaty embarked on a concerted investigation into one way of approaching his creative process. Along the way, he's made a detail rich album with enough layers to reward repeat visits.
OW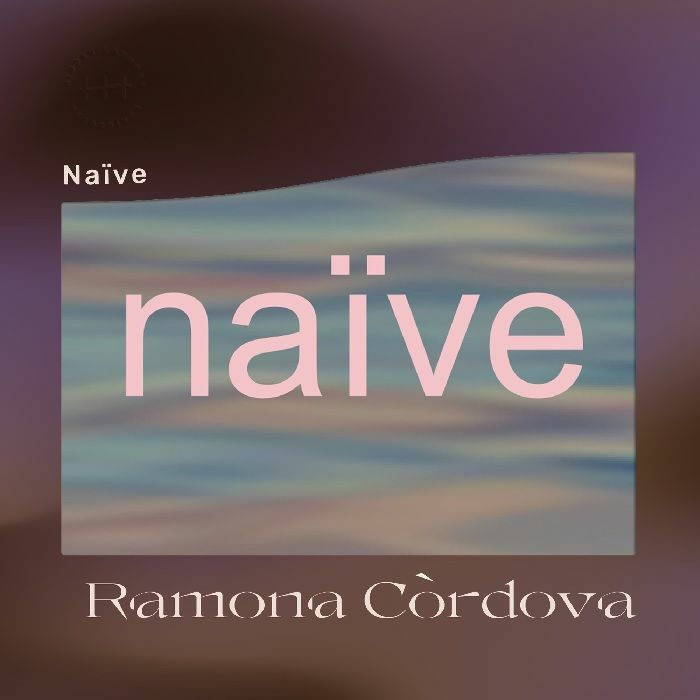 Ramona Cordova – Naue (Hiden Harmony)
Due to their complex subject matters, albums about social justice are challenging beasts. But American singer-songwriter Ramona Cordova knows how to evoke just those very subjects in the right, balanced way. Despite their fourth album 'Naive' being about justice, responsibility, and reparations for "the bullies in all of us", its sound is without vengefulness, and is really rather sweet.
Cordova is inter-feminine trans-non-binary, and has been releasing music since 2005, describing it as a sonic reflection of "the ceaseless demonstrations they give day after day in society". The sound on 'Naive' is saccharine electroacoustics, all glued by Cordova's swaying falsetto, which rises and falls against each self-produced instrumental.
Taken in isolation, the individual tracks could come from different projects, which is as incredible feat for a home-recorded LP. The sentimental waltz that is 'Loving Him', for example, is fundamentally different to its prior dubbed-out slow jam 'Men on the Mountain'. Both, however, are drawn together by theme, being scathing rethinks of Cordova's relation to patriarchy – "please tell me why am I still loving him? He's always trying to take over / And he disregards you and he disrespects you."
The album's latter half dons more stylistic masks, with 'Woke' being a mesmerising folk ostinato of unsettled metre and measure. On it, Cordova ponders "white shadows and black shadows" in legato: the psychic waste left behind by self-proclaimed 'woke' people. Other times, it's just them and the piano; 'So Long' is a completely stripped-back ballad, which gives extra importance to the lyrics: "Oh, say, can you see / It was never ever me / Who wanted to be here". While elusive, it carries is a therapeutic, unjudgmental mood. In its up-close and tingling solo engulf, this album could be your friend. It says, despite the injustice: "I'm OK, you're OK".
JIJ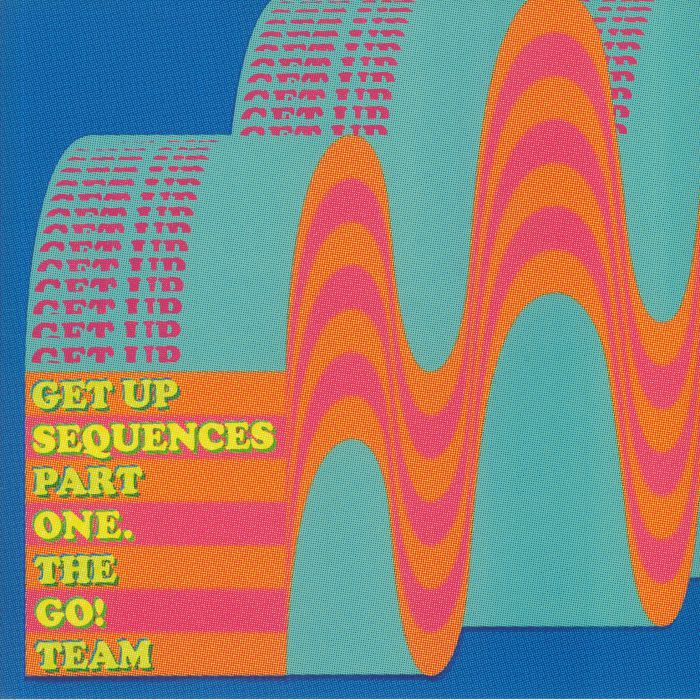 The Go! Team – Get Up Sequences Part One (Memphis Industries)
This pandemic has been going on so long we're now starting to see genuine artistic responses. But despite what the title of The Go! Team's recent single suggests (World Remember Me), the track isn't about the fear of being forgotten because nobody has seen you in many months. Opening with an alarm clock, listeners are guided through a day in the life of a fictional woman in a make believe city, exploring the peril of modernity — anonymity, breakneck speed, and the horrific ways it makes us feel invisible.
Whether or not that theme runs through this album, which the track is taken from, is another question. Either way, The Go! Team have created a vivid, upbeat and (most crucially) memorable record with Get Up Sequences. It's smile-inducing but achingly poignant, positive but thoughtful, and to an extent feels like a celebration of unpolished unpredictability far removed from the past 16 months of clinical rules. It throws conformity out the window, then runs over it with flutes, glockenspiels, steel drums, and an incredibly infectious attitude. One thing's for sure, then; this is exactly the kind of record that's going to drag you out of bed and onto a danceloor.
MH
Comus – To Keep From Crying (Klimt)
Originally released in 1974, this is the second of only two albums British progressive folk band Comus recorded during their first stint together (after a lengthy hiatus, a reunion in 2009 led to their third). David Bowie was a fan, inviting them to perform at his Beckenham Arts Lab and to support him in concert. Here, the five-piece are joined by some notable guest players, including bassoonist Lindsay Cooper (Henry Cow, National Health) and Gong saxophonist Didier Malherbe.
The title-track itself sets a template; gentle spacey sounds married to acoustic instruments weave a drifting, psychedelic, oddly disturbing soundscape. With deep, echoing vocals, splashing bass and crashing drums, the song soon explodes into a psyche-folk workout, with plenty of twists in the tale. The remainder of this album is no less interesting. "Down (Like A Movie Star)" fizzes with a surprisingly funky feel. "Get Yourself A Man" rolls out on soft piano and extends into a slow-burning, glam-edged exploration. "Touch Down" weds dark synth to ringing guitar and off-kilter vocals.
The compositions are fine, their delivery unique. There's more than enough excitement and originality on display here to warrant both your time and your money.
CW
Social Haul –Social Haul (FatCat Records)
TRAAMS and Social Haul frontman Leigh Padley couldn't have decided on a more resonant reference point for 'This Is All I Need"s catchy chorus — these days we can all empathise with at least some aspects of Stockholm syndrome having spent a year negotiating our own micro dramas of love and hate alongside anyone unlucky enough to find themselves locked up in containment with us. In so far as tracks go, the motoring rhythm and pent up, wasp-in-jar energy also fits today's recurrent vibe, but the important thing is even without timely context the song would make a compelling argument to say this nascent lot being cut from a particularly fine cloth.
Well, perhaps more rough around the edges than that. Take 'The Ease' as another example. All twisted basement rock with punk edges and more than a little theatrical delivery, it punches and chugs through scum-ridden, booze-soaked tones and never lets up, exceptional send-return vocal work only really briefly interrupted by a quick but searing guitar riff. Probably exactly the sort of thing you want to see live, a proposed tour later this year only gives this juggernaut debut even more sense of direction.
MH
DMX Krew – We Are DMX (Reissue) (Cold Blow)
Edward Upton aka DMX Krew was known for reshaping early electro pop during the 90s before later becoming more experimental. The influence of the 80s is heavy on this 1999 release and this record – reissued with four bonus tracks – had no problem standing out from the crowd,. 'Konnichi Wa' is a standsut, the beats evolving nicely through the track, as is 'Denki No Merodi', the Japanese electronic influences making this another fantastic addition to the tracklisting/ 'Street Boys' is a great play on 'Wild Boys' by Duran Duran, making this particular mix a pleasure on the ears and bound to fill dancefloors.
An all round amazing endeavour.
AY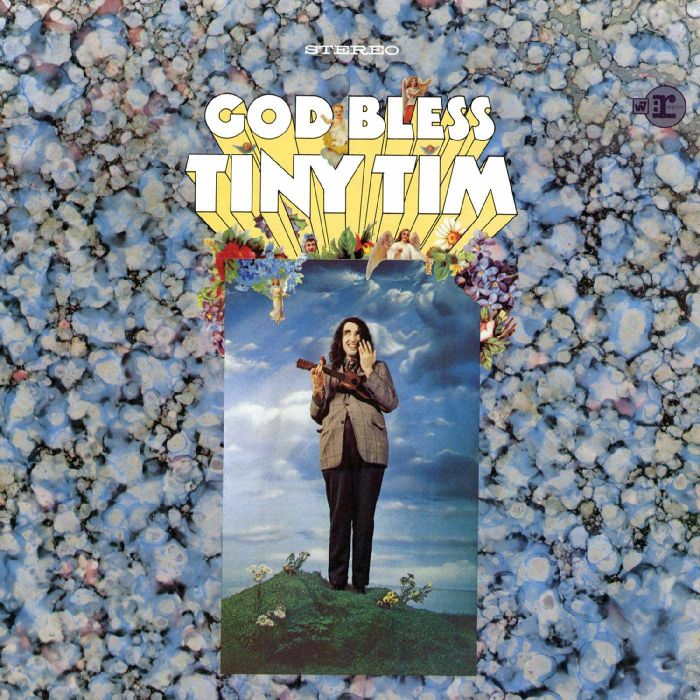 Tiny Tim – God Bless Tiny Tim (Real Gone Music)
Tiny Tim rose to unlikely pop fame following this album's initial release back in 1968. A gifted musician from an early age, Tiny Tim possessed a singular style, to say the least. His broad-brush emotional palette and high falsetto delivery are certainly not for everyone. Those who love it, though, will really love it, and there's no dearth of talent and creativity on this, his debut record. Here, Tim's unique approach, in tandem with producer Richard Perry (Captain Beefheart, Harry Nilsson) and arranger Artie Butler (who has more than sixty gold and platinum-selling albums to his name) produced something very memorable.
CW