The best new singles this week
The hottest singles club in town
Coco Bryce – Sound Dimensions (PPSPCT)
Jungle is in incredibly rude health right now. For a genre birthed the best part of 30 years ago, it's managed to reach a new level of relevance in the past decade which sees weave upon wave of artists, labels and scenes orbiting around the time honoured practice of break slicing, dicing and splicing… and deadly sub bass, of course. There are certain artists that spring to mind when you think of the people doing the boldest work with the formula – Sully, Etch and Tim Reaper to name but a few. Take it a bit broader and there's also the likes of upsammy and Anz bringing their own scintillating twists to upper tempo ranges, albeit a bit further from what you might deem jungle. Of those right on the money with the tricky balance of tradition and innovation, Coco Bryce is surely in the top tier. The Dutch artist's vocabulary is as versatile as it is deep rooted, moving beyond the rote amen chops and ragga samples to offer something dazzlingly fresh, and yet still pure in its execution.
Bryce has released a lot of material over the years, on his own MYOR label as much as labels like 7th Storey Projects, Western Lore and Rupture. Last year he dropped no less than 12 releases, and this year alone has been a very productive one already, with 12"s out on Kniteforce, Cat In The Bag and Myor Massiv. This drop on PRSPCT is as fine a space as any to get a handle on the Coco Bryce sound in all its widescreen wonder.
It's the breaks that really set Bryce apart – light and nimble snatches of percussion backed up by the heavy artillery where it counts, but not as relentlessly bludgeoning as the usual amen experience. On 'Sound Dimensions' that comes through in abundance – it's a stripped back track that uses atmospheric threads as a foil to the drumfunk, and yet there's enough nuance in the beats to carry you throughout. It helps that the eerie pads have a nail-biting similarity to the genuinely scary drone tones from The Ring.
It's not all subversive spookiness though – 'The Mad One' is steeped in hardcore uplift, while 'The Cosmic Muffin' throws a different perspective thanks to some luscious synth licks. Bryce is also ready to have a laugh when he wants to, as demonstrated on sing-along piano closer 'Bait Hoven'. Even with an abundance of smartly pitched hooks from the heritage of hardcore, there's just something refreshing about Bryce's approach. Partly due to the subtleties of production, partly due to a keen instinct for what to put where, Bryce confirms his position as a contemporary jungle don on this flawless four-tracker.
OW
Radioactive Man – Sonicus Croncilus Vol1 (Asking For Trouble)
Keith Tenniswood is out there, doing his thing like he always has been. Since the time when he teamed up with the mighty Andrew Weatherall to start Two Lone Swordsmen, he's championed a UK deviation of electro which now runs far and wide. He's not on his own in that regard – other electro lifers such as Dexorcist, Warlock, Andrea Parker and EDMX have been doggedly pushing a sound which suddenly caught on like wildfire a few years back. When every other chump wants to get in on the act, which direction do you take your own craft in?
In the case of Tenniswood's primary guise as Radioactive Man, you quite simply keep your head down and plough on. Tenniswood is plenty busy as a mastering engineer and vinyl cutter, but he's never short of high-grade tackle from his studio. 2017's Luxury Sky Garden was widely lauded, and since he's appeared alongside the likes of Sync 24 and Ben Pest, but now he's back on his own Asking For Trouble label with a straight-up 10" which feels pointedly on-point in the face of a million electro also-rans.
It's sometimes hard to quantify what makes a particular electro track stand out, but 'Unsaid' has that certain magic. The dub siren blips, monstrous bass slabs, filtered synth hooks and wigged-out delay tails all land with poise, but equally it's the overarching minimalism of the track which gives it an undeniable sparkle. Full credit for the most measured use of breaks I've heard in some time, too. 'Born In The USB' is a fuller production, but again it feels like the lead hooks and riffs are coming from somewhere other than electro-by-numbers. In truth, over-analysing these things is a fools errand – this is quite simply excellent electro delivered by a master. What more do you need to know?
OW
Somachrome — Electro Romantica (Periodica)
Napoli's West Hill production crew offer the latest in their impeccable Periodica Records catalogue with a typically dazzling collaboration between long-time chums, Raffaele 'Whodamanny' Arcella and Luca 'Bop' Affatato. Admirers of the label will already know roughly what to expect based on its polychromatic archives – which is uniformly comprised of extraordinarily well-conceived musical ideas. At once rooted in vintage fundamentals while refreshingly forward-facing, their music is always immaculately produced, with tangible analogue warmth and supremely imaginative creative aptitude. Whodamanny has contributed to some genuinely incredible electro funk-coated music in recent years, both as a solo artist as well as combining with Dario Di Pace as The Mystic Jungle Tribe and, more recently, as Afrodesia for 2019's eponymous release on Best Records. Today's collaborator Affatato has released a scattering of idiosyncratic offerings under several aliases – including an extended EP via Quiroga's Really Swing label, and a full-length album arriving on Best Company.
Here, the duo combine magnificently to serve a scintillating hybrid of new-wave, electro, post-punk and future disco, all embellished with a conscious-expanding psychedelic finesse. The spell-binding title track 'Electro Romantica' patiently evolves as an astrally-charged statement of intent, with galactic synths soaring over a thoughtful lead and pulsing bass. 'Vague Computers' ramps up the thrust lever as staccato bass notes, atmospheric pads and robotic vocals combine over spirited electro drums. 'Outrun Disaster' adds a dose of punk-funk to the cosmic broth, as far-out synths and freaky guitar riffs interplay with sinister spoken word vox over a deliciously rich bassline. 'Operator Love' is among the catchiest of a universally enchanting crop, with harmonic vocoder and intergalactic synth parts floating above bouncy bass and stripped-but-powerful drums. 'Creatures Of My World' makes no effort to disguise its exquisitely '80s leaning sentiment, with glossy chords, quick-fire synth leads and emotive pads exploding over a leviathan snare drum, while closing track 'WOTOS' goes balls-out cosmic funk, as sunset synths and soul-soothing bass set the scene before an almighty lead synth charges through the palpable summer heat of a darkening twilight sky. 
PC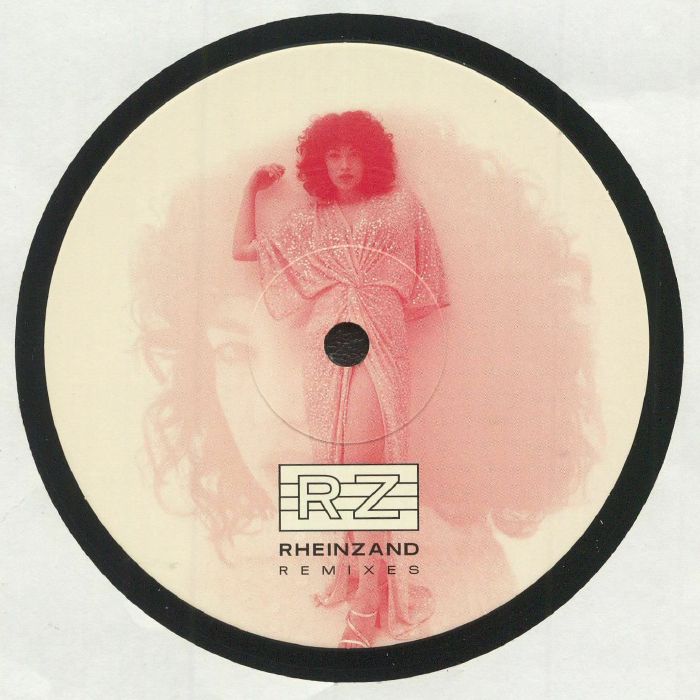 Rheinzand – Remix EP #2 (Music For Dreams)
Following on from the first batch of brilliantly curated remixes evolved from last year's self-titled Rheinzand long-player, the always generous Music For Dreams camp present a second and equally impressive selection of top-of-the-line reworks on 'Remix EP #2'. There's a great deal to admire about the avant-garde approach of Reinhard Vanbergen, Charlotte Caluwaerts and Mo Disko's Rheinzand project, and their uniquely deviant take on the approximately disco-based form has helped their records find homes in the crates of the most discerning of cosmically-minded selectors. The latest EP reaches a little further back into the archives – digging up some of the band's earlier works while inviting an ensemble cast of studio mavericks to unleash their respective interpretive magic. The first artist ushered in to deliver his inspired take is the irrepressible Running Back label head and all-round destroyer of dance-floors, Gerd Janson.
His energetic 'Blind dance mix' exhibits all of the future-retro gloss we expect from the seasoned producer: slick, snappy beats drive an undeniably '80s tinged soundscape, with glassy pads, bubbling arpeggios and the obligatory pitched vocal chops expertly blended with immaculately crafted production strokes. Next up, Belgium's Bjorn Eriksson dons his Blitzzega disguise to serve a seductively wonky-eyed version of 'Mi Mundo', where the sultry spoken-word Spanish vocals of the original are cushioned by layers of gently disconcerting synths and deliciously sinister bass over a commanding mid-tempo groove. Peaking Lights disco dub of 'Synti' is similarly disorienting, with waves of mind-altering strings, fuzz guitars and effects cascading over Vanbergen's gravelly vocal. Finally, continuing with the discernibly hallucinatory theme is Dennis Kane's remix of '14 Again'. Here, a percussive slow-mo rhythm supplies the captivating framework for a tripped-out arrangement of gated synths, siren swirls and distant voices to mystically build and unfold. 
PC
Hess & Harrison – Epibenthos Mbira EP (Echocord Colour)
Denmark's dub techno champions Echocord welcome back frequent contributor Luke Hess, this time ably assisted by wingman and fellow Detroit resident, Joshua Harrison. Known as something of an audio perfectionist, Hess routinely summons his background in mathematics to craft uncommonly precise deep techno jams that gloriously burst into life when played on accurate sound systems, and his tight music has found homes on distinguished labels, notably FXHE, Finale Sessions, and his very own DeepLabs imprint. Meanwhile, though Harrison may not release as often as we'd like, the cultured output that's slowly but surely been emanating from his studio over the last 15 or so years – most often arriving via Berretta Music – has won him plenty of admirers.
Opening track 'Benthos' gracefully unfolds through shimmering chords, evolving stabs and laser-tight drums. The aquatic textures cascade as the heads-down arrangement hypnotically plays out, bewitching as the modulating synths interplay. The intensity rises by a few degrees as we arrive at 'Hadal', where jarring rhythmic elements combine over profoundly dramatic chord progressions and deeply-rooted atmospherics. The trance-inducing stabs of 'Nekton' intoxicate as they unravel over smokey textures and crisp drums, while the mysterious pads and dubbed-out sweeps of 'Upwelling' close the EP in suitably enigmatic style.
PC
Lack – Make It Circular EP (Livity Sound)
Compared to the first wave of Pev, Kowton and Asusu releases, Livity Sound feels like quite a broad church these days. The UK funky belters of Tribal Brothers and DJ Polo can sit alongside the drum-light synth reveries of Surgeon's Girl, and Azu Tiwaline's percussive incantations are as likely to land as madcap warpers from Two Shell. Returning for his second release on the monolithic Bristol label, Lack is another singular identity within the Livity sphere, although his affiliation with Cong Burn and Blank Mind perhaps anchors his sound more accurately.
Lack's approach is a richly detailed, textured and modernist one, with angular rhythmic shapes, fluid arrangements and artful sound design all feeding into the mix. There's a dub techno underpinning which can be felt in the low frequency chords, the tempo and twitch of electro in some of the beats, and a certain furtive oddness reminiscent, especially on 'Constant', of Livity's own faithful caretaker, Pev. It doesn't bang in any kind of conventional way, but it's far from couch-slouching chill-out music.
The title track 'Make It Circular' certainly aims for placid ground with its languid synth shapes blooming out over a crooked woodblock beat, but there's some subliminal bass at the very bottom of the mix which feels like it would utterly envelop you on a system, if we just had the chance to experience it. It's certainly not peak time, but the way the drums dance through different phases of the track is more than energetic enough for an open-minded crowd. 'Microshift' and 'Grapefruit' are more forthright, but they're still defined by dubby flourishes and a plethora of hooks, snags and swerves. This is music to tickle the brain, sculpted with more tinkering and micro-edits then you might readily expect from a Livity record. But what even is a Livity record these days, anyway?
OW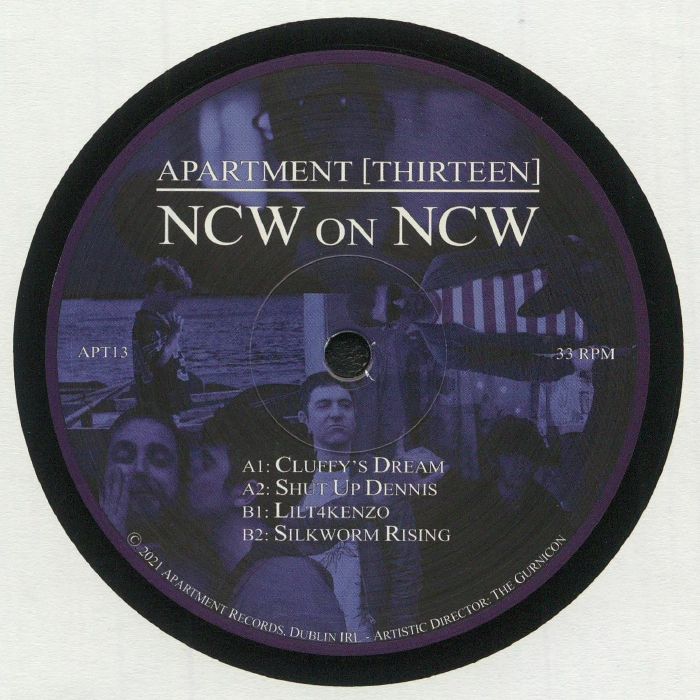 NCW – NCW On NCW (Apartment 13)
Apartment Records had a steady run for a few years before becoming a more intermittent affair, but it's always conducted itself with an air of consideration which more labels could do with following. True enough, the current climate in pressing plants doesn't suit boutique operations trying to carry the work of relatively niche artists, but equally you can discern more meaning behind one release every year or so than some kind of monthly churn-out.
Sonically, the Dublin-based operation aims somewhere in the realm of vintage outboard 4/4 with Italo, acid, Hi-NRG and all of the waves as inspiration. It's not so much a throwback label, as one that recognises the roots of the culture, and NCW sums that up perfectly. This is the third outing on Apartment for Nick Wilson, who puts the label's own intermittency to shame by smartly following up his last release eight years later. Whatever the reason for the hiatus, it lends itself to the cult climate of Apartment, and the music sits comfortably out of any time-sensitive trend.
This new EP sounds like it naturally flows on from 2012's Pharoah And The Goose, leading in with the vocal-barbed, borderline anthemic thump of 'Cluffy's Dream'. Elsewhere, classy techno expressions sidle up alongside expansive space age reveries, and there's even space for murkier beatdowns on 'Silkworm Rising'. Across all four pieces, the synths take precedence, and they spill out as though captured through the desk in one live take. Whether that's the case or not, there's an authenticity to the music Wilson conjures up, using stark tools and making sure each element really counts.
OW
Mystic Fyah – Righteous (Dub Communication)
The dub soundsystem tradition exists outside the usual whims and trends of contemporary music culture. There's a certain measure of authenticity which requires holding onto the structures and approaches of the style, whether it's UK steppas, roots or digi dub being crafted. Dub Communication are a label which adhere to that ethic while still finding some space to move within it, which manifests now with a 7" from Mystic Fyah. Mystic Fyah operates out of Portugal, thus far with just a few mostly digital releases to his name, but this new drop might well break an emergent operator to the international, still-thriving dub community.
'Righteous' is a beautiful, downbeat dubber which pivots around an uncredited vocal hook. The skanking chord is cast in a minor key, and the rhythm section does the rest. What's vital here is the quality of the piece as a song – an emotive creation which uses the ingredients of dub to express something meaningful. 'Nebula' on the flip leans towards the other focus of dub as a cosmic vessel. Marching in on a 4/4 stomp, there's a more modern lilt to the track which hints at the intrinsic link between trad dub and dubstep, coming on like a Disciples belter shot through with DMZ mysticism. It's the real deal, and has more than enough of its own personality to shine through in a much-mined area of music.
OW
Mano Le Tough – Aye Aye Mi Mi (Pampa)
Irish-born citizen of the universe Mano Le Tough returns DJ Koze's majestic Pampa Records with his all-new 'Aye Aye Mi Mi' EP. The record serves as a delectable taster to his full-length 'At The Moment' LP scheduled for release next month, and if the single is anything to go by, we're clearly in for a treat when it drops. Mr Le Tough – aka Neil Mannion – has garnered a swarm of admirers thanks to a string of joyfully received releases on the likes of Permanent Vacation, Internasjonal, and the Maeve label he co-founded with Baikal and The Drifter.
His music stubbornly refuses to conform to deep house specific stereotypes, and, while always remarkably well-produced, it isn't always easy to predict or discern similarities between releases. His latest creation comes in two distinct versions, starting with the A-side's 12" mix. Here, Mannion's lead vocal is full of yearning as it meanders over a subtly new-wave infused backing track, with indie guitar riffs and bass picks combining with a slick production gloss before disorienting synths add an ethereal quality to the groove. On the reverse, we find the MLT Passion Beat dub, where the thinned out vocal serves as texture to a brooding bass, off-kilter synths, and crisp disco drums. 
PC
Konerytmi – Happolaatikko EP (Electro Music Coalition)
If there were an award for accumulating production aliases, Russian artist Kirill Junolainen would surely have at least an outside shot at the title. Recording at various points as, among many other names, Juno Laine, East European Alliance, and Mustatunturi, he is perhaps best known as Dr Floyd – the moniker under which a large portion of his music has arrived. Here, Kirill shows up as Konertymi to deliver a particularly impressive six-track EP on Russia's Electro Music Coalition. The electro-flecked music is deeply engaging throughout, expertly ranging in tone from bright and breezy to acid-coated dark room dirt. Opening track 'Ajastin' hovers blissfully as tight drums and growling acid bursts cut through delicately floating pads.
The stripped topography of 'Ajaton' sees relentless 303 motifs power over stirring drums, while the delightfully quirky 'Aivosolu' combines silky synths with enticingly atypical bass. On the B-side, the acid squelch returns with the sublime bass-led charge of 'Lukakuu', before the sinister murk of 'Lakritsi' introduces a fantastically nasty top-line to add infinite character to the cut. Finally, the dream-inducing woven synth layers of 'Meripihka' drift over snarling bass to create a star-gazing finale to neatly enhance the collection.
PC
This week's reviewers: Patrizio Cavaliere, Oli Warwick.