The best new singles this week
The finest singles, plucked from this week's overflowing pile of releases by our team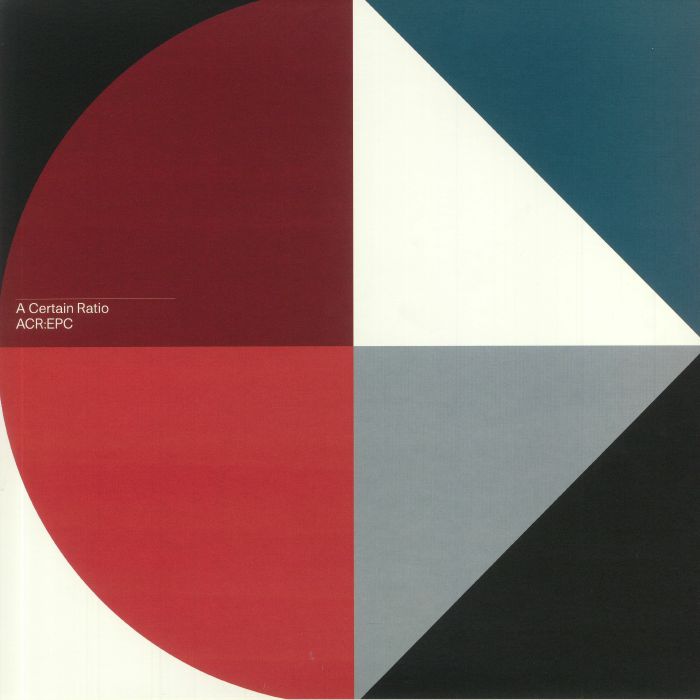 SINGLE OF THE WEEK
A Certain Ratio – ACR:EPC (Mute)
Post-punk figureheads A Certain Ratio follow-up on their recent 'ACR:EPA' release with an equally brilliant four-track effort, the second in a three-part series arriving via Mute Records. Sticking with the acronym-based title theme, the 'ACR:EPC' (or 'A Certain Ratio: Extended Play, Collaborations') sees the iconic band collaborate with a select posse of musical maestros for a magnificently constructed tribute to the late, great Andrew Weatherall. First up, we have an inspired union between the Factory Records mainstays and Andrew 'The Emperor Machine' Meecham – a joining of forces that was ignited by a chance meeting between the key players at a Weatherall Weekender some years ago. As it turns out, both outfits are equally enamoured with one another's output, making this predictably immaculate musical jewel all the more satisfying. 'Emperor Machine' combines Meecham's signature production shimmer with ACR's deviant brilliance, fusing jagged electro with boisterous punk-funk in what sounds very much like a match made in audio heaven.

Weatherall was one of the driving forces behind ACR's decision to reform after a fairly lengthy hiatus, and tragically, his untimely passing came before he and the band were able to combine for this release. With this in mind, second track 'The Guv'nor' is Ratio's loving tribute to the dearly departed sonic maverick – again marking a deep mutual appreciation between all concerned. Fittingly, the track unfolds over a chugged-up mid-tempo groove as ethereal layers evoke potent aural hallucinations. Heavily affected percussion builds purposefully as snarling synths swim through hypnotic mallet strikes, and the engaging arrangement maintains vigorous intensity throughout. Completing the set, 'YOYOGRIP' sees producer Jacknife Lee splice up 'Yoyogi' and 'Get A Grip' from last year's 'ACR:Loco' album with fiercely funky results. Last but not least, Paper Recordings' Chris Massey joins the fray on 'Musik Kontrol', a deliciously bold number that meanders through experimental realms, as pulsing acid and enlivening percussion blend with captivating atmospherics over a relentlessly throbbing kick.
PC
Hellfish / Khaoz Engine – Hell & Khaoz Part 2 (Deathchant)
If anyone could bring UK hardcore back into fashion, it would be our go-to dream team, Hellfish and Khaoz Engine. And what better to way to shock the sound back into the scope of viable listening than to base your lead track's theme on cocaine, and to unashamedly sample the work of drill rapper Digga D?
Abandoning the original drill track's comparatively moody glissando bass and bopping beats, the lead track on the pair's second 'Hell & Khaoz' EP – 'The Cocaine Diet' – hears vocal snippets from Digga D's hit 'No Diet' run through rough filtration and saturation. And before you know it, they're triggering some of the most monstrous hardcore kicks known to humankind. It would be hard to guage the reaction of a drill trapper to this tune, but we don't doubt it would be an extreme one.
UK hip-hop sampling becomes a common theme, with monstrous deathstep kicks and neuro basses canopying acapella snippets from Sheybo's 'Anger' on the second track, 'Zero Control'. "I can't control my anger / until I smoke this ganja" is the refrain, and the track sounds just like what the line suggests: a smokeball of hazy-eyed fury, which decries any form of sentimentality whatsoever.
'Separate The Weak' somehow ups the stakes into sheer unreasonability. Using The Notorious B.I.G.'s 'Who Shot Ya' as its main sample, we hear brief moments of Biggie's stream of consciousness – "feel a thousand deaths when I drop…" – as they weave in and out of absolute death-catharsis, with neuro and drill n' bass sound design abused to hell and back. Both this and the closer, 'Cracked Out', sound like allusions to the weird glitch and hip-hop sampling sideworks of DJ Rupture, but they're more hard-hitting. They're enough, as the last track suggests, to "crack skulls".
JIJ
Red Rack'em – Overthinking (Bergerac)
For more than 15 years, Danny Berman has been slipping out leftfield house music his own way. While his Bergerac label has been running steadily throughout most of that time, he's also moonlighted on labels like Ramp, Wolf Music, City Fly and Nsyde. As a run of labels goes, it's not that straightforward to detect a pattern to his style, which also comes across as an intentional aspect of the Red Rack'em sound. It's got an omnivorous, crate-digging quality to the sampling, and an open-hearted approach to the rhythm section, which can slide from slinky disco constructions to bashy, outboard house beats.
On this latest 12" on Bergerac, Berman sounds particularly inspired. True, he's not the first person to be exploring breakbeats in deep house, but lead track 'Train Of Thought' is a particularly sharp take on the approach. The break is as crusty as you want it, while the bass heads into heavy, dubby territory, but it's actually the quality of the house ingredients that makes everything work. The pads in the first half keep things woozy and distant, setting the scene perfectly for a snaking arrangement driven by everything from CR-78 style ticks and pops and crunchy Linn-esque claps and 909 toms. The atmosphere is filled out with sparkling arps and sweet chords that wouldn't sound out of place on a record by the late, great Soulphiction (RIP).
'New August' presents something interesting as Berman strips away most of his drums – well, namely the kicks, snares and claps. In house music terms, this is ambient, and he makes the most of the space to get trippy with the sample stitching, and throw in some hard turns when he feels like it. 'Overthinking' does an interesting thing by inverting the ingredients of 'Train of Thought', placing the arpeggio at the front of the track and building a tighter proto house groove around it. Keeping the bass, beats and everything stripped and simple, the synth does the heavy lifting until a reprise of the dreamy breakbeat drop comes in the closing stages. Playing with both versions in a DJ setting could be a lot of fun – perhaps that was the intention?
OW
Patrice Scott/ Ricardo Miranda – Body Grooves (Rhythmnation)
Ever so slightly mysterious San Diego label Rhythm Nation welcome the divine pairing of Patrice Scott and Ricardo Miranda on the second in their small but magnificently formed release schedule with the single-sided, two-track 'Body Grooves' EP. The label first appeared back in 2019 with Sol Ortega's 'The Blue Club' EP, and though it's been two long (and somewhat confusing) years between releases, the wait for a follow-up is well and truly worth it. Detroit house capo and Sistrum Records founder Patrice Scott is an artist who's masterfully managed to craft a sound that – while undoubtedly informed by his hometown senators along with the greats of Chicago's deep house lineage – is uniquely his own. Generally combining stripped aesthetics and machine funk sensibilities with an achingly soulful feel, his sound goes some way to joining the dots between the house and techno underground's most illustrious founding cities. On 'Sometimes I Feel', we hear Scott in characteristically fine fettle, as meandering keys dance freely over emotive pads and gracefully woven synth sweeps.
The grainy drum track and deeply tethered bass solidify the otherwise airy groove, allowing the alluring music ample scope for enchanted nocturnal adventuring. Without having to muster the energy to flip the record, we effortlessly arrive in the throes of Ricardo Miranda's 'Body Grooves' title track. Here, the Chicago-based producer and Noble Square Recordings head exhibits lush deep house sensibilities on his classic, vintage-tinged cut. Rich chords drive the music over a slick 808 drum track and delicate staccato synth, while Martin Luther King's empowering "I'm black and I'm proud" speech ascends mightily through the mix, adding rousing energy to the floor moving groove. Both impeccably produced tracks are eminently playable, and each is sure to appeal to admirers of nuanced shades of the purest form of deep house.
PC
Jon Hopkins – Piano Versions (Donino)
British musician, producer and composer Jon Hopkins continues his wildly impressive and prolific studio output with this sublimely enchanting release. Hopkins' glittering career has seen him work with revered musical luminaries including Brian Eno, David Holmes, and Imogen Heap among many others. His work has been nominated for countless high-profile awards – including contending multiple Mercury Prizes, as well as an Ivor Novello Award nomination for his soundtrack to the 2010 film 'Monsters'. With this in mind, there can be little surprise that his latest work, 'Piano Versions', is an exquisitely refined and impeccably formed set of compositions. Continuing in the blissfully soothing sonic vein of 2014's 'Asleep Versions' – which was comprised of stripped, ambient versions of the previous year's 'Immunity' album – the new EP relies on delicate fundamentals to conjure the somnolent half-light between consciousness and the deepest realms of sleep.
The melancholic shades of the opening track 'Dawn Chorus' welcome delicate keys as they gracefully glide over otherworldly drones, mesmerising as the music gently unfolds. 'Heron' appears to utilise naturalist field recordings as it weaves a serene yet uplifting ambient tapestry, while the softly dramatic 'Modern Driveway' captivates as the absorbing music opens out. Finally, 'Wintergreeen' completes an almost heavenly collection, as the piano's at times fragile notes are granted full licence to drift freely through the open panorama. While relatively sparse in orchestration, the deconstructed soundscapes are brilliantly immersive and alive with form and texture. Suitable for sunrise reflections or after dark reclines, this subtly powerful and often cinematic EP provides an elevating antidote to the daily bombardment of contemporary living.
PC
Cole Odin feat Eddie C – Little Boxes (Leng)
It's always an immeasurable joy when new music arrives from the perennially reliable Leng fold, and here the UK label welcome back Bay Area musical alchemist Odin Cole alongside the ablest of wingmen, prolific Canadian producer and adept downhill skier, Eddie C. Cole first appeared on the Leng roster with the irresistible downtempo chug of 'Numbers Game' on the imprint's tenth-anniversary compilation release last year, and his new 'Little Boxes' collaboration sees him in sparkling exploratory form.
Gloriously blurring the lines between all manner of genres – with seductive hints of cosmic disco, new wave, and stoner rock detectable in this late-night groove – the original version sees star-gazing synths wash over sleazy bass and tight drumming for a bewitching backroom jam. On the reverse, label regulars 40 Thieves up the psychedelic ante for a breathtaking extended mix. Adding transcendent explosions of luminous colour while retaining the intention of the original, the remix soars majestically through ten-plus minutes of hallucinatory swells and surges, as effected guitar motifs intertwine with tripped-out synth sweeps. The immersive arrangement evolves powerfully as it broods and builds into a feverish crescendo, primed to generate an irresistible force on discerning dancefloors, this is nothing short of spectacular.
PC
Fatboy Slim – Weapon of Choice (20th Anniversary Reissue) (BMG)
Fatboy Slim is arguably one of the most prolific DJ's to ever come from the UK electronic scene. Having found a way to mainstream electronic music to the masses with his upbeat and body rockin beats, he has managed time and time again to make classics everyone loves , even since his first release. Taken from the album Halfway Between The Gutter and the Stars (2000), the memorable video for this track went on to become a Grammy award winning video with Christopher Walken featuring, dancing around a deserted hotel lobby.
With the legendary funk musician Bootsy Collins on vocals, Fatboy delivers infectious, salsa-laced beats which loop on and on to keep the people going. On the B side of this German producers AKA AKA present a sound a bit more funky than the original. With a much more groovy vibe, it's reminiscent of the carnival parties as it has kept the Latin beats and style. Including more drum beats that add to the track, it becomes very melodic. Although the tracks are not as fast paced as his most popular songs but just as upbeat this was designed to fill dancefloors. Released as a limited picture disk, it's time for fans to grab hold of the anniversary reissue before it won't be found again.
AY
Priori – Little Flowers (self-released)
Montreal's Francis Latreille once again dons his Priori cap for a well-rounded five-track collection of deeply immersive left of centre techno cuts. The NAFF Records co-founder has shown himself to be particularly agile when effortlessly skirting genres as a member of various production outfits, including Housemates, World Science, and Jump Source. 'Little Flower' finds him in an introspective mood throughout, picking up where he left off with his last extended offering, 'On A Nimbus'. Opener 'Sour Fruit' hypnotically glides through blissful harmonic waves as infinite textures stealthily arrive and dissipate over a stripped but determined groove.
The sumptuous layers of 'Sleepyhead' evoke a tripped-out dream state as endlessly evolving rhythmic synth parts intertwine over the gently broken drum track. On the reverse, the lively toms and scattered kick of 'Loam' add weight to floating synth motifs and thick audio fog, while the indefinably atmospheric 'Bite Soft' plays fast and loose with the tempo for deft explorations into double time. Finally, title track 'Little Flower' introduces its space-age vocal monologue, which cuts through a haze of pads, effects and sweeps, all the while offering life-affirming neurolinguistics to bring light and positivity to these most unusual times. Elegantly crafted and utterly absorbing, this is supreme work from beginning to end.
PC
Dream Cycle – Dream Cycle (Idle Hands)
From a musical perspective, Idle Hands continues to operate at a relaxed tilt where the possibilities seem wide open with each subsequent release. The Bristol-based label can be a devoted platform for UK rooted club music from the local area one minute, and engaging with European house and techno the next. Eclecticism only works when the quality remains high, and Idle Hands' case it does. This new release sees former Sneaker Socialites Dream Cycle offer up something which somehow sits perfectly on the label without sounding like much else that has been on there.
There's a clean and upfront approach to the production which aligns with the minimal-ish releases by Crump, Christian Jay et al, but that's blended with the kind of beanbag beatdown mood (especially on 'Deep Dream Generator') that cries out for the chill-out room. 'Sonntags' moves at a decent pace, and it's draped in the kind of unabashed harmonious melodies that inspire universal joy – something surely needed at this point in time. There's a certain mellow demeanour throughout which beds everything down perfectly – no doubt that has something to do with the comfortable fit on one of Bristol's most vital club music labels.
OW
999999999/Jastice/Kontain/Grafin – Exhale VA002 Part 1 (Exhale)
Exhale, which is the brainchild of the brilliant Amelie Lens, has dropped a second compilation release to whet the appetite of techno lovers universally. Featuring four tracks, helmed by one of techno's finest, welcomes a visionary collaboration between like minded producers and artists. Starting with every raver's dream, 999999999's Alarm 303 begins off heavy right out the gate. Completely rave indulgent and bass filled, the track is made to keep all audience types on the dancefloor and lift the party spirits. Hey You by Jasticecontinues on this streak of mad fast paced electro beats, keeping the energy set by 999999999.
As the record progresses and moves into Neck Crank by Kontain, listeners will find this particular record moves into a warped groove reminiscent of trance. But this is in no way an indication of them turning the heat down, and instead a warning to all of how to expect soon to be open clubs to be. Chatty Echoes by Grafin as an ending track is fantastic as its ready to showcase frenzied thumping bass and beats perfect for keeping the dancefloor going all night long. With a deep and dark vibe throughout the record, the name is perfect as it makes you want to hold your breath and wait for the exhale.
AY
This week's reviewers: Jude Iago James, Patrizio Cavaliere, Ava Yusuf,, Oli Warwick, Martin Hewitt