The cult classic analogue drum synth gets its first major update since 2006. Greg Scarth finds out how this retro favourite can still hold its own.
Originally launched in the mid 1990s, Vermona's DRM1 has almost certainly been in production for longer than any other drum machine – or, as Vermona would call it, drum synthesiser. The MKIII model alone was in production from 2006 until this year, when it was superseded by this, the substantially updated MKIV model. The instrument has been tweaked and updated over the years, but its longevity and enduring popularity have made it something of a cult favourite: less well-known than the 909s and LinnDrums of this world, but just as highly prized by those in the know.
The DRM1 is an unconventional drum machine in one major way, which is that it doesn't have a built-in sequencer. Instead, it can be triggered remotely via your choice of MIDI sequencer, or using analogue triggers for each of the eight separate sounds. (We're focussing on the trigger-capable DRM1 for the purposes of this review but a cheaper, MIDI-only version of the DRM1 is also available for those who don't need the trigger functionality, priced at £608.) In practice, it's not a problem; this isn't intended to be a small, portable all-in-one groovebox after all, but a big and chunky piece of hardware housed in a top quality metal rack enclosure which doubles up as a desktop module.
The DRM1's sound architecture is an analogue purist's dream, with eight dedicated channels of drum synthesis all based on analogue circuits. Most channels are self-explanatory: kick, snare, two different hi-hat sounds and a clap channel. The other three channels (Drum 1, Drum 2 and Multi) are all-rounders, capable of serving up bongos, toms, zaps, synthetic percussion sounds and everything in between. The two hi-hat channels actually have two voices each, both offering separate open and closed sounds which can be triggered independently.
Vermona describe the DRM1 as an analogue drum synthesiser rather than a drum machine, and the distinction makes itself obvious when you get hands-on with the knobs. Each channel offers seven knobs to control synth parameters, plus dedicated pan and volume controls. The exact details of those parameter knobs are different for each channel, reflecting not only the different priorities for different types of sounds, but also the synth architecture used to generate them (for instance, noise-based snappiness and reverb are high priority with the snare channel, while frequency modulation is more prominent for Drum1 and Drum2). The manual describes the functionality of all 56 parameters in good detail, but you don't need to understand exactly what they're doing in order to create sounds; just tweaking the knobs gives instant results and it's unlikely to confuse even newcomers to drum synthesis.
All but two of the synth circuits have been updated for the MKIV model, but the feel of the DRM1 hasn't changed too much. Frequency ranges have been changed, waveshapers improved and decay times modified, but what we have here is analogue purity: giant, booming kick drums; subtle, organic hi-hats; sci-fi bleeps and bloops; vintage electro goodness. With seven parameters to play with on each channel, the sheer range of sounds on offer is huge. The DRM1 lends itself very nicely to techno by dint of its analogue phatness, particularly when processed with some suitable compression and overdrive, but it can easily go into more mellow housey territory, precise electro or tuneful R&B.
Sequencing the MKIV model is easier than ever before thanks to the addition of a USB MIDI port, the addition of a new MIDI out socket (in and thru sockets remain) and the improved trigger inputs on the Trigger model. There are a few options in terms of how you set it up, but the changes effectively mean that you can trigger drums at different levels via the gate inputs, similar to the way MIDI notes can be triggered at different velocities (the DRM1 actually converts the trigger inputs to MIDI in this way, allowing you to route them out of the MIDI output). It's a major step up in versatility from the previous models and probably the single biggest reason for MKIII owners to consider upgrading to the MKIV.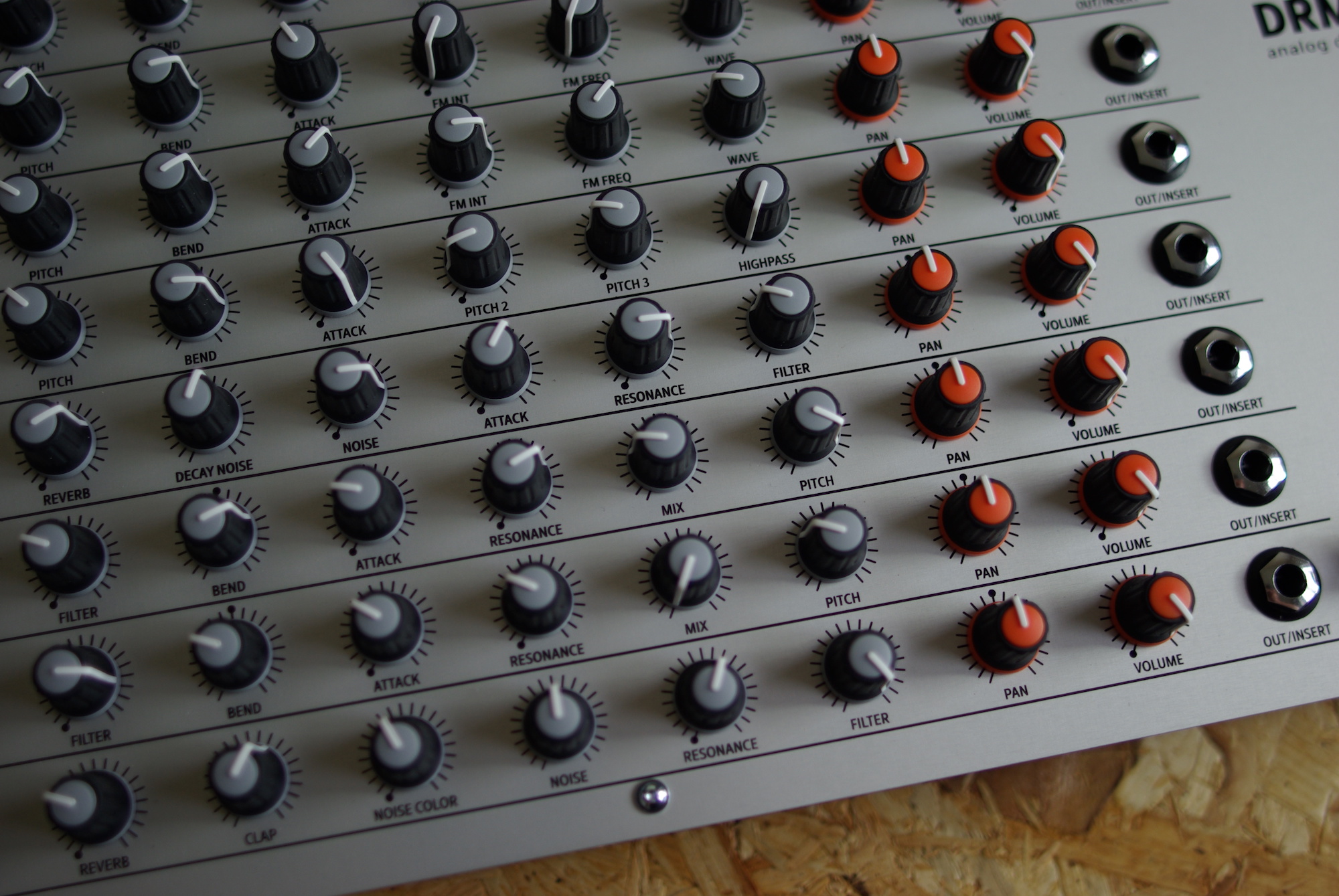 Despite the fact that the DRM1 has been redeveloped and refined over a period of decades, there's a real sense of cohesiveness to its approach, with every function being cleverly thought out and user-friendly, from the dedicated push-buttons to audition each sound while you're tweaking, through to the way the individual outputs double up as insert points to plug in effects like compressors before each of the sounds hits the mixer section and gets sent to the stereo outs. In fact, those individual outputs can be used in three different ways, with the option to cut each sound from the main mix or leave it in while taking an individual out, depending on what kind of cable you use. It's a neat and versatile approach that gives you a lot of creative options in terms of how you make music. When recording a live set or studio jam, you could, for instance, pull the kick and snare out of the main mix for their own processing, leaving everything else combined as a stereo sub-mix, while also recording individual outputs as a backup in case you decide to tweak the mix at a later point.
If there's a downside to the DRM1 it's that it forces you to live in the moment and take control of every aspect of the sound. That won't work for everyone, but if you prefer preset storage and extensive MIDI control of every parameter, you'd be better suited by something like a Jomox Alpha Base. For those who enjoy the focus on real-time tweaking and off-the-cuff sound design, the DRM1 lends itself perfectly to studio use and live performance.
The DRM1 could easily be considered a bit of a retro throwback. It's a purist analogue machine with a very clearly defined commitment to sound and hands-on control above all else. Vermona haven't been tempted to go all out and spoil the purity of the formula with modern features like preset storage, built-in effects or even a sequencer. Does that make it any less appealing? Absolutely not. The MKIV update makes the DRM1 an even better version of itself, a drum synth with the character to back up its proud history.
Greg Scarth
More info/buy