The best new albums this week
Our select team of content gatekeepers sort the vinyl wheat from the chaff for you

ALBUM OF THE WEEK
Facta – Blush (Wisdom Teeth)
A lot can happen in eight years. Thinking back to 2013, when Oscar Henson first popped up on the radar via Idle Hands, Badimup and Tempa, the lie of the land felt very different. Even if generic cross-pollination was in full swing, there still seemed to be some distinction between hardcore-derived soundsystem stuff (or 'bass music', to use the nomenclature of the time) and four to the floor house and techno. There was a new generation of artists raised on UKG, grime, dubstep and UK funky who were playing around with established forms and getting interesting results – the likes of Wen, Parris, Walton, and two mates calling themselves Facta and K-Lone. When they started their Wisdom Teeth label, it seemed to capture a particular shift towards experimentation that was truly leaving behind the limitations of genre. As well as on labels like Beneath's Mistry, Parris' Soundman Chronicles, not to mention the bigger fish like Keysound, Livity Sound and Tectonic, it felt like something deeper was taking place in the alchemical combination of club styles, reaching beyond a surface level intention to shock the dance and present something compelling or unusual.

If you can consider Wisdom Teeth a natural reflection of Henson's work as Facta, the sense of progression and evolution has been tangible. From the time artists like Duckett and Don't DJ were appearing on the label alongside LOFT and Piezo, it was clear the focus had shifted away from upfront, lopsided bass-bin bothering material to something more expansive, culminating with last year's positively dreamy Cape Cira album from K-Lone. Likewise the Facta catalogue started to point to different influences, albeit with a glacial pace leaning against the current of high-throughput club producers. His 2018 Livity Sound release, Dumb Hummer / All The Time felt like an especially pointed release in shaping out a sound that placed delicacy and harmony ahead of heaviness. All this is to say, there's a discernible arc to Henson's work to date, and it flows ever so smoothly into his debut album, Blush.
It's actually hard to separate Blush from Cape Cira in a way – they may be distinct records by distinct artists, but they seem to reveal two peers reaching the same conclusions about what they consider an album to be, and the kind of feeling they want their album to elicit. Both are infallibly pretty, with the opening 'Sistine (Plucks)' on Blush feeling like an invitation to return to the world K-Lone left us in last year. That's no doubt helped by the babbling brooks and bird song – well-worn tropes they may be, but they're still some of the loveliest sounds in nature and I never tire of them. The transition into subsequent track 'On Deck' is measured but beautifully executed, with the arrival of a beat feeling monumental even if the dominant mood remains carefree and sunkissed.
Perhaps the title 'On Deck' hints at a subliminal inspiration from the none-smoother idyll of yacht rock. Without even a shred of irony, if you were to imagine the smoothest possible distillation of a mind filled with house, garage, dubstep and techno, this might well be it. It's not just one-dimensional pleasantries from start to finish – 'Brushes' dials back the sparkling leads to focus on rhythm and textural tones – but overall it's an album that prizes tenderness and positivity over moodiness.
'Diving Birds' finds Henson teaming up with Parris, refracting the latter's heavily dubbed 4/4 explorations through the Blush lens, but that's about as close as we get to a danceable cut. Rather, the skipping Badarou dreamscape of 'Verge' and iced-gem drips of synth on 'Blush' are on hand to take you somewhere far away from the sweat and clamour of the club. When you think back to where Facta was starting out, we've travelled very far indeed, and hasn't the view been lovely?
OW
Musical misfits such as Laurine Frost are the ones to cherish. The Hungarian producer has the kind of aura which keeps him just outside widespread recognition, but those who are hip to his work recognise it as some of the most special music coursing through the torrents of sound in this here scene. Frost's earlier work as Coldfish already pointed to his sonic otherness – he was housed on Hungarian minimal label All Inn, but in the exacting drum science of his productions, he was far from a de rigeur micro house shuffler. By the time of his 2015 record on Marionette, A Fading Virtue By Passing Time, it was clear that his interest lied not in club music standards, but rather in virtuoso rhythm exploration. There is still a discernible pulse guiding much of his work now, but as of 2020's self-released Lena LP, a new area of inspiration and investigation has opened up where jazz feels like the more appropriate reference point.
Lena explored an imaginary relationship between Frost's late father and his non-existent daughter, and Nimfa picks up that thread to now imagine that girl some 10 years older and exploring the world around her. These thematic concepts lie hidden behind the music, but even on a surface level you can sense the unifying idea driving the creation of the music. It's a smoky, shadowy listen from the uneasy ambience of 'False Spring' to the sparse brush drums and watery dub keys of 'Layering Nimfa'. It's certainly not a sleepy record though – climactic track 'The Blizzard' lives up to its name and twirls a rapid fire brass emulation above its head with urgency.

Curiously, 'Imperium' actually has something of a UK demeanour with its occasional splash of wobbly bass and stark, linear percussive tones, sounding like it could sit on a Mistry B-side from 2015, but if there's one track which captures the essence of Frost's current line of enquiry, it's the spectacularly fluid, expressive rhythm n' Rhodes of 'Noble Rust'. It bristles with movement even as it loops back round on itself in a cyclical motion, sounding utterly loose and instinctive without ever losing a hold of the groove.
OW

Orions Belte – Villa Amorini (Jansen)
With moments of unadulterated crooning guitar joy, chords plucked from early rock 'n' roll balladry, Villa Amorini does its best to douse you in nostalgia from the off. We say lap it up, just don't forget to pay attention to the subtler accents at play, which help lift this lackadaisical collection of largely-instrumental summer day sonics above simple pastiche frames and into much more complex musical territories. Is it shoegaze? Is folktronica? Certainly there are moments that bring producers like Bibio to mind (not least on 'Conversaciones'), and other masters of laidback, genre-surfing stuff.
The back story behind Orions Belte makes perfect sense cast in that shapeshifting light. Here on their second long form expedition, a decidedly deeper creation up against debut album Mint, the three-piece comprises Øyvind Blomstrøm (guitar) and Chris Holm (bass), Norwegian talents who met while playing in a touring band for an unnamed, apparently well-known domestic star. Soon recruiting drummer-friend Kim Åge Furuhaug, they found common sonic ground to start from while hauled up in Bergen, an unsung European musical Mecca once home to fine dining spot-turned-notoriously debauched nightclub and after party haunt Villa Amorini. An address where it was possible to sacrifice days at the altar of hedonism, at least some of their experiences there have been distilled into this record.
This goes some way to explaining both the stylistic scope and otherwordly, immersive feeling to the release. There's cosmic blues on 'How Long is… Cold Pizza Good For', 'Dearest''s dreamlike ode to friendship and trippy pedal guitars, and steel riffs and drums helping us leave our immediate reality behind — whatever and wherever that is — as 'Speakeasy' plays out, eventually descending into discordant, disorientating drones. File under psyche pop that has lived a late and loud life.
MH

Hiatus – Distancer (Lucky Thunder)
Against a backdrop of anxiety, closed borders and narrowed world views, this latest from British-Iranian artist Hiatus is just what people need. And not just those confined to an island going through one of the biggest identity crises in its aeon-spanning history. Sure, the UK is trapped in a cyclical conversation-cum-argument about what it means "to be GB", but the majority of the world is also stuck on repeat, only able to dream of the freedom to explore the planet's once-abundant possibilities. Simply put, there's never been more demand for a record that seems primarily concerned with escapism, themes of nationhood and belonging.
Real name Cyrus Shahrad, the artist has crafted a collection of work that's as much an act of carving out new niches as reconnecting with forgotten heritage. For the first time calling on Iranian musicians to collaborate — namely Faraz Eshghi Sahraei, who plays the kamancheh, a traditional string instrument, and his wife, the yearning vocalist Malahat Haddad — these elements are combined with more familiar Western electronic dance and downtempo tones, and the resulting soundscapes appeal directly to our sense of adventure, the desire to tread somewhere new, and collective memories of the way things used to be — imaginative, daring, full of surprises, open to fresh ideas.

Few could be fresher than closer 'Human', which is delightfully credited as "feat. Dad". These final, lush ambient moments, with their distant waves of echoed harmonies and droplets of melody, are set to the producer's father reciting Persian poetry. It leaves behind a subtly epic air, words of unity and togetherness hanging heavy long after the submerged notes sunk into darkness and the speech ends, perfectly befitting a point in time that's almost guaranteed to be remembered as catalysing major turning points, both personal and societal.
MH
Kompozyt – Spells (Gusstaff Poland)
Piotr and Michał Żuralski, together known as Kompozyt, have brought a stellar example of future dub forestry to our ears. Built from a new language the duo invented for the musical coding platform Max – with the aim of replicating the sound of acoustic instruments and timings using solely electronic means – they have delivered a blinding 'kompozyt' of minimal flows and casual steppers' lulls.
Children Of The Bong fans will feel a refreshing 'aahh' of satiation. 'Coral Islands', the opener, resists an all-guns-blazing entry, slowly developing a simple bass riff and watery found sound. 'One Bless', rising from the dub forest's emergent canopy, feels like the album's true opener, effortlessly varying the pitch of every metallic drum hit.
'Fog Weaver' impresses with its perfect replication of live wonk, along with physically modelled replications of echoic bass guitar and tribal breath-catches. 'Boundary Seekers' sounds like the doomsday call of a War of the Worlds tripod set to big-holed 7" wax, while 'Passenger' sounds like the runt of the litter; fat, downtempo and uncanny enough to be the album's closer. It's an alien, biomechanical spin on the term 'roots reggae'. Rather than simply referring to the roots of the genre they are operating in, this album likewise sounds like the low-level pulsations and 'roots' of an ancient synthetic tree.
JIJ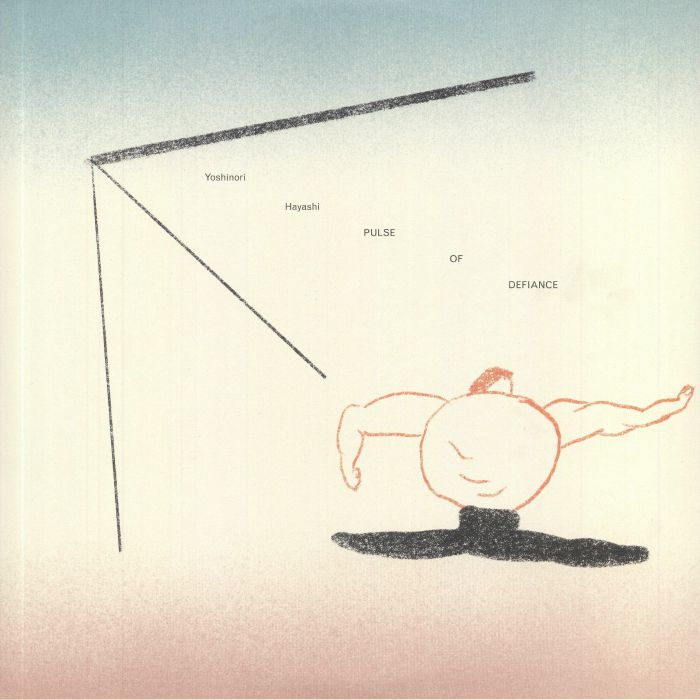 Yoshinori Hayashi – Pulse Of Defiance (Smalltown Supersound)
The many convoluted dimensions of Yoshinori Hayashi's sound continue to marvel as the Japanese artist cruises into earshot with his second long-player, Pulse Of Defiance. There's nothing uniform or standard about Hayashi's craft, but his first release on Going Good back in 2015 spelt out everything we needed to know about his attitude to music. Discordance, abstraction and unpredictability are key to the uniqueness, but a love of dance music's immediacy and an unbridled sense of fun make his sound much more than self-indulgent waffle.

The thread of downtempo beatdowns and jazz breaks continues to steer Hayashi's tracks, but even in the relatively grounded and groovy 'Luminescence' the beat refuses to sit still for too long, flaring in expressive fills underneath a nimble synth and pervasive piano chords. If on one hand Hayashi loves to sink into a smoky funk, he also loves the energy rush of a good party. 'Touch' might be his most direct club track to date, staying the course on a steady kick and letting the melodies reach into the playbook of vintage techno. There are also rude breaks and nasty sub wobbles splattered over 'Go With Us', but here the scatty riffs ensure this lands a comfortable distance from any notion of rave revivalism. Sounding like nothing else, and yet still omnivorously chomping on most styles of music you care to think of, Hayashi once again demonstrates the value of personality and peculiarity to make something truly original.
OW
Nikolaienko – Rings (Faitiche)
This quiet murmur of archival tape loop experiments feels very relevant to the interests of Jan Jelinek's Faitiche label. Dmytro Nikolaienko has already ably demonstrated his personal sonic stamp via albums on his own Muscut imprint, not to mention presenting works from the likes of Jelinek himself and other alumni such as Andrew Pekler, S A D and Pavel Milyakov. In the quiet corner where haunted loops and micro modulations can twitter amongst themselves, Nikolaienko has an abundance of star-chasing noodles and doodles which happily soak in ferrous saturation to create a sound entirely out of place and time.

There are parts of Rings which come on with a hauntological bent that wouldn't sound out of place on Ghost Box – the seasick, muffled arpeggios of 'Ambianta V', for instance – but there's a dishevelled, curious quality to the sounds here which moves beyond mere retro conceit. What makes Rings so easy to glide through is a persistent heat haze, spelt out by cosy chord shapes with nowhere to go. Even if at times the mood can get quite spooky, it's never cold. That may also be down to the ever-present tape noise, which becomes a crucial sonic binding together meandering, untethered sequences in short but wholly formed pieces cycling on a set of dusty spools.
OW

Salaam Remi – Black On Purpose (Louder Than Life)
Award nominated producer and artist Salaam Remi's offering (originally released late 2020), introduces jazz influences centred around familiar sounding beats reminiscent of Tony Allen, Fela Kuti and the Afrika 70. With rhythmic trumpets, leading like minded artists such as Nas, the late Betty Wright, Jennifer Hudson, Ceelo Green and others exchange their talents to create a musical journey between western secular and gospel music, to reggae, and Afro influenced melodies.

It's not just a message to the diaspora, but a beautifully crafted love letter. Designed to heavy the heart but quickly strengthen, it importantly empowers listeners with lyrics of story tales of the Black experience. Opening with an excerpt from speeches by Malcolm X, then smoothly blending to include soulful R&B serenades containing political messages around unity, and togetherness, it is however not for the faint of heart. Containing mentions of current cases surrounding police brutality, and powerful themes about black power, freedom and justice, the message hit home hardest when names of the current news filled cases are said by name, and also a chance to hear the sampled voice of Sandra Bland in the outro. With such a strong diverse feeling behind this passionate record, it leaves you wondering where the rest of it is when it ends.
AY

Mary Lattimore, Mac McCaughan – AVL (New Rain)
Continuing the name established by their first collaborative album ('New Rain Duets'), harpist Mary Lattimore and guitarist Mac McCaughan return for the first album on the New Rain imprint, and their second collab, 'AVL'.
After a self-imposed challenge to perform a completely improvised live tour in Spring 2019 – without playing any pre-composed music – the album hears Lattimore and MacCaughan attempt to recreate the heavenly, liberating, yet "terrifying" feeling of these performances.
It has no central focal point; the album, despite its split into separate 'tracks', plays out in one blissful take. 'Battle Park' is as beautiful as 'Bridal Veil Falls', but the latter is more esoteric, grimey, musty. With its various harp skitters and synthetic backings, the project takes the form of a sonic bell curve. The transition from '85 Drone' to 'Sliding Rock' evokes the feeling of entering, and reemerging from, a dank cloud of mist, perhaps originating from some nearby waterfall.
McCaughan speaks of unique moments of synchronicity, which he is pleased to have recorded. "Some odd sound would leap out of a synthesizer or Mary would hit a great bass note at the same time as the Casio spat out a high distorted version of the same note." Delightful imperfections these may be, but the album nevertheless does not fail to evoke a static image; dove wings, clouds, harps and Birkenstock sandals.
JIJ

BROCKHAMPTON – Roadrunner: New Light New Machine (Sony BMG)
The self-proclaimed hardest working boy band in the music industry are back with frontman Kevin Abstract recently taking to Twitter to let us know BROCKHAMPTON will release their last two albums in 2021. ROADRUNNER: NEW LIGHT NEW MACHINE is set to be the first of these releases, with singles 'BUZZCUT (feat. Danny Brown)' and 'COUNT ON ME' now available. For a group that somewhat famously came into being through an online forum for Kanye West fans, the now global sensation that is BROCKHAMPTON are ready to excite fans for the first time since 2019's Ginger.

The explosive and utterly chaotic 'BUZZCUT', marking the group's first release of 2021, recruits the veteran alternative hip-hop icon Danny Brown, and announces their return in a way only then can – "Who let the dope boys out?". The volatile track also enjoys a brilliantly disorienting music video under the creative direction of Kevin Abstract and using a whole team of animators. The more recently released 'COUNT ON ME' slows the tempo considerably, but pours on the features all the same; A$AP Rocky and Shawn Mendes feature on the latest head-nodder. Fans are understandably aching to hear more new music from the group, and it feels like as long as Kevin Abstract is steering the helm, BROCKHAMPTON will continue to deliver the goods for another 2 albums at least.
JC
This week's reviewers: Martin Hewitt, Jude Iago James, Josh Clark, Ava Yusuf, Oli Warwick