The best new singles this week
From house to indie, jungle to hip-hop, our best bits of the week's singles


SINGLE OF THE WEEK
Black Midi – John L / Despair (Rough Trade)
With the announcement of Black Midi's new album 'Cavalcade' comes the release of the lead singles 'John L' and 'Despair', two characteristically caterwauling pieces of conceptual post-rock designed to tittilate, overwhelm and dismay.
With the band's come-up having been so fast – and following the success of 'Schlagenheim' – Greep, Kelvin, Picton and Simpson have clearly acted on the principle of clout, releasing a follow-up while the hob's still hot and throwing a 90-degree curveball in the process.
Compared to the material on Schlagenheim, 'John L' hears like a darker take on the tumult of modern times, painting a "jet black comedy" about what happens to cult leaders when their followers turn on them. With lyrics slurring, drums driving and guest strings wailing, the track follows the titular, made-up monarch John L as he repeats history in the style of Caligula, Bad King John, or Robert Mugabe – basking in the glory of corrupt rule, then defenestration.
With the track having been first performed in 2019 while the band were on tour, we can now make out the lyrics with clarity; for a while, John sings an enchanting song, but soon enough is "in tatters, his soapbox usurped / His torn robes adorn the tree stumps of the Earth." Like the clattering, dissonant sound of a collapsing kingdom, we can even make out real black MIDI-style piano flourishes between Greep's murmurings. Yes, the kind you'd hear on one of those ghastly Synthesia videos on YouTube; it's a very self-referential move.
'Despair' is new ground trodden for the band; operatic, haunting math rock via bossa nova, in their most 'chill' statement to date, yet one which is heartfelt, and proving of Black Midi's versatility beyond arty freakout jams. With the track's chorus – "Valentine / Curse your way" – as well as ruminations on catastrophe, xenophobia and madness – "When will be begin to incessantly fail inexorably?" – it feels like a third-person reflection on the human tendency to never learn.
JIJ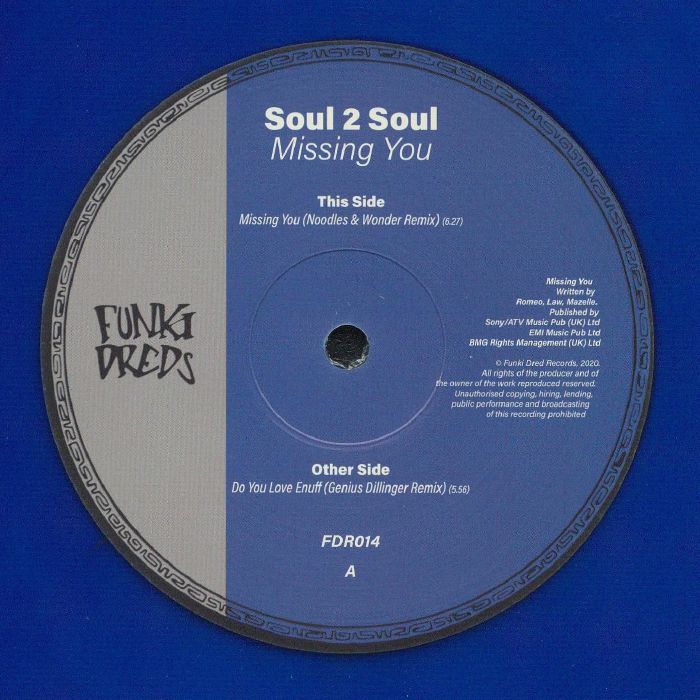 Soul II Soul – Missin You (Noodles & Wonder remix) (Funki Dred)
This repress is an incredible smashing of worlds, one for the ages. Four titanic names from disparate corners of the hardcore continuum – Soul II Soul, Noodles, Wonder, and Dillinja – have delivered a stonking two-track single, demonstrating their nostalgic but just co-take on jungle.
In a wand-wave of curatorial magic, this is actually an example of the recently-invigorated Funki Dreds label (which returned in 2020 after an almost 20-year hiatus) serving up two tracks from the vaults. Both tracks are widely known to the drum n' bass hive mind, yet have until now remained in white label dub form, initially released in 1995.
The first track is a remix of a classic – Soul II Soul and Kym Mazelle's 'Missing You', given the rollage treatment by jungle and garage mainstay Noodles aka. Groove Chronicles, along with elusive partner in crime Wonder (and no, it's not Wonder the superhuman grime producer). This belter of a tune starts out dreamy, but then moves into an unstoppably bouncy and toothy bassline, where the track stops being liquid; it becomes viscous, semi-solid. No compromises here. If you want breaks, you've got plenty; you can hear the tune shift around between at least four different break sources, all while Mazelle urges us "on and on"…

The second tune – Dillinja's 'Genius' remix of Soul II Soul's 1995 single 'Love Enuff' – is a complete frontside 180 kickflip away from the original, swapping out its soulful backing for an emphasis on Penny Ford's knife-edge, humming vocals. That's not to mention the jungle underdog's trademark; a backdrop of overloaded amens, suspending Ford's vocals in rolling stasis. Here, as ever, Dillinja's breakwork is ahead of its time, with bass so enthralling that it rawly suffocates the break in cassic shoddy vinyl pressing style, driving time-streched vox snippets forward and even teasing drill-n'-bass-style beat messups towards the latter end. A cornerstone of distinctly black British jungle.
JIJ

Nico – The Driving Rain (Midnight Shift)
Nicolas Guerrero's earlier work as White Visitation already marked him out as a producer transcending the trappings of conventional dancefloor material. Crucial drops on Blank Slate, L.I.E.S. and Styles Upon Styles were rooted in techno to some extent, but already displayed rhythmic and textural tendencies pointing to more adventurous terrain. Scattered compilation appearances for Timedance and Mother's Finest suggested his switch to recording as Nico was heading more pointedly into a grey area where soundsystem dynamics and fluid tempos reign supreme. That direction now fully manifests with this EP for Midnight Shift, cementing his position as a producer with a vital, unique handle on drum programming and a keen instinct for tension and release.
It's noticeable that the first kick drum doesn't land until the second track on The Driving Rain. The title track is brimming with nervous energy as loping percussion interlocks around a stuttering central figure, with subtle peaks and troughs marked out by patient FX swells. In the blooming field of kick-less techno, this is a perfect example of how to raise nape hairs without resorting to that most obvious of anchors. When Guerrero does decide to let fly with a low-end pulse on 'Wolfram', it's powerful and yet the track still feels as light as a feather, pursuing an idea about club music as a restorative elixir rather than an instrument of brutality.
'Elements' takes things deeper, allowing a few more tonal shapes to create a mutant dub veneer through which Guerrero's fractured time signatures cut with astounding clarity. It's certainly more dynamic than the two preceding tracks thanks to some dramatic surges and stops, but never at the expense of the pervading air of mystery. 'Wolfram (Dub)' weaves a few more melodic elements into the mix, creating a mood that would sit comfortably alongside Burnt Friedman. Finding his own angle on the balance between intricacy and spaciousness, The Driving Rain is an assured opening gambit from Guerrero's new(er) alias, and one which lovers of drum science will find themselves instinctively drawn towards.
OW

Healion – In Light, It Undoes Nothing…(NAFF)
Montreal's NAFF is managing the tricky art of carving out a very definable aesthetic while not leaning too heavily on one particular sound. Founded by Priori and Ex-Terrestrial in 2018, it's quickly become a sizable entity littered with insular collaborations and anonymous drops from a relatively tight coterie of artists. It feels very much connected to the present, less concerned with trendy distortion or arch throwbacks even if the releases will happily dabble in jungle breaks, techno pads and the odd splash of trance. There is, if anything, a predilection for headphone-centred electronica and modernist dub processes, not least in the albums from the label founders, but equally they can muster up some fist-shaking energy as on the last release, Ultimate Reward by Maara.

This Healion 12", purportedly recorded between 2019-2020 at Jump Source Studios (a Montreal studio set up by Priori and Project Pablo), could well be the work of some of the regular NAFF names, but equally it doesn't matter. It simply feeds into the overall tone of the label, from the stylised artwork by Jonathan Castro, Octave Rimbert-Rivière and Anne Büttner through to the ascending energy of the music.
There's a slant towards meditative practices, as the track titles make abundantly clear, but that doesn't excuse them from pronounced rhythmic action. 'About Breathing' starts off in a gentle pool of pad tones, but also glides with grace into a needlepoint strain of jungle that feels huge around the low end but retains an aqueous, mellow demeanour that would put early Good Looking classics to shame. Elsewhere you can hear the ghost of dubstep on 'Vetiver' and 'Gathering', but the reference points are slight hints rather than wholesale imports. Rather, it's the exquisite sound design and constant movement which are key to the success of the record, framing a wholly relaxing and yet constantly kinetic style that flows smoothly into NAFF's ever-growing catalogue.
OW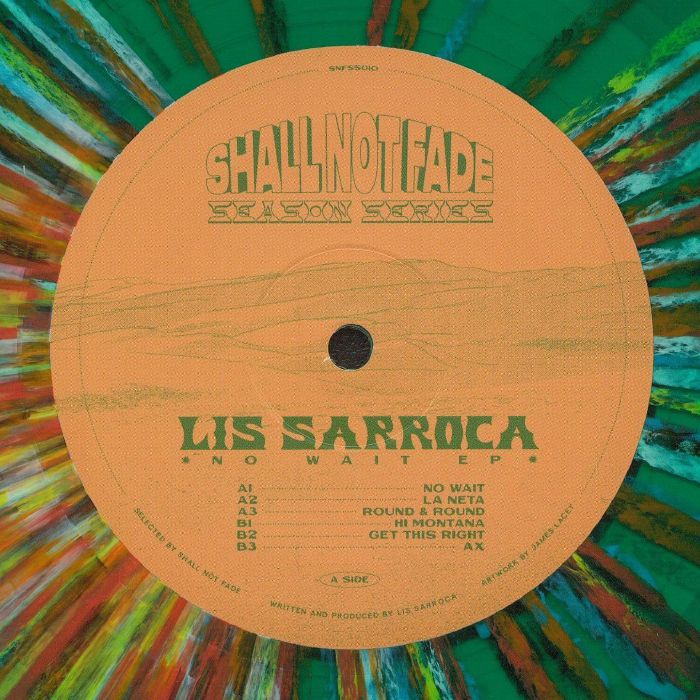 Lis Sarroca – No Wait EP Shall Not Fade
Lis Sarroca is an evolving artist whose musical allure appears to grow incrementally with each release. The Barcelona resident has been steadfastly DJing for over a decade, along the way absorbing diverse influences from vast musical realms as well from the enriching time she's spent out on the road. In recent years she's begun channelling her psycho-sonic experience into club-focused productions which skirt along the ever-shifting lines between the various shades of house and techno, counting artists such as Larry Heard, Roman Flugel, and Craig Richards as influential to her progress. Here she arrives on Shall Not Fade, a label that –given its back-cat credentials – feels like a good fit for the steadily-rising artist. The Bristol-based imprint has previously offered a platform to a formidable cast of hard-hitting and wonky-minded dance creatives, including Rick Wade, Laurence Guy, Adryiano, and Demuja.

The six-track 'No Wait EP' opens with the magnetic chug of the title track, whose intoxicating rhythm synth, hypnotic bass and catchy melodies invoke a near-instant need for dynamic release. The energy level swiftly increases as the rave-fuelled acid breaks and wobbly sub of La Neta tip a nostalgic cap to a retrospective dance era. The quirky vocal chants and idiosyncratic hooks of 'Round & Round' are, by their nature, likely to exhilarate some dancers while rankling with others, and on the flip, we arrive at the more familiar deep house territory of 'Hi Montana', with its dusty-fingered sampling, soaring strings and enlivening drums. On 'Get This Right', the Spanish/Mexican artist jacks up the drums while reducing the parts to the barest of essential floor-friendly components, and the thick chords, lively beats and energetic verve of closing cut 'Ax' continue the dancing fervour, helping to render this collection a more than creditable addition to Sarroca's ever-expanding release portfolio.
PC

Ferro – The Unforced EP (Amphia)
Vlad Caia and Cristi Cons' Amphia is a stand-out label in the contemporary minimal scene, not least amidst their Romanian peers. Inventive releases from the label bosses and the likes of Kamran Saghedi and Cezar Lazar stay true to the genre as functional club music, but also display an adventurous taste for rhythms, textures and melodies that catch the ear. Ferro is a Dutch producer who has similarly displayed flair within the minimal framework for LesIzmo:r, Fasten Musique and Oscillat. By way of bucking the trend, the opening cut on his new 12" for Amphia is actually an especially stripped down, tracky affair, but the oddball bass underpinning the track is reason enough to pay attention.

It's with 'Post Apocalyptic Morning' The Unforced EP kicks into gear fully. The particular funk Ferro cooks up is springy, but with enough sharp angles to hook you in tight, and the nasty low-end hi-jinx that appear here and there in the track are a deadly, effective hook. 'Unforced' meanwhile loses itself in a hypnotic plucked-string mantra which speaks of bright mornings at long sessions with no end in sight, if such things still exist. Curiously, Ferro opts to save the gnarliest club weapon for last. Tucked away on the B2, 'The Contrary' elicits a dark, sensual atmosphere with a serious bass presence. This is serious minimal for devoted heads, but it's loaded with that mystical quality that positions it head and shoulders above the rest.
OW

DC Larue – Cathedrals (Faith)
The team behind London's Faith parties – and the recently-resurrected, much-loved fanzine of the same name – launch their new label with a highly desirable set of mixes of DC Larue's disco classic, 'Cathedrals'. The quasi-mythical and generally debauched Faith events began over two decades ago, and over the years have played host to an unending stream of players deeply rooted in (proper) house music's nutrient-rich soil. The label is designed to educate the new generation of house-loving party people by presenting classics of the canon alongside reworks from a selection of inspired production minds.

Here, they bolt straight out of the blocks with a double-pack of respectful interpretations of this rousing, 1976-released anthem. Faith heroes 'uncle' Terry Farley and Dave Jarvis evoke all the energy of the effervescent Faith parties on their characteristic house bounce, while edit master Greg Wilson thins things out just a little on his tasteful revision. Baltimore rhythm deviant Maurice Fulton presents perhaps the most drastic adjustments with a raw, stripped-back arrangement that pops with the power of his signature alien-funk. Chicago legend Jamie 3:26 provides two versions: a Ballroom mix and Disco Dub version, and it's the hypnotising juju of the utterly absorbing latter that continued to reverberate around my cosmically charged happy place long after the record stopped playing.
PC

Nuron – La Source 02 (De:tuned)
Fans of vintage UK deep techno are living in bountiful times. The spirit of B12 lives on as Steven Rutter steers FireScope, Stasis is reissuing classic tracks on his Fencepiece label, and Kirk Degiorgio is digging unreleased As One and Future/Past material out of the archives. Belgian label De:tuned has been flying the flag for the sound for a long time now, carrying the likes of LA Synthesis and David Morley, and now working with certifiable first wavers Nuron. Their unassuming Likemind label released a total of four 12"s between 1993 and 1996, and each one has a semi-mythical quality. Ahead of a reissue of their classic early material, De:tuned are carrying a second EP of upfront Nuron music which impressively stands up to their looming yet modestly sized legacy.

Opening up La Source 2, 'Burnenville' lives and breathes the same air as those original Nuron tracks, but there's a vivid clarity in the sound and a surefooted attitude to the sequencing and arranging which feels like a sizable update. It's exactly how you want a 'heritage' act to approach making new material after such a sizable gap. Degiorgio himself pops up to deliver an As One remix of 'La Source' (from the previous EP) which manages to reach an orchestral crescendo without overcooking it – another beautiful update on a unique era of UK techno.
OW

Horsegirl – Ballroom Dance Scene/Sea Life Sandwich Boy – Sonic Cathedral
This debut release by Horsegirl has all the hallmarks of a great lost single in waiting. The trio of Penelope Lowenstein, Nora Cheng and Gigi Reece are currently in high school in Chicago, and Cheng and Reece are due to graduate this year, after which they plan to study in New York. In the meantime, they're racing to finish an album, inspired by rave reviews in Pitchfork and NME. They have this year to find fame as a band or they'll be heading their separate ways in the autumn.
If this sounds like a plot line reminiscent of coming of age movies like Lady Bird and Booksmart, then that neatly fits the band's atmospheric indie rock which sounds like its soundtracking an art house movie about teens about to leave high school. The title of Ballroom Dance Scene even tells us exactly where we are in the movie, it's understated, haunted melody and overlapping vocals echoing Warpaint, the more contemplative moments of Goat Girl, and slo-fi veterans Swell. And the smart, impressionistic lyrics are packed full of fictional characters of their own – "Benjamin has seven pens to differentiate between his sins" describes one cast member.

Sea Life Sandwich Boy, meanwhile, sees Lowenstein and Cheng's vocals forming a Lush-like blur, the wash of fuzz and harmonies building to what feels like a luminous, euphoric high. You'd say Horsegirl were bursting with promise if they weren't about to self-destruct. What happens in the final reel? Stick around and find out.
IW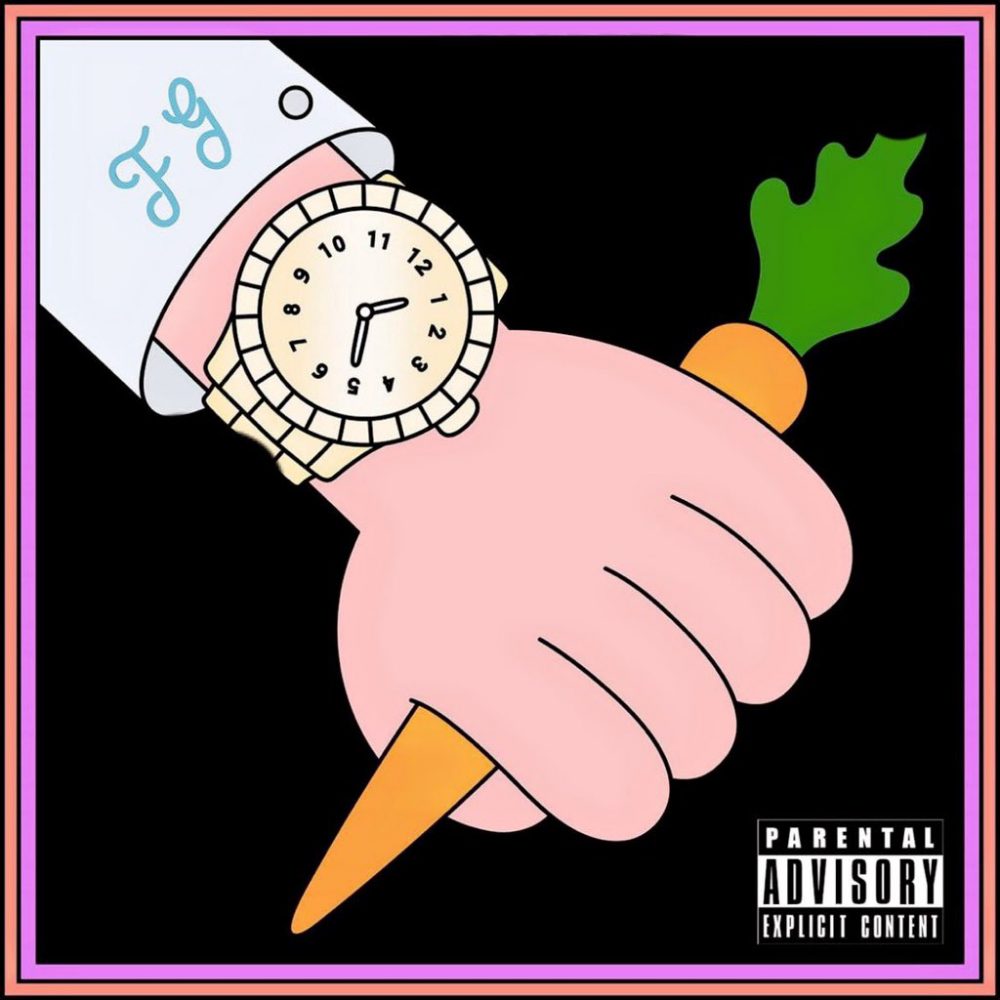 Freddie Gibbs – Big Boss Rabbit (Warner)
He might still be banned from instagram, but that wasn't ever likely to stop Gangsta Gibbs or even slow him down. After back-to-back collabs with Big Sean and ScHoolboy Q, dropping the mammoth 83-track deluxe version of Piñata with Madlib back in February, and losing to Nas at the grammys – in his words a kind of win: "If you're gonna lose to somebody, you're gonna want to lose to Nas" – Freddie repurposes the very same legendary MC's track 'You're da Man' for his new single 'Big Boss Rabbit'. Alongside the sampling of the Large Professor produced Nas tune, Freddie's new track opens with a brief Mike Tyson sound-bite "These fellas, how dare them challenge me/ With their somewhat primiti-primitive skills/ They're just as good as dead". Setting the tone for the devastating bop, Freddie begins with a flow so impossibly quick you're sure he won't keep it up, and yet a millisecond after he completes his first verse he repeats the rapid hook. If he takes a breath you wouldn't notice. The beat itself is a perfect platform for Freddie; hard-hitting but it doesn't let go of any melodic inclinations, incorporating those delicate strings that hover above the mix at all times.
JC
This week's reviewers: Patrizio Cavaliere, Ian Watson, Jude Iago James, Josh Clark, Oli Warwick