The successor to the Metropolis is an engaging, hands-on sequencer with impressive performance features.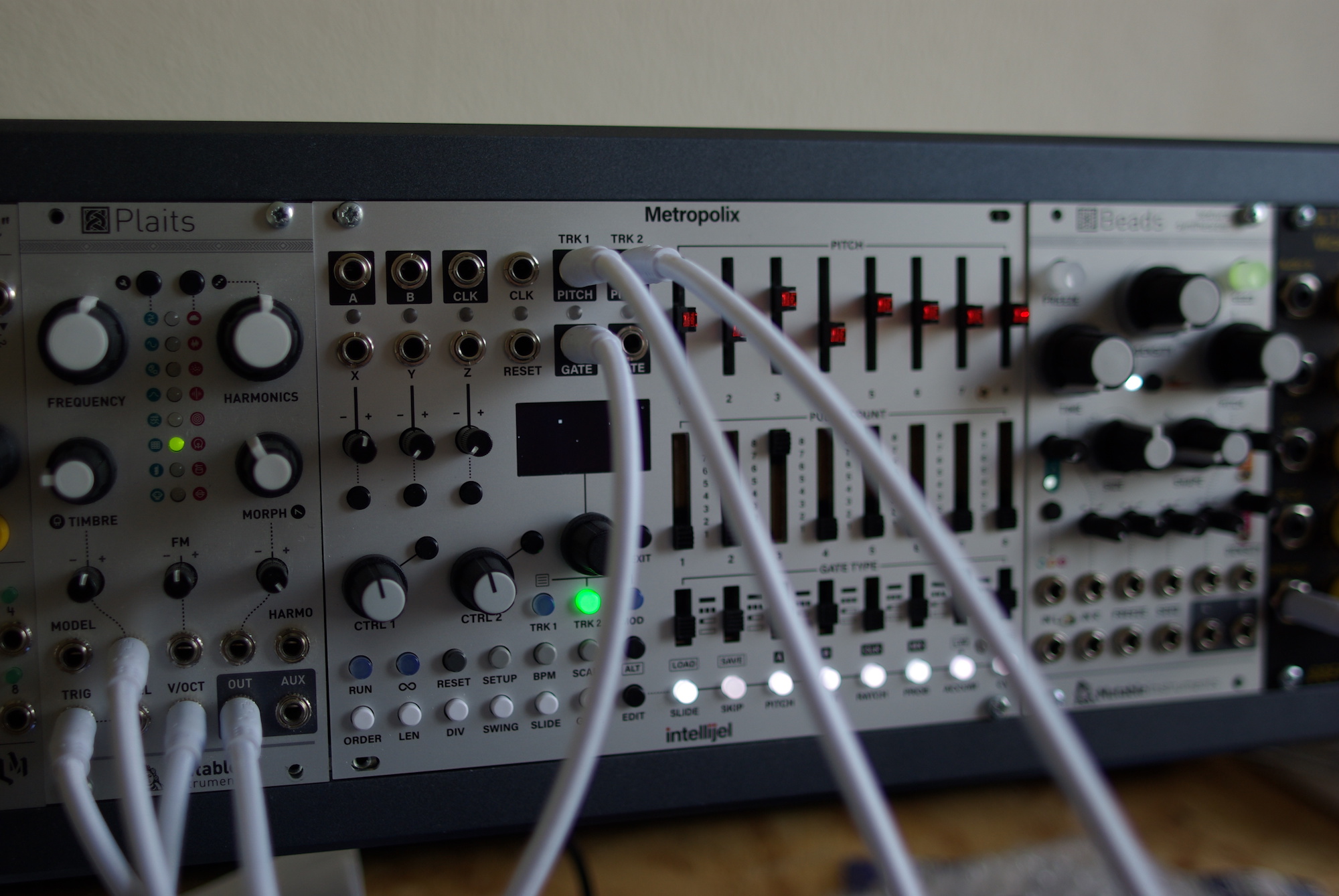 2021 is turning out to be a bumper year for Eurorack sequencers. In recent months we've seen the arrival of the mighty Erica Synths Black Sequencer, Tesseract Modular's quirky Tukra and the long-awaited Endorphin.es Ground Control, among others. Not to be outdone, Intellijel also announced an updated version of their popular Metropolis sequencer. A substantial enough evolution of the original model to warrant a (very slightly) new name, the Metropolix is a unique offering with a very different approach to any of those rival options.
Founded in 2009 in Vancouver by Danjel van Tijn, Intellijel has been a staple brand of the Eurorack format for over a decade. The Metropolix back story is surprisingly complex, beginning with a DIY project which culminated in the creation of RYK Modular's M185 sequencer for the rare Roland System 100m modular format. Jake of RYK Modular licensed the design to Intellijel, who tweaked it in order to create what was eventually released in 2014 as the Metropolis. The Metropolix represents a significant update of the original module, but the basic concept is the same: it's an unusual eight-step sequencer which can have up to eight note triggers per step. As we'll explain, that doesn't exactly mean it's a 64-step sequencer in a conventional sense, because the behaviour of each step is unorthodox compared to something like the slightly more conventional Erica Black Sequencer.
Getting started with creating melodies is fairly straightforward once you've got to grips with the three main controls for each step: pitch (quantised to a chosen scale) is adjusted by the slider, then a pulse count per step (1-8) can be dialled in using the eight-way switches below. The pulse counts interact with the gate type switches below, which allow you to choose different behaviour for each step, either with no gate being sent, a single gate at the start of the pulse count, or a separate gate for each pulse. The upshot is that those eight step lengths are easy to vary, effectively giving the feel that you're repeating steps, skipping them or elongating them in time with your clock signal (which can be either internal or an external trigger). Edit buttons under the gate switches allow you to program slides, skips and ratchets per step. The result even on a basic level is a sequencer which encourages hands-on tweaking and a very intuitive process of creating patterns.
The real strength of the Metropolix is in twisting and manipulating melodies once you've created them. This is nowhere more evident than in the way the new module adds a second track to the original Metropolis format. From the start, you're effectively dealing with two CV tracks both controlled by the same bank of eight pitch sliders, but you can switch back and forth between the two and start to adjust their behaviour independently. The immediate upshot of this is that you get two related but non-identical melodic sequences, perhaps with slightly different timing, gate patterns or step lengths. It's a brilliant approach in terms of creating interwoven melodies or harmonies using a pair of similar or contrasting sound sources. Feed, for instance, the track one and two CV outputs into identical oscillators patched through the same filter and you've got an unorthodox duosynth. Feed one into an oscillator pitched down to play bass notes and the other into a higher lead oscillator and you've got two main elements of a track that can interplay with each other and follow subtly different rules and patterns. Immediately effective.
There's a contradiction at the heart of the Metropolix in the sense that, much like the original Metropolis, it doesn't necessarily offer instant gratification straight out of the box. Hook up a CV and gate output to a suitable sound source and yes, you can get some basic patterns out of it quickly enough, but much of the power of the module will be somewhat opaque without exploring the manual. However, the contradiction comes from the fact that once you've figured out some of the options, the Metropolix proves to be one of the most immediate and inspiring ways of generating melodic ideas, riffing on a basic melody or performing live in real time, twisting and warping melodies with associated modulation and rhythmic variations.
Beyond the power of the original Metropolis, the Metropolix goes to town with added modulation features and performance options. You have two new CV lanes, probability controls and a staggeringly deep new modulation lane option which allows you to modulate various parameters on a per-step basis. The downside, if there is one, is that the Metropolix is substantially more complex than its predecessor once you dig into all that extra power, and certain features are unavoidably fiddly in terms of button combinations and menus, but the new OLED display is very helpful in terms of simplifying those deeper options.
The Metropolix is a notable step up in power and versatility from what was already an excellent sequencer in the Metropolis. As a way to generate melodic ideas, warp melodies in new directions or perform live, it's a unique offering that has huge appeal.
Greg Scarth
More info/buy