Arturia's flagship analogue polysynth is unashamedly expensive. Greg Scarth finds out whether it can live up to its price tag.
One of the biggest synth trends in recent years has been affordability. French software/hardware brand Arturia have been at the forefront of that movement in a number of ways, whether that be making classic vintage synth sounds accessible via their excellent soft synth emulations, or spearheading the affordable analogue synth revival with models like the MiniBrute and MicroBrute.
The brand's new PolyBrute synth bucks the trend in much the same way as their mighty monophonic MatrixBrute did back in 2018. The PolyBrute is unashamedly expensive. It's strange to say that the idea of a big, expensive powerhouse of a synth has fallen out of fashion, because there was a time when that precise formula used to describe pretty much every brand's flagship model. Nevertheless, the world has changed and expectations have grown to the extent that these high-end synths with four-figure price tags are now expected to be even more special than ever.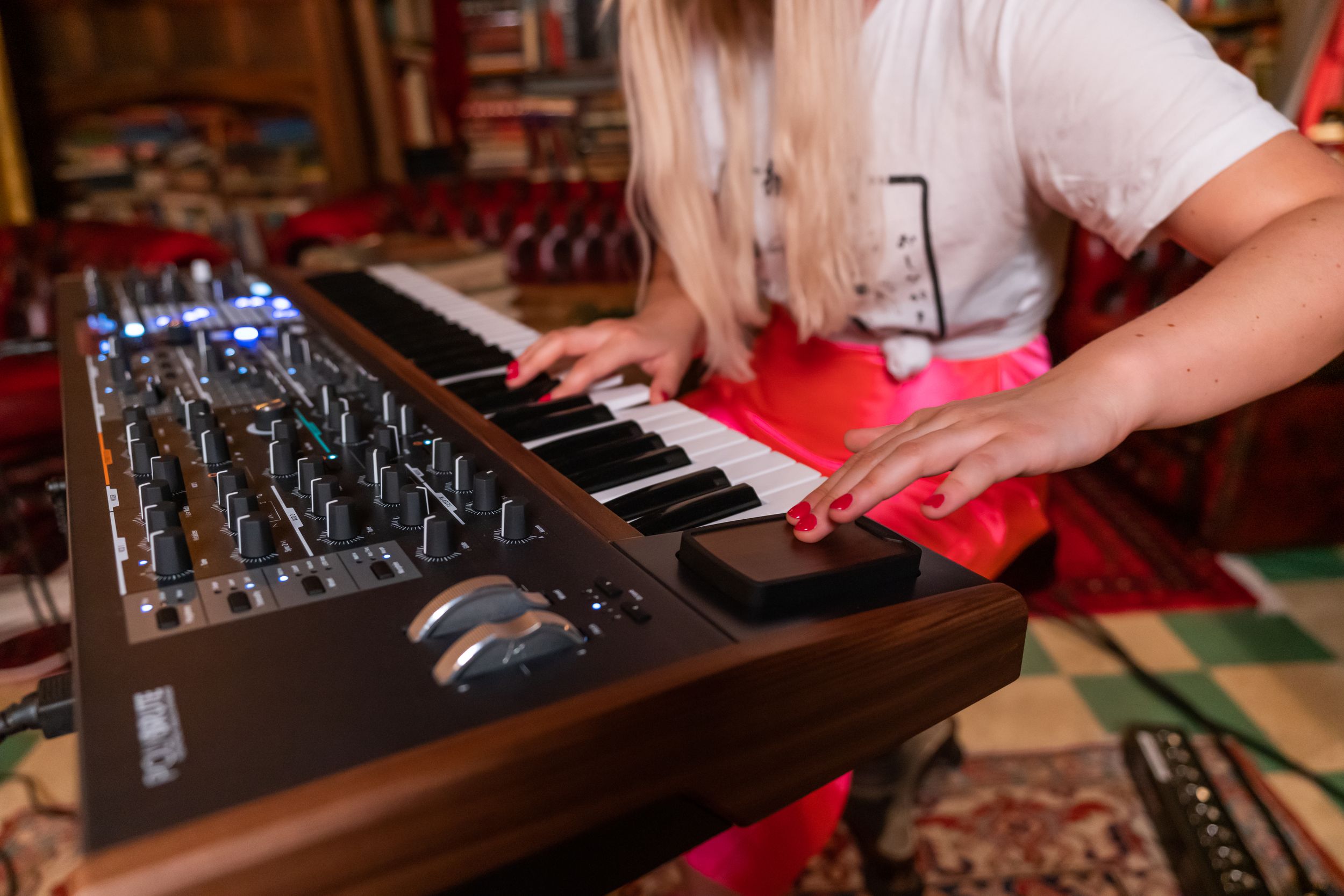 The PolyBrute aims to achieve that in a number of ways, firstly by offering six voices of pure analogue synth power with a distinctly premium approach (two VCOs per voice, three LFOs, dual parallel filters, and so on) but also by introducing some uniquely expressive control options. Anyone who's tried previous Brute instruments will recognise some of the design elements and synth features here, such as the Steiner-Parker filter with Brute Factor feedback control. With that said, the PolyBrute feels immediately different to any other Brute synths for the simple fact that it's polyphonic, not to mention the fact it packs in all the added bells and whistles you'd expect from a high-end synth: an extensive modulation matrix, a sequencer, an arpeggiator and an impressively capable digital effects section.
The hardware spec of the synth is a reminder that this is a premium option; this is a big, heavy synth that feels reassuringly expensive, from the full-size, semi-weighted, aftertouch-capable keybed to the feel and build quality of all the front panel controls. On that front, there are two notable features that immediately set the PolyBrute apart from cheaper polysynths. Firstly, built into the wood panel running horizontally above the keys, you'll find a touch-sensitive ribbon controller strip. It's a rare feature for a synth, perhaps most closely associated with the classic Yamaha CS80, and it's immediately appealing to play with, begging you to use it for the kind of little pitch bends and filter tweaks that make synth sounds feel more organic.
The second unusual expression control is the unique Morphée touch controller to the left of the keyboard, which works a bit like an X-Y pad bolted on to a pressure control, allowing you to control three axes of expression simultaneously. Its behaviour depends a lot on what it's controlling – both the ribbon and the Morphée can be assigned to a wealth of different parameters via the modulation matrix, meaning that they can do very different things depending on the specific patch – but it adds an extra layer of control. As a bonus, it's good to note that you've still got conventional pitch bend and modulation controls above the Morphée, keeping your options open if that feels like the best way to manipulate a sound.
There are so many possibilities on offer with such a potent synth that the presets offer a good starting point. A lot of the factory settings lean heavily towards a slightly old-school approach of emulating real-life instruments like strings and brass, which I found a little surprising given that there are probably easier ways to achieve those sounds via digital synthesis. Even so, they give a good sense of the range and variety of tones you can get out of the Poly. Perhaps more importantly, they showcase the expression options of the synth, an area in which it truly shines. First of all, that five-octave keybed is a joy to play, but what quickly becomes apparent is how much emphasis Arturia have placed on the ability to morph from one sound to another. There's a dedicated Morph control situated at the bottom left of the control panel which allows you to sweep from setting A to setting B for any patch, but as the name may have suggested, the morphing options are also typically mapped to the Morphée controller. In some cases it's a subtle shift in tones as you move your finger around the touch pad, but in others it can be quite extreme. The creative potential here is huge.
The sound of the PolyBrute is as expansive and as impressive as you'd expect from a premium analogue model, especially considering the dual Steiner-Parker and Moog-style ladder filters, which give you a lot of sonic range. But above all else, the PolyBrute feels like a real player's keyboard, in the sense that you get the most out of it by engaging with it on a physical level, reaping the benefits of that gorgeously expressive keybed and the uniquely tactile Morphée control and ribbon touch strip. If you simply feed it sequences via MIDI, you're missing out on a large part of what makes it special. But, crucially, the PolyBrute does feel special: it's a unique instrument with its own distinctive character.
It's a big ask to justify such a substantial price tag in the saturated polysynth market, but Arturia have pulled it off here. There are other synths which do some of the same things as the PolyBrute for much less money, but there's nothing else on the market that does all those things at once. Yes, it's expensive, but in this case you certainly get what you pay for.
Greg Scarth
More info/buy