The best new singles this week
The choicest cuts, delivered direct to your ears by Juno Daily's reviews team
SINGLE OF THE WEEK
Saison / Waajeed– Show Me (No Fuss)
The latest instalment from London-based duo Saison's No Fuss imprint sees the slick deep house specialists team with one of Detroit's most luminous production lights, the ever-evolving and eminently talented Waajeed. Saison are known for a highly-polished club sound with its roots extending deep into classic US house soil, and they've previously welcomed the likes of JT Donaldson and Demarkus Lewis to the No Fuss fold. The label's output has maintained a focus on accessible, dance floor driven grooves throughout, and, while this release is aimed squarely at their favoured paradigm, Waajeed's timeless remix is imbued with all of the enigmatic motor city edge we've come to expect from his music. Robert 'Waajeed' O'Bryant's production career grew from the hip hop leanings of the Platinum Pied Pipers group, formed alongside Saadiq, before more recently morphing in tone and expertly blossoming in the sumptuous Detroit house form. 2019's 'Winston's Midnight Disco' was arguably one of the standout house cuts of its decade, and his Black Messiah remix of 'Show Me' shares with it an effortlessly abiding quality.

The music ascends from a tension-building intro to explode into glorious life, as metallic chords cascade and expand over simultaneously stripped and pounding drums. The carefully placed bass rolls delectably as the sultry female vocal soars, while distant mutating synths undulate and expand to create an unreachable sense of depth. The vocals are dispensed with for an instrumental version which works almost as well, and is likely to find favour among those easily offended by the human voice. The feel-good fervour and skippy groove of Saison's original and unreleased dub versions render them highly effective, and each is sure to score points with fans of the more penetrable end of the house spectrum, but it's Waajeed's subtle yet unmistakable Detroit funk that burns hottest here.
PC
Sometimes digging for techno is a slog, as though it takes gargantuan amounts of energy to separate the wheat from the chaff. But if we're following the idiom, Sugar's new EP for Euromantic – 'I Worry' – is undoubtedly, unequivocally, one of the biggest wheat yields to have been harvested and bundled for consumption by the Copenhagen-based label so far this year.
The follow-up to the debut EP 'No Sex Only Feelings', this is a techno EP so instantly compelling that it could probably be used as a wartime psychological weapon. Described by the artist as a "reach for a life that's so easily obscured by the temptations of the modern world", and "musick for the times when you contemplate deleting your Instagram account", it would be easy to assume that this is some kind of environmental ambient release. It is anything but. Opener 'Kvaerkhegn' is a straight-up barrage of apocalyptic clobber, somehow eking out the phattest of kicks from within an abyss of texture. The track ends on a note of demonic rapture, with a kind of pitch-shifted breathlike vocal dancing around and taunting us.
After that, we know what we're in for. 'I Worry' feels like the EP's focal point, a driving broken techno track replete with gothic horror soundscapes and pop-out kettle drums. It undulates and moves, catching us off-guard with its eerie wails, guttural bass and syncopated woodblock hits, before hitting a note of dark reflection on the fade-out. 'Recycled Dreams' ventures into melodic territory, but sets itself apart with its deft high-end production, as well as its teasings of chord progressions that don't quite develop – in a good way, of course. The ambient closer, 'Farvel', despite being a moment of comparative downtime, is actually our favourite of the lot, blending modular pangs and chillout-room delight.
JIJ

new.com – The Unity Is Submarine (Comfortnoise)
Zurich-based operation Comfortnoise is explicit in its commitment to "bass & dub scholarship". Such a stance implies a degree of reverence for the foundations of dub music. There is after all a strong sense of tradition which carries through in soundsystem culture – much more than a set of speakers, the whole idea of soundsystems is a string of codes by which a collective live and operate. But scholars are also those that learn the history in order to write new chapters, and Comfortnoise helmsman new.com is doing that in fine style on The Unity Is Submarine.

Rather than trying to ape the sound of UK steppers, digi dub, dancehall or another Jamaican-derived style, new.com interprets the core values of dub through his own set of tools. Most notably on 'Mountainous Conquest' you can hear the distinctive 80s Latin drum kits of the TR-505 (or possibly TR-626) colliding with slippery FX swells and a pair of duelling basslines that edge in and out of the foreground, shifting the accent of the groove. The only obvious roots sound is that of the melodica, used sparingly but loaded with meaning thanks to its role in dub history. Without sounding derivative, the track feels quintessentially dub – the desk flair is applied in all the right places, and a certain insistent minimalism presides over the dominant rhythm section.
'Mountainous Conquest' might well be as conventional as the record gets, though. 'Mental Canoe' quite happily gorges on percussive slithers and echo chamber acrobatics with barely any bass in the mix, while 'Green Plunder' holds a reductionist 4/4 march down with a bloated and slowly modulating bass throb that sounds at its peak like it got lost on the way to an acid techno anonymous meeting. 'Ravings Of Rock' might be the pick of the record though – a more intricate rhythm study which sounds like it could fire up an adventurous house set as much as a half-step séance.
OW
Varuna – Mangrove Management (A Walking Contradiction)
Explorations in deep techno are continuing to yield stunning results in all kinds of places. Donato Dozzy and Neel, amongst others, laid out a template for this particular kind of atmospheric ambience-meets-intricate rhythm, albeit following their own antecedents in heady tech and electronica. But there's a definable contemporary movement that loosely orbits artists like Valentino Mora and the amenthia crew in Switzerland. Agonis, label head of amenthia, has got plenty going on himself, but regular fellow cosmonauts Varuna are on an especially productive roll right now.

Stretching out across a 12" and a 10", Varuna's latest release on their own A Walking Contradiction label is certainly a heavy-lidded affair for the blunted masses, but there's also a looming presence to the music which cries out for a big rig, physical experience as well as the 2020-compliant headphone excursion. 'Culex Strains' is the most obvious example of this, as some nimble, jittering break dissection takes place sandwiched between a thick shroud of shruti box droning and a fulsome, big-tailed kick. The droning in particular is what gives this release its unique appeal – the release title points to a source of inspiration in dense thickets, stagnant swamps and cloying humidity, and you can hear Varuna getting creative with their textural and tonal work in order to create an auditory biome.
'Avicennia', which closes out the 12", is a prime example of that approach – a purely beatless canvas splashed with ecological field recordings, looming chords and high frequency twittering. But Varuna are predominantly committed to the dance, and the 10" hammers that point home with two entrancing steppers striding on surefooted rhythms. Of the two, 'Autotrophic Biomass' represents the finest synergy of Varuna's environmental sculpture and a heavyweight pulse for the club – a creeping, lichen-swathed tone draped over a slow, cosmic thump that you could picture the likes of Lena Wilikens or Daniele Baldelli playing.
OW

Ars Mundi – El Genio de Los Pies (Thank You)
Record label Thank You continue their noble re-issue exploits in determined style with this wonderfully idiosyncratic release from prolific Spanish producer, Julian Ruiz. The effervescent three-track EP features a choice selection of cuts lifted from his short-lived Ars Mundi project, which bore a solitary, eponymous album via the Discos Radioactivos Organizado label in 1986. 'El Genio De Los Pies Rojos' begins in entirely unorthodox fashion, with Ruiz employing the zaniest of production techniques: the volume is initially repressed while some extraordinarily wacky panning occurs, before the sound levels are dramatically increased as the track suddenly engages full throttle. This bizarre sonic quirk notwithstanding, the piece is still entirely worthy of aural attention. Resting somewhere between experimental new wave and Italo disco, the dreamy synths, celestial pads and growling bass combine brilliantly over crisp beats and loose percussion to create a decidedly blissful listening experience.

The remaining compositions on the record are disappointingly short in duration but no less vital in substance. 'La Bebida Fuerte' pops with tension from the first bar to the last, with its dramatic lead synth gliding over the most determined of basslines, powerful string accompaniment and urgent electro drums. Somehow reminiscent of the imaginary result of locking Paul Hardcastle in a studio with Tulio De Piscopo and Pino Daniele, the track is crying out for an extended edit treatment. Finally, 'El Regresso Del Infierno' radiates with delicate electronic instrumentation and evokes a thick fog of introspection, with its sparse drums leaving ample room for rhythmic bleeps and emotive string motifs to intricately intertwine in spectacularly cinematic style. This well-formed 12" is the result of some cultured digging by the Thank You crew, and sure to pique the interest of the discerning collectors out there.
PC

Jossy Mitsu – Planet J (Astral Black)
Jossy Mitsu, alongside her 6-Figure Gang cohorts, has demonstrated the power of community and a unified front. With Sherelle, FAUZIA, LCY, Yazzus and Dobby, the Birmingham-based artist has helped ignite UK dance music with a renewed focus on faster tempos and the pure ecstatic release of forward-leaning bangers. It's not that no one was making jungle or footwork before that crew came along, but they brought an energy which is undeniably infectious, and the club scene is better for it. The eagle-eyed might have spotted a Jossy Mitsu alias appearing late last year – the dark and seductive low slung stylings of CELIIINE – but now we're getting a full hit of Jossy Mitsu energy via her debut EP on Astral Black.
Planet J is a no-nonsense four-track salvo that ably frames Mitsu's creative interests within the club music spectrum. 'Odyssey' is a stripped-down, steppy affair with spooked out atmospherics and a pervading dreadweight pressure which teases and delivers in equal measure. '1997' is a tough jacker with deep house chords framed by industrial percussive hits.

Hold tight for the B side though, as 'Turismo' rushes you straight into some urgent drum machine jack and artfully musical amen dicing before 'Ø' drops you down into an angular, minimalist beatdown punctuated by precision-tooled kicks and twitchy perc. Intricately detailed and confidently different, Planet J is a triumphant opening statement from an artist perfectly placed to bring yet more fresh energy to club music, especially now we're all thinking ahead to when we might be dancing together again.
OW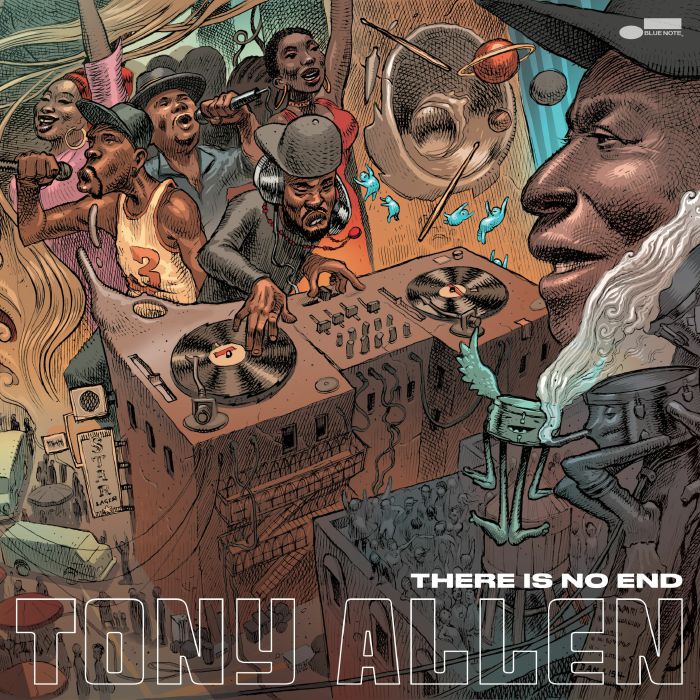 Tony Allen, Ben Okri & Skepta – Cosmosis (Blue Note)
The beloved and legendary Nigerian drummer and artist Tony Allen, who sadly passed away in early 2020, is joined and celebrated by Ben Okri and Skepta on 'Cosmosis'. The single is released ahead of a collaborative and posthumous release There Is No End due on April 30: the anniversary of Allen's death. The track is co-produced by Damon Albarn and Remi Kabaka and was arranged, as was all instrumentation for the project, prior to his passing.
Sonically speaking, 'Cosmosis' jumps into existence with joyous and polyphonic drumming, before being filled out by radical and layered synths. From the song's opening, Nigerian poet Ben Okri engages the core concepts of Allen's track in his spoken-word verses: "How the nations shape/How the good is lost to the fake/Oh, brief change by osmosis/Change the music of Cosmosis". Okri's words bring to light not only ideas of change and connection through music, but also the history of musical protest in the nation where he and Allen were both born.
Skepta, too, riffs on ideas of music offering the capacity for connecting and going beyond the self: "I'm out of my ego, I'm back into space / Hold me in your arms and feel the connection. "The notion of change, and of change by osmosis brings with it a feeling, too, of cosmic spirituality and of the connection which music mobilises, the sensations it evokes and the way they evade our understanding.
JC

Will Lister – Close Car / Those Faces That Blur (Heald)
With a background in deep house, London-based producer, DJ and vinyl peddler Will Lister has taken a sharp left turn with the launch of his own new experimental imprint, Heald. The label's debut sees Lister release 3 new original EPs in a digital series, 'Heald001' through to 'Heald003', which detail new, futuristic electronic soundscapes which scratch an off-kilter hyperproduced itch, but still remain rooted in the club.
'Close Car / Those Faces That Blur' is Heald002, the second instalment in the series and the follow-up to the smash hit 'Gridlines / Shadow Stem'. The debut struck with a fearlessly high-end and heavenly sound, melding a deep breakbeat feel with searing synths and a year-3000 sonic mood. But the follow-up is comparatively grittier. 'Close Car' is a psychedelic tunnel of future noise; its main reesey synth melody twists and spits before committing to a melody, welded together by a sort of post-UK Funky beat. Except with this brand of Funky, all the hi-hats sound like the inner workings of a super-sleek hovercraft, and, of course, we're not in the UK anymore – we're in hyperspace. 'Those Faces That Blur' is the thinner and wackier of the two tracks, sounding like a glassy and brittle take on proto-dubstep. It is a wickedly crude and jarring track, throwing in metal scrapes, slapping noises, and even sports whistles into the mix. Those with a taste for glossy, futurrhythmic dance music will not be disappointed.
JIJ

Ueda Tukayasu – Every Clouds Call Our Name (Phantom Limb)

In a heartfelt email, Phantom Limb founder James Vella was surprised to learn that a very peculiar individual had listened to every new release on the label since its inception. This individual – the experimental ambient musician Ueda Yakayasu, from Japan – explained that he found every release so soothing that they offered relief from his own deeply troubling mental health issues.
Moved, Vella was intrigued to hear more, discovering Takayasu had been making music since he was a teenager. 'Every Clouds Call Our Name' is now recognised as the artist's only surviving long-form release.

According to Takayasu, this music evokes the aftermath of one of his own psychiatric episodes. Both tracks, each over 15 minutes long, recall his recovery, and "the last dream I had in the hospital. In that dream, a drawing of me is floating in the sky." The first track, 'Every Clouds Call My Name', is a shuffling, spitting, synaptic ambient piece which swings between unpredictability and calmness, recalling the inner workings of Takayasu's own unquiet mind. The second, 'Every Clouds Call Your Name', retains this electric feel, but shifts to a tone of triumph, evoking the artist's recovery through its complex arpeggios and sonic chaos. This release is a personal exploration of a unique mental state, profoundly capturing the tension found between racing and calming thoughts – anxiety and peace.
JIJ
This week's reviewers: Joshua Clark, Jude Iago James, Patrizio Cavaliere, Oli Warwick