The best new singles this week
Our weekly trawl through the lively end of the singles channel this week
SINGLE OF THE WEEK


Nadia Struiwigh – Oooso (Nous Klaer Audio)
Keeping up their distinct brand of minimalism, Rotterdam's Nous'klaer Audio have welcomed a new EP by Nadia Struiwigh to the label, yet again showing off the Dutch artist's flair for downtempo beat mechanics and flurried synths. After a string of EPs with influences ranging from Aphex Twin to Boards of Canada, and albums including 'Lenticular' and 'WHRRu', 'Oooso' is a continuation of her signature sound, landing somewhere in the liminal space between rapture and chilled-outness. It also signals the release of an upcoming ambient album out later this year.
In recent years, Struiwigh has made her music with a focus on sonic healing, which she studied in order to treat her own illness as well as to help others relax. This meditative, hyper-focused approach is successfully blended with sci-fi and electronic themes; 'R5V', the opener, is a womping plodder of a track blending drum machine scrapes with triumphant chord progressions. All is angular and sine-toned, and topped off by some deft synth flourishes.

'WOSP' is an uptempo follow-up, bridging the oft-sought gap between dubstep and electro, and opts for a shuffly, percussive and scrappy mood in lieu of a more melodic progression, which it all but teases. The penultimate and closer tracks are more intense, but less beat-driven. 'Oooso' is a gritty sci-fi climax, evoking the feeling of looking out over a cyber-industrial hellscape, before turning to an almost new-wavey ethereum. Given its place as a title track and its sprawlingly tense feel, this track is clearly the EP's focal point. '5D', by contrast, returns to the alien electro vibe established two tracks earlier, further developing that mood of throbbing head-noddery. It goes to show that 4 tracks can act as a minimal statement, while still packing a conceptually large-scale, electro-escapist punch.
JIJ

Octave One Black Water (430 West)
The story of 'Black Water' is an unlikely one in the annals of techno history. It's not hard to see why the track got picked up and taken on a journey into the charts – it's bold and emotive where it counts, with a nagging riff makes it an anthem. Originally released by Octave One in 2000 on their own 430 West label, two years later the track got picked up by Ministry Of Sound. Octave One remixed the track with an orchestra in London, and Ann Saunderson brought in a soaring vocal, and a hit was made. It's one of those ubiquitous tracks of the era you recall as soon as you hear the chorus. Like many other stealth crossover hits of the time, you never noticed the pumping techno production when it was playing on the radio. And it still sounds great, head and shoulders above so much disposable 'chart dance'.

However, it's the OG version of the release that more stern-faced techno heads tend to froth over, and with good reason. The main mix of 'Black Water' is a tough, uptempo shot packed with urgent organ chops – exactly the kind of cut to slip nicely into the faster BPM material coming out at present, in fact. But it's actually the 'Untold' mix of the track that takes the prize, simmering the drums down to a forthright roll and giving space for the synth riff to take flight.
Across any mix of 'Black Water', the music moves with constant upward thrust, but the 'Untold' mix smooths out the ride, leaving space for subliminal shifts in energy that don't derail the party – always good news for a DJ. That said, for those who want it really tracky, you can always just plump for the pure beatdown 'Black Waters' version and ride that groove to your heart's content.
OW

Walton – Unknown Territories EP (Ilian Tape)
If ever there was an artist who embodies the amorphous nature of UK soundsystem music in the 21st century, it would be Walton. When the Manchester-based producer firs emerged 10 years ago, his distinctively tweaked sound leant on UK funky, grime and dubstep that slotted in neatly on Hyperdub. As he drifted towards Pinch's Tectonic label, the sound seemed to get moodier, but that hybridity maintained. 2015's 'Bulldoze' is a quintessential summation of club music hard-boiled into one banger.
Walton's naturally evolved since then, now reaching the shores of Ilian Tape with a fusion of his foundational bass pressure and an elevated sense of atmospheric tension imported from deeper techno territory. 'Rolla' on 2019's Depth Charge was a perfect case in point, and now he's back at the casa del Zenker with his third EP, sounding more adventurous than ever. We're treated to an ambient opener which could be lifted from an Artificial Intelligence-era album, and in 'Wings' a dislocated sound design banger which sees the weightless grime idea pinged into a vivid techno technicolour.

When Walton does start to let rip fully, the results are incendiary. 'Dread II' leans in hard on the swing – a trait of Walton's from the early days – until you think the beat's about to trip over its own shoelaces. 'Rewind Riddim' revels in non-standard percussive tones triggered with malevolent intent, and 'Overload Destruction' pushes boldly into the avant-garde with a shockout salvo that laughs in the face of traditional drum structures. The title track is in fact saved as a treat at the end of the B side, but it sums up the inspirational tract Walton is exploring right now, where impact and ingenuity can be found in abundance beyond the traditional tools and structures of the dance.
OW

The Micronauts – Get Funky, Get Down (Micronautics)
We live in a good time for deep cover club cuts getting a reappraisal via a repress. Hoarders and elitists may bemoan the lack of secret weapons, but the rest of us can celebrate insanely hot plates hitting more platters. The Micronauts' 'Get Funky, Get Down' has been one for those that know since it first came out on Herbert's Phono label in 1995, although the rabid Daft Punk remix arguably got more shine over the years. The original is the bomb though – a bumping, jacking house beat and some limber 303 flexing. Sometimes that's all that's needed.

Don't overlook the Daft Punk mix though – it captures the duo at their fearless, gnarly best, when there were no robot masks and they couldn't get noisy and nasty enough. This updated version of the release also packs the stripped back J Dubs Edit, which drops the acid and keeps the drums, but the heads will be getting excited about 'Nature's 1994 Cassette Version'. Nature was a shortlived Micronauts side project, and this different mix tells a completely different story cast in luminescent techno synths and a springy beat tilted towards the sunshine. A classic, served four ways, each twist as delicious as the last.
OW

Bufiman/DALO – WAR1201 (Warning)
Eccentric rhythm master Jan Schulte adopts his Bufiman alter ego, joining DALO on Berlin-based label Warning's third instalment. On 'Members Of Warning Theme' Schulte displays his exceptional knack for constructing a compelling groove, this time in the form of a sprawling breakbeat epic. Every inch of the sonic panorama is utilised here as spacey synths and well-placed percussive hits combine to create a mind-altering and immersive cosmos of sound. Textures evolve and intertwine throughout as the music seamlessly morphs over its generous 13-minute duration. Vocal chops rise and fall, sweeps appear out of nowhere before returning to their source, and the drums switch up effortlessly to maintain dynamism over the course of the astral joyride.
On the B-side, Nadia D'Alò arrives under her DALO alias to see the EP home. The dark electro textures of 'ZAFRAM' paint a powerfully sinister landscape, with crisp drums providing a bed for the morphing acid line to freakishly modulate. The air here is dense with sweat and brooding, close your eyes while listening and you're immediately transported to a late-night warehouse or smoke-filled basement. Finally, Philipp Otterbach's 'Otter Space Mix' strips things all the way back for a surreal and unnerving reprise. Paranoid and saucer-eyed, this is effectively the wigged-out sound of the befuddled morning after.
PC

East End Dubs – Sing (East End Dubs)
Perhaps most striking about this cut is the precisely layered percussive elements and samples; the line between freeform jazz drum-fills and digital drum sequences is satisfyingly dissolved. This is managed, all the while, flirting with the risk of a busy sounding mix. East End Dubs considers the art of crafting a soundscape quite carefully, and the pacing of the five-minute track is equally thoughtful. Just as the repetition of a simple progression of chords and notes on the piano acquires a slight feeling of menace, what is an alto sax or a trumpet renews the track's soulful impetus. The track continues to break its own mould in an ambitious move to affirm a feeling of liberation; the vocalisations of brass and woodwind instruments soar joyously above the track. That being said, it feels as though the producer indulges a feeling of interiority, too, that accompanies hushed cymbals and spinning jazz records late at night throughout a pandemic. This track seems to sit really comfortably within the DJ and producer's catalogue, and yet at the same time offers an exciting glimpse into the growing and expanding work of a beloved experimenter in the underground house scene. In this way, many of the most glowing reviews of East End Dubs' ability to sonically blend urban and gritty sounds with soul and jazz-inspired sounds, and in another sense to overlay subtle senses of menace with upbeat instrumentation, ring truest when listening to the latest 'Sing'.
JC

Beatrice Dillon 50 Locked Grooves By Beatrice Dillon (Poly Kicks)
It often feels like locked groove records are quite a niche concern, either for people in search of the ultimate repeating musical phrase they can trip out on ad infinitum, or people engaged in some kind of experimental activity. Handily for the new record on Poly Kicks, Ben UFO stepped in and demonstrated the incredible potential locked away in this expansive collection of refined loops from the peerless Beatrice Dillon. OK, so that potential does require two copies of the record, but as he ably demonstrated, that leaves the door open for 2500 possible variations, making new music every time.
Dillon's sound design is a spectacle throughout her catalogue, but it comes beautifully to the fore on this release. Each locked groove glides between elegantly sculpted tones, rhythmic ripples and angular beats, all suspended in a static, gallery-like space that makes everything land with crisp precision. That the ideas are so fleeting makes them all the sweeter – you can sense the freedom a brief such as this affords an artist like Dillon, for whom minimalism seems a constant well of inspiration.

The idea of getting creative with such distinctive material is tantalising, promising endless avenues of exploration for those who enjoy the idea of DJing as more than just mixing two tunes together.
OW

Polocorp – Gnawa (Disco Halal)
Moscoman's ever-intriguing Disco Halal imprint shows up with a slick remix package forged from the Atlas Mountain leg of Polocorp's intrepid, trans-global music-making expedition. One half of Polo & Pan, Polocorp spent three years journeying the planet while collaborating with artists from diverse backgrounds and musical traditions, fusing the sounds he captured along the way with his respectful electronic-tinged flourishes. 'Gnawa' – which was released digitally at the end of 2020 – takes its name from a style of devotional music native to Morocco and sub-Saharan Africa, and was recorded alongside a group of musicians assembled under The Atlas Collective banner especially for this project.

The mesmerising original unfolds over a mid-tempo rhythm as atmospheric chants, hajhuj lute strums and qraqab castanets drive the hypnotic groove. In-demand French power-producer Yusek ups the energy levels while retaining just enough of the original's ethereal magic on his club-focused remix, while compatriot Dombrance turns in a blissed-out sunset-slanted version, lifted by twinkling keys, floating pads and a toe-tapping beat. Also on the 12" are the decidedly breezy 'Koyemba' – whose whimsical melodies and bouncing drums proved popular following the digital release – and the equally dreamy, low-slung chugger, 'Alexandria', which between them help contribute to a nicely rounded EP.
PC

COS / Daniel Schell – Mein Maschine Ist Schön (Finders Keepers) This delightful little 45 from re-issue specialists Finders Keepers presents bite-size versions of a pair of indelible works birthed in 1978 by the brilliant mind of Belgian prog/pop/fusionist, Daniel Schell. While it may seem counter-intuitive to imagine the notoriously indulgent and rambling progressive form condensed into such compact portions, in fact, the trimmed incarnations are surprisingly effective. On the A-side, 'Mein Maschine Ist Schön' – from the third album of Schell's COS project – is presented in an extremely rare 'proposed' single edit.

Built around a fanciful staccato female vocal and guitar playing in unison throughout, the music builds to a wide-eyed fervour as the cosmic instrumentation grows to an explosive crescendo before gently dissipating into the ether. On the flip, Schell's short-lived Ff Boom collaboration with Dick Annegarn is represented on a trimmed version of the eponymous psych track, 'The Ff Boom'. Here, sky-high flanging guitar solos soar over the deepest of bass parts, while splashing drums keep the wild virtuosity in some kind of check. Serving as a taster for composer (and maths master) Schell's thick and rewarding catalogue, this succinct 7" is likely to appeal to fans of CAN, Egg, Zao and other similarly psychedelic-leaning forces.
PC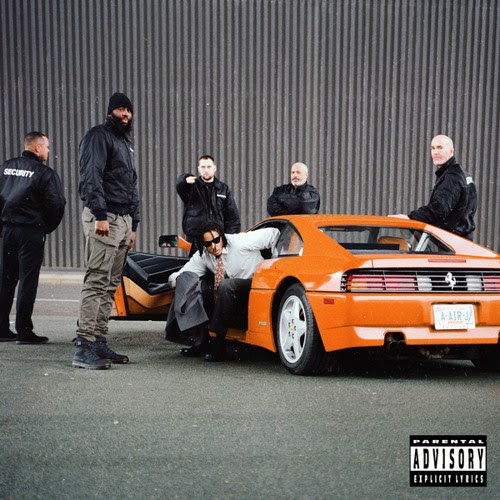 AJ Tracey – Anxious (Warner)
On his first solo offering of the year, AJ Tracey recruits producer Remedee to deliver the heavy single: 'Anxious'. As the MC outlines at the top of verse 2, "The way I flex is different, I got so much confidence", any anxiety he experiences is short-lived, and his ascension to the top of the UK rap scene is assured. The dark, atmospheric beat which Remedee provides on the track is the perfect accompaniment to AJ's effortless delivery.

The rapper from Ladbroke Grove is on "demon time" in 'Anxious', painting images of the luxurious life he enjoys and of his expensive tastes over a thoughtful and murky beat. The single also enjoys some disorientating and lavish visuals in the form of a music video co-directed by AJ Tracey himself with KC Locke. The video opens with the calm and sharply-outfitted AJ Tracey surveying the city from a great height, echoing sentiments that he is pretty content with doing the most, and quite positive about his claim to run London-town. After last year's Secure The Bag! 2 EP, 'Anxious' promises to be an exciting sign for what AJ Tracey will bless us with in 2021.
JC
This week's reviewers: Jude Iago James, Josh Clark, Oli Warwick, Patrizio Cavaliere