This week's best new albums
Jane Weaver's dynamic 'Flock' tops the list of our hot LP action this week
ALBUM OF THE WEEK


Jane Weaver – Flock (Fire)

Now a quarter of a century down the line, Jane Weaver's unique career has run a course of psych, electronica and folk, and the gravitational force of her artistry continues to pull and push fans old and new around a stratospheric galaxy of aural delectations. It is no mean feat to pin her down, and impossible to pigeon hole this always cool, but never aloof artist.
Many outstanding solo efforts have come these last few years, including the monumental The Silver Globe, 2014s twisted, modern-folk-gem churned through an electro-psych mincer! The experimental singer-songwriter, producer, and label owner has from her straight-up indie beginnings with the group Kill Laura to the synth-pop wanderings of Misty Dixon explored the flipside of popular music with whimsical zeal and an avant-garde charisma.
Flock, her 13th long player retains all of Weaver's idiosyncrasies but coolly moves into the pop manifold exemplified so far by the release of its two very different singles. Current toe-tapper, 'Heartlow' with its shiny 90s electro and blatant indie-pop influence is immediately reminiscent of a lost three-minutes somewhere between the Sundays, Saint Etienne and Sleeper. It is perhaps the most immediate, if not straight forward ditty in this collection.

Weaver herself identifies this as "an attempt at an uplifting tragi-pop parade for the trials of modern times disguised as a homage to a lost generation of misfit girl-group records." It is bang on the money and if perhaps a tad too easy listening sonically it does at least nail the message, lyrically.
The other single, 'The Revolution of Super Visions', was the opening gambit released at the end of 2020 and works as the LP's shop-window. This is a more complex affair and despite being written in 2019 before the great pandemic it showcases a meaningful strike at what we as a planet are having to deal with now. Inspired by the early 20th century occultist writer Dion Fortune, it examines the art of protecting yourself against paranormal exhaustion which these days is associated with the stress of social media, mass inequality and in Weaver's words "the toxic masculinity of world leaders contributing to a dying planet."
Skilfully though, none of this distracts from the record's warm and fuzzier pop tones. Weaver's instrumental influences never remain in place for too long so as to truly pin her work down. The album's mid-section is taken up by 'Lux' which undulates like the golden glow of an opium hit before the motoric up-gearing of 'Modern Reputation' elevates the record via the breakbeats of the title track up through to its disco-led and glorious end game with 'Sunset Dreams' and 'Solarised'.
Despite Flock's clear global standpoint, there is always an unwavering Englishness on display with Weaver's styling. On tracks like 'All the Things You Do' and 'Pyramid Schemes', her vocal reminders of purebred folkies like Sandy Denny or even Roy Harper sit alongside the music's sonic pursuit of space rockers Hawkwind, a well-acknowledged influence and as previously sampled on The Silver Globe.
Flock is another rich and varied offering from Weaver. There is a starkness, but it possesses fantastic colour and somehow, she manages to implant soul into robotic melodies and motoric rhythms. The consistent "eco-friendly, post-new-normal" theme is vital flavouring given the dark and bewildering times we are now living through. But as underground artists go, and especially now as she launches this new pop-plated effort to sit it all on, Jane Weaver for sure remains the bomb.
APC

Arab Strap – As Days Get Dark (Rock Action)
With observational songwriting central to Arab Strap the biggest challenge for the Scottish duo when plotting a reunification and return was always going to be gauging the subtly different societal perspectives of today compared with 2006, the year Malcolm Middleton and Aidan Moffat called time on this project. More than rising to that challenge, As Days Get Dark is proof, if it were needed, that real poetry is timeless, or perhaps nothing really changes beneath the grey skies of Britain. A captivating collection of brutally honest, worldly wise, wryly melancholic and jarringly vulnerable songs that feel fresh but quintessentially Strap-y.
We still have Moffat's slight and often sombre vocal delivery, as much spoken word as gentle song. The band's instrumental signatures remain, too — the tight production aesthetic, hook and loop focused guitar work, and intense sense of something brooding. Here though those sonics have been opened up, new stylistic freedoms perhaps found after stepping away from old work, realigning and rethinking without the weight of expectation that comes with a cult following and truly idiosyncratic sound.
'Kebabylon', for example, makes memorable use of strings and brass to deliver a dark, proggy, mutant jazz rock epic in which you can almost see the empty nighttime streets and roadsweepers that apparently inspired the track. Opener, 'The Turning of Our Bones', sets the tone on a knife-edge of rolling guitar rhythm and subtly employed electronics, raising the atmosphere to claustrophobic levels. 'Bluebird' parries uptempo DIY indie pop with a bittersweet tale of love, rejection, acceptance and denial. Challenging themes, As Days Get Dark lives up to both hype and title, offering — as Moffat puts it — "hopelessness and darkness… but in a fun way" — explaining why Arab Strap's resurrection is the twisted catharsis everyone needs, even if they haven't realised it yet.
MH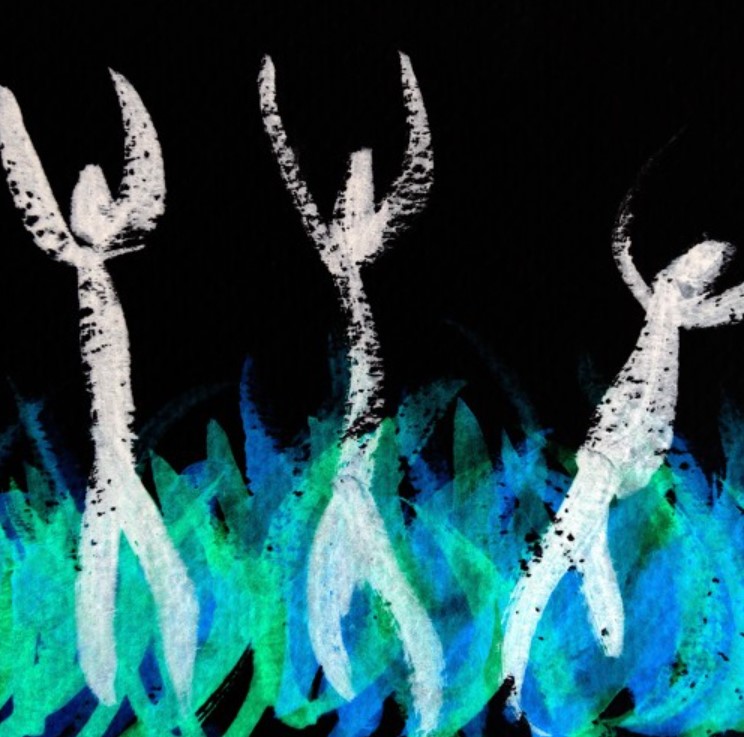 Mother of Mars – I Hear (Ransom Note Records)

It might be the hints of spring starting to creep in after what we can all agree has been the bleakest of midwinters. Perhaps it's the sense that, alongside Mother Nature, corners of the European music community are also starting to wake up after a surreal and lengthy hibernation. Either way, 'Durga & Demon' is probably the most fitting album opener of the month — a positively smiley, building slice of inviting, energy-giving mutated disco that reaches cacophonous proportions, it's hard not to get caught in the rapture of its 10-minute-long ode to all that's glittery, groovy, spatial and right with the world.
Perhaps not the first thing we expected from Vito Roccoforte and Gabriel Andruzzi's next adventure following their time in New York post-punk outfit The Rapture, it sets the stall out convincingly, cuing up the remainder of I Hear perfectly. A record that relishes in reaching the proverbial stratosphere of electronica, charting a twinkling course through kosmische, psychedelia and arty, theatric pop, it strikes the perfect balance between avant-garde and accessible, committing to both by refusing to commit to anything other than making music that will resonate in someway with anyone who comes into earshot.
From surreal, icy downtempo on 'Matteruno', to delicate acid-y-tech-y-carnival-esque loops on 'Through The', there may only be seven tracks here (including one remix) but more happens than on many double albums. An awesome scale made possible thanks to third band member Jaiko Suzuki's captivating vocals, the fact Ewan Pearson had a hand in the final mix down should tell you everything else there is to know about how perfectly balanced, executed and pleasing on the ear this debut is. A fantastical creation of real vision, an escapist's delight, and adventure you won't want to end.
MH

Wzrdryav – Midnight Visions (Accidental Meetings)
Kelly Nairn, hailing from Vancouver, Canada, is a curious artist whose ambient work often takes on a breathy, glistening tone, landing him a spate of releases on labels like Digitalis Limited. With jazz and new age fanatics for parents, Nairn – coming to be known as wzrdryAV – mastered granular synthesis with pioneer Barry Truax, took on the mantra "sample anything", and established the Wzrdry Recordings imprint.
This year, though, Nairn makes a detour across the pond to Brighton, lending his musical services to pocast-then-night newcomers Accidental Meetings, who have seen a major buzz around their fuzzy, headsy, curatorially deft mix series in the past few years. After their majestic first compilation of dancehall, electro and breakbeat cuts, 'Midnight Visions' is the label's first solo album release, and reveals a specialty for long form releases – this album is 40 minutes long, and spans a blistering 15 tracks.

'Zooted Dimension', 'Storm Eluder', 'Monday Haze' – in both title choice and sonic palette, there is a clear theme of mystery and submersion to this album. Tracks manifest as a watery, refractive haze – the A track 'Making Movies', whose steady chug of a beat cheerily breaks up domestic vocal snippets, captures this feel wonderfully. By this point in the album, Nairn's "sample anything" mantra has made itself clear; 'Amiga Lab' is yet anither tune which hears a deep, sampled lo-fi voice duck in and out of a hazy mix, though it is this time embellished with delaying claps, swirling textures and sexual bass licks.
The meat of the album is heard on the B-side, though, where Nairn sacrifices beats entirely in favour of immense, steamy soundscapes. This is clearly his expression of the mission to "take two of my worlds and put them in place as an experiment in contrast". 'Forgot About Time' opens this segment, and is a subtly peaceful droner beautifully overlaid with an improvised rain-on-metal texture. Several beatless takes ensue, showing off the artist's deft granular synthesis chops, before ending on a note of droning, foley-looping uncertainty with 'In The Woods Again'. This album is a careful but breathtaking exercise in juxtaposition.
JIJ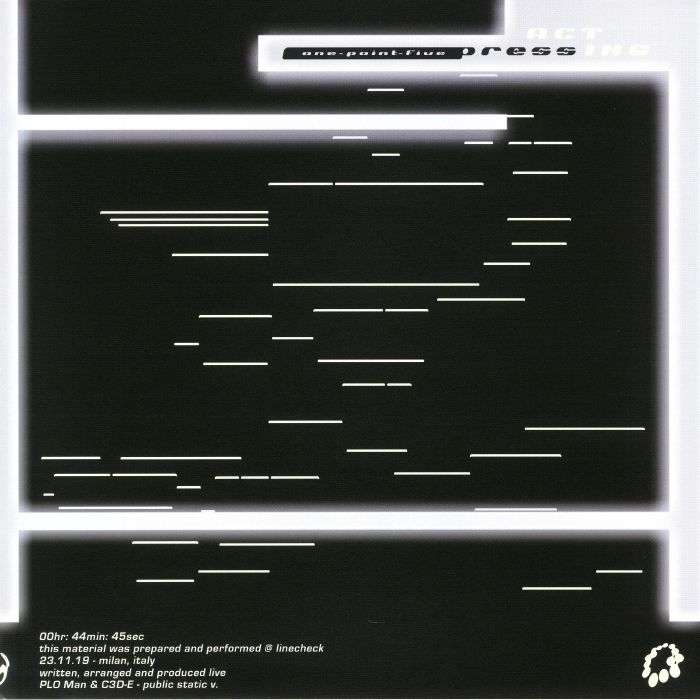 PLO Man & C3D-E – public static v. (Acting Press)
The hushed mythology hovering around Acting Press ensures the work of PLO Man, C3D-E and their select co-conspirators never hangs around for long. In the great spectrum of contemporary techno of a deeper persuasion, Acting Press' edge is a subtle one, but it's undeniably there. A slight kink in the sound palette, verve in the programming, just the lightest of touches that makes a classically-rooted approach to melancholic machine music something more sublime. After last year's collaborative LP as INTe*ra (with Hashman Deejay), PLO Man and C3D-E return with a recording from an A/V performance which took place at LINECHECK in Milan, Italy, in 2019.
Given their tendency to scrub all traces of their records off the internet once they've inevitably sold out, it's interesting to have a little context to this particular recording, and the idea of them performing live as human beings in a real world space adds a surreal dimension in the face of their commitment to techno anonymity. public static v. unfurls as two 20-minute sides made up of five parts each, all smudged together in a mellow haze but still distinct enough to detect the shift from one sequence to the next. It's the discernible identity and shapely patterns that make their approach to ambient techno land so well, and this long-form suite makes for a perfect overview of that idea.

Removed from the initial A/V context, the music takes on a role best suited to fizzy beanbag epiphanies in the chill-out room. That might be harking back to a more 90s phenomenon, but the sound suits the scenario. The B side's early strains of deep rinse pads and sonar pings are crying out for mushy ravers to bounce off, while later on more pastoral moments hint at Warp-era Richard H. Kirk. The most discernible grooves, which slide in somewhere around the final third of Side A, feel like a pitch perfect paean to downtempo without coming on trite or throwback. It's not originality powering the inherent freshness in the sound, but rather a sense of assuredness. Not all music has to be groundbreaking, some of it can just be great.
OW

Maoupa Mazzocchetti- Uxy Dosing (BFDM)
There's a sensation listening to Maoupa Mazzocchetti's music which is akin to having luminescent paint flung at you from every angle, except the paint doubles up as magnetic putty which forcibly attracts every metallic object in a 10 metre radius. Belgium-based sound alchemist Mazzocchetti has been demonstrably unusual and viscerally hi-def since his first outings on Mannequin, dropping by labels like Editions Gravats, Knekelhuis, Arma and more to unfurl a sound that draws on elements of system-shocking rudeness on its path through wild style sound design. Even his comparatively measured reggaeton-licked collaborations with Clara! sport a glint of mad genius that marks him out as a producer with vision that will be more readily understood in years to come.

Uxy Dosing© comes on hard like a manifesto of urgency, displaying dizzying heights of synthesised hysteria and brutally sculpted drum blasts. There's space for musicality between the studio drawn though – it's a fun record as long as you don't mind things getting intense. It should speak volumes that the collaborators include Emma DJ and ZULI – the kind of mavericks who are currently making experimental electronics playful as well as challenging. From nightmare low riders with horror string stabs turned up to 11 ('Mon Dico') to hyper-pop melting into mutant electronica indulgence ('Moon Is A Bell For Meteor'), the sensory overload is real, and oh-so addictive. One dose certainly won't be enough.
OW

Dialect – Under Between (RVNG International)
Andrew PM Hunt's long-awaited new album 'Under Between' finally releases on RVNG International this week, putting forth a minimal, rainlike smashing of chorus, synth, and chordophonal delicacies. Continuing in the tradition of new school electroacousmatic minimalism a-la Sun Araw and Georgia, this grand, cute album began as a series of commissioned reworks by Hunt of songs by the experimental chamber group Immix Ensemble.
With multi-instrumental and compositional flair, Hunt blends woodwind, piano, synth and strings into impossible stretch-outs, harmonious ASMR enclaves, and birdsong-layered ditties. It's quite difficult to decide on a favourite track, each carving out its own kind of beauty. 'Ringing The Web' epitomises the album's deep dynamics, neither shying from resonant horn lows and freeform, drum-brush highs. The track builds to a THX-style, all-encompassing climax, fully utilising each percussion, wind and bowed piece to maximum improvisatory capacity. We lose track of what instrument is what. Another slice of beauty is 'Holon', which gleans everlasting sustain, melisma and spirit from simple computer bleeps, never before feeling so at home with classical piano and chamber horn trembles. My favourite album so far in 2021, this is one of those projects that completely bridges the gap between the 'natural' and the 'technological', and makes us forget the difference between them.
JIJ

YL Hooi – Untitled (Efficient Space)
Slinking out of the Australian underground comes the vinyl pressing of a 2019 cassette release it may have been very easy to miss. YL Hooi's untitled album first appeared on Altered States Tapes, a label with a voluminous catalogue dealing in lesser-spotted artists and the occasional 'name'. Now Efficient Space are giving this furtive delight a fresh airing on vinyl, to see how the music fares beyond the confines of the cassette realm.
The sound across this album absolutely fits the tape aesthetic – dubby, lo-fi and shot through with the kind of heads-down inward focus that's fitting of the culture. But there's also a songwriting slant to YL Hooi's music which feels like it belongs above the spool pool. In the downcast balladry of 'Stranger' (a cover of a Lover's Rock Wackies classic by Love Joys) it's easy to feel the echoes of post-punk singers from Young Marble Giants' Alison Statton to Carla dal Forno. The liberal delay on Hooi's voice tells you all you need to know about her love of dub. It's an album where the instrumentals tell stories too, not least with the embellishment of Tarquin Manek's clarinet on 'When Yr Up There'.

It might well be that Hooi progresses from this record to find a more forthright voice unmasked from the protective shimmer of processing, but for anyone in thrall to the secretive records of auteurs singing to themselves and their instruments, this is a low-key treasure.
OW

Tomaga – Intimate Immensity (Hands In The Dark)
It's hard to separate the latest Tomaga album from the inescapable fact it is their last. Tom Relleen and Valentina Magaletti created an imposing and yet amorphous identity across a swathe of albums, where the very human interaction of two gifted, synchronised players transcended in any number of directions via synthesis without losing an inherent vulnerability. If there are electronics involved in the expansive scope of Tomaga, you barely notice them. Alas, last year Relleen died at the age of 42, leaving behind a legacy that also touched on projects such as Autotelia and The Oscillation, and Intimate Immensity comes out under the shroud of that sad news.
Leaving behind the context to focus on the sound, this is Tomaga in full flight, thrumming with a multi-timbral motorik attitude that soothes and energises in equal measure. At times the percussion becomes a babbling brook of tone trickling into the wider river course of synth arpeggios and drones, choral voices and nimble chimes, pursuing somnambulant meditation. Elsewhere, the library music incantations of 'The Snake' shape out a scene with its eyes wide open, while 'The King Of Naples' brings the drums out front in a heavy throwdown that teases towards DMZ halfstep pressure played with a rockist sensibility. There's so much to experience across Intimate Immensity, that even if it may be their last record, Tomaga created an opus which will linger for a long time to come.
OW
This week's reviewers: AP Childs, Martin Hewitt, Jude Iago James, Oli Warwick,