In their typical, quietly confident fashion, analogue drum machine specialists Jomox deliver an updated version of one of the best 909 kick clones around.
Founded in 1997 by Jürgen Michaelis, Jomox has been one of the most trusted names in music tech for nearly a quarter of a century. Over the years they've made analogue synths and filter-based effects units, but the brand is best known for one thing: drums. Some music tech brands make a big fuss about their products, but Jomox are a little different. There's a quiet confidence about the Berlin brand's output that makes its instruments feel like cult favourites, particularly among techno producers who rave about the punch and power of Jomox drums.
The updated Modbase 09 mkII sits in a long and proud lineage of Jomox drum instruments. The brand's first product was the XBase 09, an analogue drum machine heavily inspired by the legendary Roland TR-909, updated with some nice additional features, particularly for the kick drum circuit, which benefited from an array of extra controls when compared to a 909. The Modbase 09, originally released in 2014, builds heavily on that same idea, packaging a beefed-up 909 analogue kick circuit into a Eurorack module with plenty of modulation options and versatility. Many of the features here will be familiar to anyone who's used an XBase 09 or the brand's current flagship Alpha Base drum machine, from the controls for parameters like Harmonics and Pulse, through to the sound itself.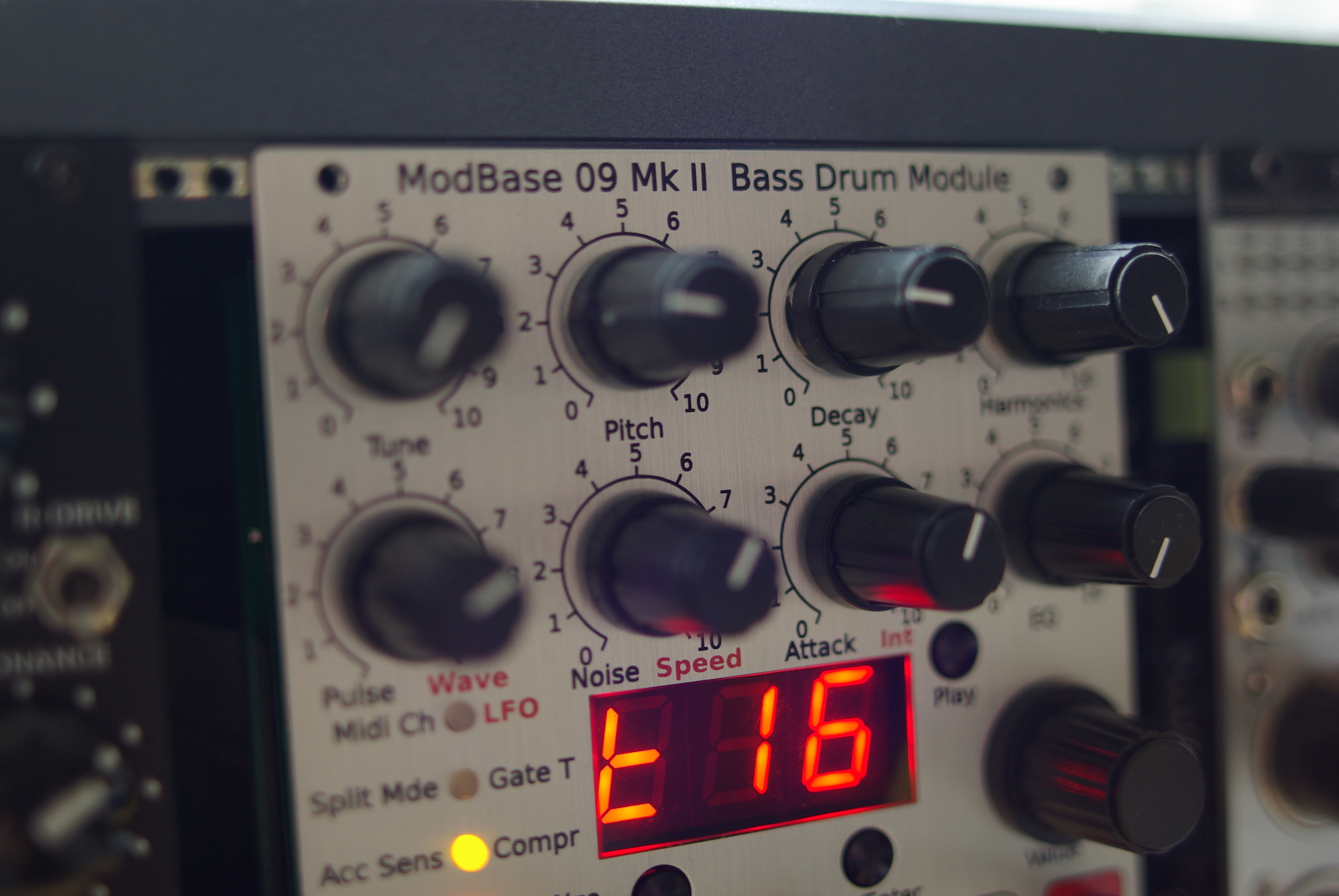 Given that the 909 kick is such a staple of electronic music and Jomox's track record for analogue kicks, it's entirely unsurprising that the Modbase is an absolute monster. It nails the punchy standard 909 kick sound, but the range of different sounds you can create is incredibly deep, from basic house and techno fare into weirder industrial territory, booming electro bass and glitchier, techier percussive sounds. Extend the decay, play with the tuning and you can even push it into making some interesting synth sounds too, whether as tuned kick-style bass notes or higher-pitched bleeps.
In terms of modulation and manipulation of the sound, you can get hands-on with the front panel knobs and there are two internal LFOs which can be routed to most parameters, but the real power of the Modbase comes from its four CV inputs, which allow you to modulate and sequence the parameters from other sources. I found ALM's Pamela's New Workout an excellent partner here, generating a clock pulse for straight four-to-the-floor kicks and synced modulation sources for the CV inputs.
The only real downside of the module is that accessing some of the deeper functionality isn't immediately intuitive, and you will need to read the manual to understand the depth of options. That's a trade-off for packing so much power into this format, but it's a price worth paying. Jomox refer to the Modbase as a "single voice storeable analog synthesizer" rather than a drum machine, and that complexity is what gives it its power. Despite that, it's quick and easy to get started simply by adjusting the front panel knobs and tweaking presets; it's very hard to go wrong with it, and quite likely you'll end up creating interesting new kick sounds very quickly.
The mkII model is a relatively minor update in a physical sense, changing the gate input to a dedicated accent input and renaming the trigger input to gate. Behind the scenes, there's a firmware update that fixes some very minor glitches from previous models, such as very occasional parameter jumps. That new accent input proves to be a surprisingly powerful change, allowing you to control accent via CV rather than just the simple on/off gate option previously. Modulating accent very subtly with a free-running LFO signal lends a nice movement and organic feel to a kick pattern, while using a sequencer allows you to create more controllable, strictly defined, per-step modulation. You can even use the accent CV signal to trigger kicks, a neat touch that again worked nicely with Pamela's New Workout, occasionally triggering additional kicks in the spaces between a straight 4/4 groove.
TR-909 clones are fairly ubiquitous these days and there are plenty of options for generating 909-style kicks in software and hardware, but the Modbase is without doubt one of the best sounding and most versatile options in any format. The increased depth over a more conventional 909 kick module like TipTop Audio's excellent BD909 is well worth the additional cost.
Demand for the mkI Modbase was so high that, when Jomox ran out of stock, secondhand models began to change hands for as much as double original retail price. Thankfully, the mkII version makes the module a bit more easily accessible again, and at just over £300 it feels like a bit of a steal. If you make any kind of music that relies on 909 kicks, the Modbase 09 is one of the most powerful tools you can lay your hands on.
Greg Scarth
More info/buy