Reloop's new entry-level controller is your friend if you're looking for an intuitive way to learn how to mix.
User-friendliness is an important factor of any music-making equipment, but that's probably never more true than in the case of entry-level DJ controllers. If you're looking for a relatively affordable, beginner-level controller, that almost certainly means you're a newcomer to DJing. In which case, you're facing the challenge of how to acquaint yourself with what can be a tricky, complex process. Learning to DJ takes work, no matter how you approach it, so the last thing you need is an unintuitive, needlessly complicated and fiddly piece of hardware that steepens your learning curve.
With the Buddy, trusted DJ equipment specialists Reloop aim to provide the ideal solution. It's a two-channel controller designed for Algoriddim's Djay software, which is one of the leading options for entry-level DJing. It's a simple unit that covers all the basics of mixing at a reasonable price. This is a competitive part of the DJ controller market, but the Buddy's feature set and Reloop's reputation for making reliable, cleverly designed hardware makes it an appealing option.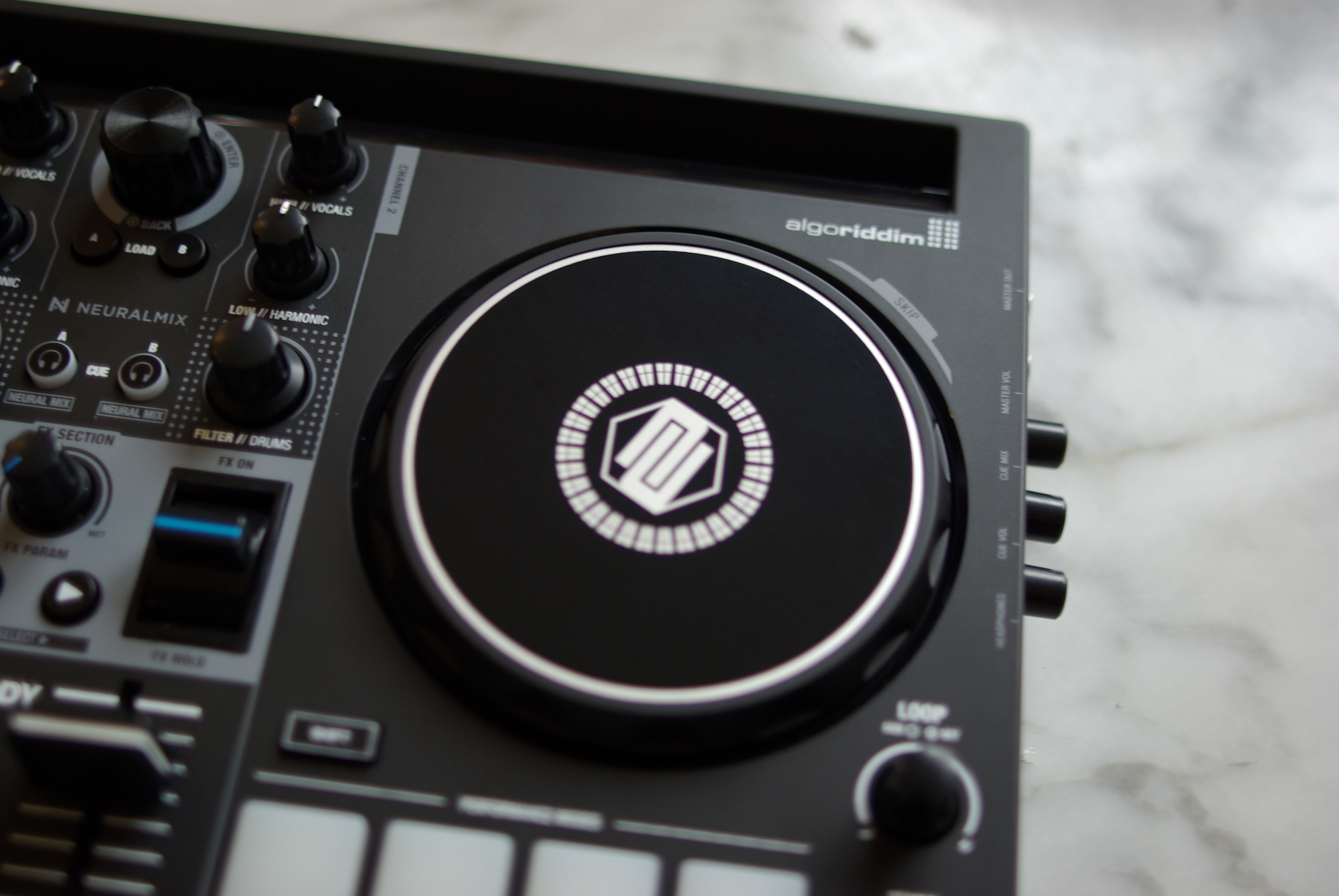 The most striking thing about the Buddy is just how small it is. Most controller manufacturers are keen to make a fuss about how compact their devices are, but the Buddy backs up those claims, coming in at little bigger than an iPad. The jog wheels for each channel are fairly small, but the controls are nicely spaced in general, with enough room to make things clear and easy to get your hands on.
The biggest challenge of any DJ controller aimed at beginners is to be easy to use while also offering enough features to help you progress with mixing and performing; cut the features back too far and you end up with a very simple controller that soon becomes frustrating as you develop your own skills. The Buddy strikes a good balance between usability and features, with clear and intuitive controls for the basic like pitch control, cueing, the mixer section and looping. Hook up to a tablet, smartphone or laptop, install the Djay software and the process of getting started is straightforward.
Once you develop your skills further, the Buddy has enough features to help you progress as a DJ. This is an important point that's often overlooked with the more simple DJ controllers. Compactness and simplicity are all well and good, but you need the features to allow you to mix, blend and perform at the same time. Reloop have done this well here, creating a layout that welcomes complete beginners, encourages those with basic skills and allows you to step up to more advanced mixing with effects, filters and loops.
Notably, the Buddy has dedicated controls for Algoriddim's new Neural Mix features, which allow you to separate parts of your tracks and mix in creative new ways. Split up different elements of your tracks and mix and blend them in real time, almost as if you're performing a live remix. The EQ and filter controls double as Neural Mix controls, allowing you to tweak the Vocals, Harmonic and Drums elements independently.
We already knew that Reloop understood the demands of experienced DJs, but Buddy proves they also know how to encourage beginners. Buddy helps you to get started with DJing in a way that will truly develop your skills and allow you to progress with your performances. Buddy really is your friend.
Greg Scarth
More info/buy