The best of this week's singles
The finest 45s around, brought to you by Juno Daily's crack reviewing squad


Burial, Four Tet & Thom Yorke – Her Revolution / His Rope (XL Recordings)
We were lucky enough to get a hold of the latest stealth-released split single by electronic titans Burial, Four Tet, and Thom Yorke. Initially, there were only reportedly 300 copies of Her Revolution / His Rope available.
"I'm hoping this'll be my retirement sorted," jested a fellow acquirer. While I don't condone bullish over-speculation on records on Discogs, there was some bittersweet truth in the comment. The resale shark-value of the 12" on the day of release – as with the 2011 limited Four Walls / Paradise Circus collaboration between Burial and Massive Attack – was yet again sky-high.
This time, unlike 'Four Walls', the sleeve isn't peppered with actual gold glitter, but it still feels like I've become responsible for some dear ancient artifact. Receiving this sinister black-label in just a thin brown paper bag felt like sacrilege. Surely, handling it warranted the donning of industrial-grade safety gloves, or at least a few purification rituals before being sacrificed to the turntable?
JIJ
Like much of what Burial touches nowadays, the tunes are somnaumbulent otherworlds, more closely resembling the balladic halfstep beats of Paradise Circus than the trio's former club-ready bits Mirror and Ego. A sinusoidal melody – perhaps Hebden's doing – twirls and dances above the mix of Her Revolution, meshing sweetly with Bevan's beatific necromancy. Low-passed guitar licks undulate beneath the beats, sounding like a haunted version of Hebden's early 4T Recordings Double Density single. It is Yorke, however, who establishes most of the thematic contrast, pitting the A-side's lyrical hope ("It's all this revolution… As wings up in the sky") against the His Rope's utter darkness ("Just enough rope / Sex and death / Total self-destruction"). Yorke's voice pokes out clearly from the rubble, our guide through this nocturne. A subdued return from a colossal artistic crossover.
JIJ

SKRSINTL / O$VMV$M – Big Bout Ya / Alaarm (Lavalava)
This has been Lavalava's most productive year yet. The low-key experimental dancehall label released a mixtape by Yao Bobby, Simon Grab & Dhangsha and a various artists 12" featuring Lurka, Bakongo (aka Roska) versus NKC, a new collaboration from Christoph De Babalon and Wilted Woman and a fierce drop from Zoë McPherson. All that name-dropping serves to illustrate Lavalava is a headsy affair where experimentation comes as standard while adhering to a necessary low-end ruffness, and so it continues on this latest sizzling hot 7" that closes out the year in style.
The A-side is given over to SKRSINTL, the maverick outfit creating one of the most distinctive twists on the dancehall blueprint to date. Following their ever-swelling catalogue across essential labels like Bokeh Versions, ICS Library and Boomarm Nation, the somewhat shadowy crew were most recently spotted sparring with Om Unit on Berceuse Heroique. While the people behind the music may be half-hidden, their music is bold and bright, and continues to evolve. Their trademark toasting samples, neon leads and scattershot percussion are still central to the spirit of 'Bigboutya!' but the fuzzy Rhodes chords and drunken bass swells underpin the track with a curiously jazzy energy that feels fresh.
On the B-side, O$VMV$M return to Lavalava with one of their most forthright riddims to date. Normally found lurking in the dusty dreamworld of their beatless midnight tape loops or producing Manonmars, Amos Childs and Sam 'Neek' Barrett here throw down a tough but slow beat with a discernible arrangement. Despite some soft, lilting segues, the sharp edges in the drops leave you wondering how an MC might respond. Such questions are a perfect sign of Lavalava doing its thing, offering up sounds that are curious and purposeful in equal measure, built for the dance but with big ideas beyond the system.
OW

Piezo ft. Sunun – Water Chamber (No Corner)
Milan-based producer Luca Mucci has been creeping through the undergrowth for most of the past 10 years as Piezo. From the creative springboard of dubstep, he's followed a path into more experimental realms where soundsystem principles prevail, somewhat unsurprisingly landing him on labels like Version, Idle Hands and Wisdom Teeth. Earlier this year he released his debut album on Italian label Hundebiss, but now Mucci cements his bond with the Bristol underground as he makes his way to the city's fearlessly murky No Corner label with the assistance of one of the city's brightest new talents, Sunun.
'Water Chamber' is a dusky affair fitting of No Corner's over-arching aesthetic – a funereal step with warmth and moodiness in equal measure, where silent space is as vital as any given noise. Sunun's voice weighs heavy, as dubbed out in Piezo's company as she is on her own records. The poem she recites comes on like a confessional, more direct than she's sounded on the mic ever before. The music serves like a framework around the words, playing out like a narrative especially at the mid-section when the sound falls into a void, only to lurch back into life.
Piezo serves up the instrumental version on the flip, letting the melancholic Rhodes linger over crooked impressions where there ought to be drums, with slithers of Sunun's delay tails slipping in between the dusty sound design. For such a sparse production, it's actually rich in detail, glacially moving from one palette to the next whether it be a fog horn booming over the mix or an unexpected flurry of FX splintering and splaying out from a specific flash point. Rooted in soundsystem influences though it may be, Piezo and Sunun's creation here is as vitally original as anything coming out of Bristol or elsewhere – a true gem of dubwise expression.
OW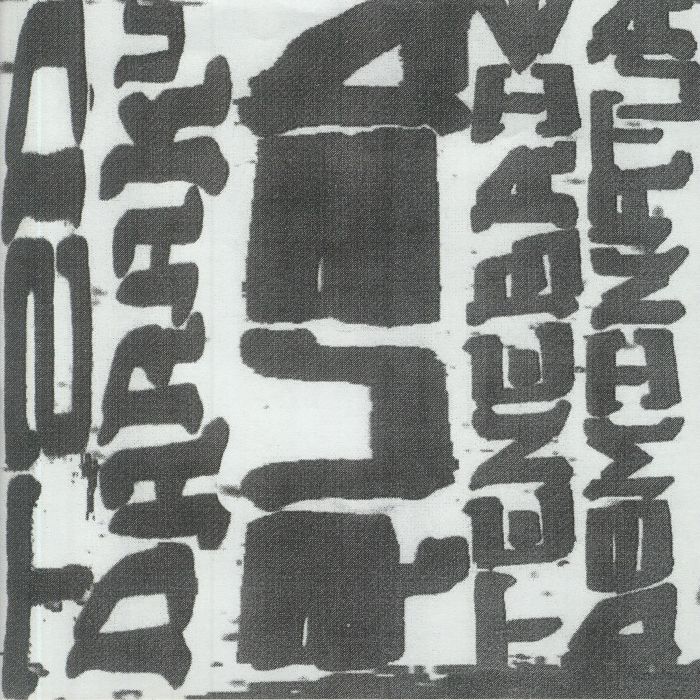 Tod Daraku – Quod Tenebris Dominatur (Ceramics)
Hulking out of the murk and shrouded in a palpable mythos, the hitherto unknown entity Tod Daraku lands on Ceramics in a splatter of noisy abstraction and lumpen groove. Ceramics is the quintessential tape label, even when releasing vinyl. You've rarely heard of the artists involved, the music is uncompromising and obtuse, and it's disseminated with such a disregard for hype you might well think each release is aimed at an audience of roughly four interested parties. That is, of course, part of what makes it brilliant.
This new 7" single is flanked by another Ceramics drop – a double cassette by Kleft & Talgo Baklacioglu which deals in relentlessly intense industrial and techno, but it's outgunned by the fearsome sonics wielded by Tod Daraku on both sides of this record. 'Baal' opens with a sound as ancient as calcified lava and post-industrial like galvanized steel. It's the showpiece of the track, a frantically buzzing sawtooth getting shunted through processing and carried by a groaning, bludgeoning kick. It's offensive and confrontational on first listen, but there's so much rich texture and harmonic detail – not to mention dynamic modulation – in the sound you can't help but be drawn into it.
Things are no less aggressive on 'Basanul', which features its own gargoyle of raw, snarling synthesis, but here the track gives way into a heavier kind of groove. Punctuated by gunshots clapping out across the noise field and dragged along by disheveled hats, this is low slung funk from the cave of Caerbannog – a nightmarish jam to pump out when your lowrider is a hearse. There's such conviction in the extremity of the music – not one inch is given and yet there's still nuance and narrative folded in between the distortion for those with the ears to hear it.
OW

Traces – CC / Nature VIP / Hear Seh (Scotch Bonnet / Scrub A Dub)
Theo Schlossman and George Hearnden – together known as Traces – present their latest 12" EP offering to Mungo's Hifi sub-dubstep-label Scrub-A-Dub, a new three-tracker CC / Nature VIP / Hear Seh.
Steadily working their way up from releasing 10"s to 12"s in the space of only two years, the London duo have bagged releases on Albion Collective, Kaarbanik Sound and Rarefied. Now deeply embedded in today's bass scene, they've also ventured into other dubstep-adjacent realms, falling straight into the lap of Loefah's Swamp81 130BPM-ish camp.
This EP, though, is straight-up womp, staying faithful to the swamplike quality much of dubstep began to adopt in the 2010s. Pulling no punches, The A-side CC begins with an Abattoir-like blare, a warning call signaling the deeper growls and subs that are to come. Nature VIP treads airier ground, expanding on an unheard original for a lightfooted foray into alien wibbles and gargles. Hear Seh is the most endearing track of the lot, making only the most cheeky use of pre-drop patois, jittery live drum samples, and filtered bass leads.
CC is a great addition to any true head's collection, with enough simultaneous darkness and jive that it's sure to please dungeon-masters and swamp-dwellers alike.
JIJ

The Mung Beings – Lazy Boy (Monkey Records)
Rap and dubstep fans alike will be enthused by Lazy Boy, the new single from New York and Berlin outfit The Mung Beings, out this week on Monkey Records.
Ahead of their debut album – soon to be released – Lazy Boy hears vocalist Saadiah Fowlkes describing the whirlwind of prejudices and stereotypes he faced while growing up as a black boy in America. From constant underestimation of his abilities to a misguided ADHD diagnosis, listeners see childhood from Fowlkes' perspective, witnessing the testing of his confidence at odds with a society which expects young black men to take such prejudices lying down. Reflecting the theme of lost potential, Fowlkes raps, "If you look into my eyes… what's underneath this flesh heap is love localised… but some people think it's evil cos they're so socialised".
DJs will be even more pleased by Crazy Girl, an instrumental dub response to the lead track. With production handled by Fowlkes alongside bandmates Allan Thomasson and Nigel Braddock, the track is a barrage of roots synaesthesia, and a great mood-maintainer for any dub-inflected 140 set.
Much like how its blended genres – trap, dubstep, dub – have a different origin story, Lazy Boy seems to reflect society's challenge of reconciling expectations from different backgrounds. They pull off the fusion, though; let's hope America follows suit.
JIJ

East End Dubs – Bec's Groove (Up The Stuss)
In the week that the most celebrated landlady of the Queen Vic passed on, it's perhaps only right that we big up these four slices of snazzy tech grooves from East End Dubs, each one fit to grace the decks at E20 (or do they call it Ruby's these days). His style is one that sticks two defiant fingers up to the notion that tech-house is 'shoulder dancing; music for people who don't really like to give it up on the floor.
Indeed, it draws from a much wider pool of influences, with lead track 'Holo' employing a swagger and swing that doffs its cap to original US garage, even while using a murkier, dubbier sound palate of bleeps and tones on top. 'Bec's Groove' is unpinned by a Barry White-esque deep voice that grounds its again skippy, frisky grooves, while the second disc is inhabited by two versions of 'Jazzed In Time'. East End Dubs' own original is arguably the finest thing on here, a neat electronic piano riff urging it along and giving it a 70s New York feel while the hyperactive beats make it impossible to ignore. Chris Stussy's remix completes the package, retaining its cheeky Manhattan attitude but relocating it in a more echoey, spacious soundscape. We defy anyone not to stick their hands in the air at the moment the strings come in half way through though.
BW

ETCH – Polarity (Ilian Tape)
Anyone – and there are some – who is labouring under the impression that electronic music has retreated into its genre pigeonholes a little of late, would do well to check this six track EP. Beginning with the amorphous bass tones of 'This Morning, Transparently', it sets out its stall of bass-driven abstract atmospherics immediately, but gives it multiple spins along the way. 'This Isn't Music' is a delight, sounding like the kind of hazy but violent soundclash that might happen if Luke Vibert and Caspa were double booked into a studio, while 'Zone Tripper' employs a slightly more substantial garage-related groove, smothering it squelchy electronics.
'Lurch' goes for skeletal drum & bass rhythms, airy atmospherics and the kind of kung fu film sample that Depth Charge used to make his own. 'Emmageddon Snow Waltz' is the least categorisable thing here and as such, probably the most fresh too, a riotous three way tussle between jazz-flexed drum breaks, gnarly bass tones and old skool techno flourishes. It's certainly ETCH-ed its way onto our consciousness anyway.
BW

The Egyptian Lover – Computer Love (Sweet Dreams) (Mr Bongo)
The role of Gregory Broussard – that's The Egyptian Lover to you – in the development of electro is often overlooked, but in the early 80s the LA-born producer was one of those (see also Afrika Bambaataa) who helped take the wonderfully dry, almost academic advances in electronica made by Kraftwerk and mould them into something the headspinning, breakdancing b-boys of the US and eventually the world could immediately relate to.
This re-issue from Mr Bongo of a single that originally surfaced on Freak Beat in 1984 is a case in point, beefing up the frenetic machine funk of Florian Schneider and co, remaking it in the kind of more regular, hypnotic image that would prove the pre-runner of house and then techno not long after. It and its B-side companion 'Computer Power' are mall but ultimately unmissable stepping stones in the evolution of electrofunk, and as you might imagine given their ultra-futuristic source material, still sound ahead of the game more than three and a half decades later.
BW
Reviews by: Oliver Warwick, Jude Iago James, Ben Willmott.